Buying a lift for elderly can be very helpful. When your loved one is immobile and in bed, the lifts can help you to transfer them between the beds, restrooms, and wheelchairs.
Immobility in the elderly may mean that they are not in a position to move from bed or from a chair. They may not be able to make the important trips to the bathroom as well. Having a lift helps the caregivers handle the elderly without much difficulty.
Normally, a sling is used to secure the person and then the lift facilitates movement. All the lifts usually have a base that is wide enough and they have wheels. However, there are different kinds of mechanisms that can be used for lifting.
Caring for the elderly is never an easy task, especially when you have to do it all alone. It becomes even more complicated if you are caring for an elderly person who is immobile. In addition, chair for stairs elderly can be used to aid the elderly get upstairs and downstairs. A lot of accidents happen in this part of the home and it is important to ensure your loved one is safe at all times.
Stair lifts Vs. Hoyer lift
A Hoyer lift is a kind of patient lift that helps caregivers to facilitate movement from one point to another. Such a lift can be freestanding, portable, or ceiling lifts. This is a great aid that can be used by those who are not in a position to bear their own full weight. Hoyer lift chair is a reliable brand and is very popular.
On the other hand, a stair lift for elderly is a mechanical device for lifting the elderly down and upstairs. When the stairway is wide enough, a trail is mounted.
A lifting platform or a chair is then attached. The elderly person only has to get onto this platform or chair and he or she will be taken down or upstairs. The chair moves along the rail. Stair chair lift prices are not the same.
What is a stair lift?
A stair lift can be defined as a mechanical device, which is used to lift people down and upstairs. They are referred to as stair gliders or chair lifts.
This kind of lift is often used by the elderly, disabled persons, and individuals who are prone to falls. They are also very helpful post-surgery to navigate the stairs in a safe way.
The modern lifts have many features like soft stop, seat belt, speed governor, folding step, key switch, flip-up rail, call stations, isolation switches, and an adjustable height.
The rails on which the lift runs are usually made of steel or aluminum. They come in different shapes. In most cases, metal brackets can be used to attach them to the stairs. There are portable stair lifts as well.
What is a Hoyer lift?
A Hoyer lift is a brand name for one of the patient lifts available in the market. Such lifts are also referred to as hydraulic lifts, jack hoist, or patient hoist.
It can be a sit-to-stand lift or a sling lift. This device is assistive in nature and helps patients in nursing homes and hospitals, as well as people receiving assistance at home to be transferred from one point to the next safely.
Hydraulic or electrical power is usually used. These kinds of lifts are perfect for people with limited mobility. Using the standing Hoyer lift offers the needed help to nurses and caregivers especially when caring for the elderly and anyone with limited mobility.
Advantages of lift for the elderly:
One of the things that the elderly face has to do with movement. There are patient lift rentals as well. Caregivers are also faced with the challenge of moving or lifting patients. Having a lift has its advantages and they include:
Helps move or lift the elderly and patients easily
They are very easy to use
Prevents seniors from falls
Helps caregivers to prevent back pain
They save space
They are disability friendly
It is comfortable and safe
Disadvantages of lift for the elderly:
As with everything else, they have their disadvantages too, that should be considered before buying. They include:
Cost: buying an installation can be quite expensive
Space: lifts such as the mobility stair lifts require a lot of space for installation.
Dependence especially for healthy seniors
Reduces physical exercise which can be detrimental for the elderly
Some rely on electricity and may not operate without it
They are not ideal for obese patients
How I Selected the best lift for elderly:
There are some things that you will have to consider when choosing the ideal lift for your elderly loved one. Some of the things I looked into include:
⇒ Features
You should take time to look at the features available. Such features make operating the lift so much easier and convenient for you. Such features may include an error code display so that you know exactly what is wrong when the lift is not operating, as it should. Consider how easy it is to get on and off the lift as well.
⇒ The fit
Finding the perfect fit is also important. You should make this as flexible as possible. Look at the weight capacity as well as the sitting space. There are many sizes to choose from and some can be adjusted to give the kind of room that is needed.
⇒ Brand
When you pick a brand that is well known, it means that you will get a warranty that covers manufacturer's defects. Also, if you want to buy it second hand because of the budget, stick to resellers that are well known instead of individuals.
⇒ Surroundings
You need to look at your surroundings and the appropriateness of installation. For instance, a stair lift requires adequate space for proper installation and safety.
⇒ Service and maintenance
You need to check the service agreements as well as how easy it is to get spare parts and service. Choosing a great manufacturer needs to be taken seriously.
Best 5 lifts for elderly
We have already looked at the benefits of using lifts for the elderly. Below we will now look at some of the best lifts for the elderly that you should consider buying. Moving or lifting your elderly loved one safely should always be a priority. A lift takes care of you, and takes care of the elderly.
1. Advance Portable Hoyer Patient Lift Electric)↓
2. AmeriGlide Horizon Standard Stair Lift↓
3. Invacare Personal Hydraulic Patient Body Lift↓
4. Universal Stair Lift↓
5. Personal Hydraulic Patient Body Lift↓ 
1. Advance Portable Hoyer Patient Lift Electric
This is one of Hoyer patient lifts that you could consider buying. It has a weight capacity of 340 pounds and can transfer the person from the floor and into the bed with a lot of ease.
It is a very versatile product because it is quite lightweight. The construction is made of aluminum and it makes it one of the most durable options that we have in the market today. The lift weights around 69 pounds, which is impressive considering the weight that it can handle.
This electric Hoyer lift is also a great fit for car transfers. The folding design does not require any tools at any point when you are trying to make it compact for ease in storage. This means that you can fit it into the car very easily.
It comes with an adjuster pedal that helps control the leg width. This helps you to access around furniture and wheelchairs. It also comes with a charger and a battery that is built-in.
Even though this product is quite compact, it is able to perform a wide range of transfers as needed. The lift can cope with many situations and can handle many obstacles including bulky commodes. The design allows the resident to feel secure and safe as they are being transferred.
2. AmeriGlide Horizon Standard Stair Lift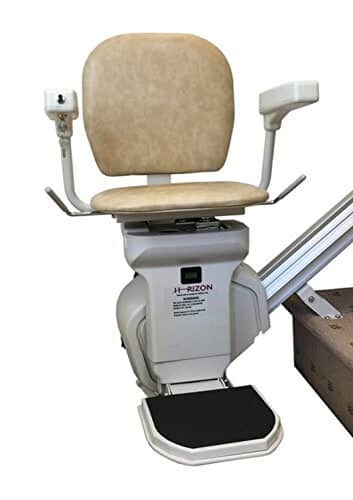 One of the most outstanding things about this option is the fact that it can be custom cut to fit your own staircase. All you have to do is to get in touch with the manufacturer and you will be given a guide on how to measure before you even place an order.
The arms, the footrest, and the seat all fold in to have minimal footprint. This means less space is used. You can plug in this lift into a standard outlet on the wall.
The other impressive thing is that the lift has a weight capacity of 300 pounds.
The product includes many innovative features into its compact design. This means that you can get a fit for any kind of staircase. The footrest and the seat are lever operated and the fit is rather slim saving on space.
Another thing you note with this model is that it can be used even in cases where the staircase seems to be too steep up to 55 degrees.
The model comes with lots of innovative features and they include a lap belt for security, a chair seat that is very comfortable, a diagnostic display that is digital. This means that it is comfortable, powerful, and convenient too.
3. Invacare Personal Hydraulic Patient Body Lift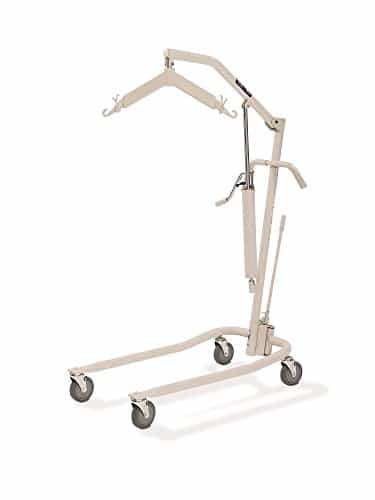 This is yet another amazing product choice. It helps in lifting patients safely and conveniently. The wheels are quite small and they may not be used in big bumps.
This is something you need to know, especially based on the area where you intend to use it. You can use this lift on a car if the car is not too low.
You should also consider the surrounding area and make sure it is not too bumpy, you simply unhook the sling once the person is comfortably seated and then gook back when they are ready to go back in.
The product can be used safely and easily with slings and this should not give you any issues. You should choose a good sling so as to reduce swinging.
It does not have a commode cutout. The patient does not need to hang on to the sling or even participate during the lift. The sling comes with loops that are hooked on the lift. If the patient falls, then he has to be turned to the side and then rolled gently on the sling. He or she can then be lifted.
This manual lift is a great help when you need to move a loved one safely from one point to the next.
4. Universal Stair Lift
The universal stair lift has a capacity of 350 pounds and can fold flat to the wall thereby saving on space. It also comes with a warranty, which should give you even more confidence to purchase.
This is a product manufactured in the USA. It has three safety mechanisms. It has a wireless remote, which makes it very easy to operate at all times.
The fact that you can fold it easily means that other people can still use the stairs quite conveniently. You can install it on the side that you feel is most appropriate for you.
The tracks measure 15 feet, which should be enough for installation on one floor. There is a power code that can be plugged into a direct AC outlet. You do not need any kind of special wiring for the universal stair lift.
This product also comes with an internal battery that can be recharged. This allows you to have a backup at all times when there is no power available. With the battery, you can still do over 20 runs.
Installation is not that difficult and can take a couple of hours, especially when done by a great handyman. The warranty covers 7 years for the parts used and for the battery, 2 years. There is a lifetime warranty for the control board and the drive train.
5. Personal Hydraulic Patient Body Lift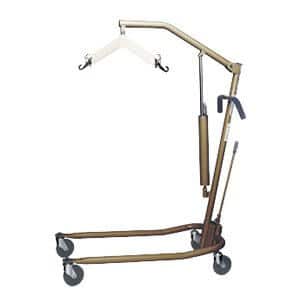 This product comes with 5-inch rear and front asters and has a weight capacity of up to 450 pounds. The width of the base can be adjusted and the lifting range is from 22 inches all the way to 64 inches. The swivel bar is padded.
This hydraulic patient lifter is a creation of pro basics and it is priced in an economical way. The padded swivel can handle 4 or 6-point types of slings. There is a rotating handle that comes with a manual pump and a frame, which is chip resistant. It has a vein finish.
The lift comes with rear and front casters that are 5 inches and they are available as two locking casters or non-locking casters. The locking casters are usually used when the item is idle or is in storage.
They should not be used when the item is being used. These casters make maneuvering so much easier, especially on carpeting. The base width can be adjusted so that patients can be accessed easily.
The item does not come with a sling, but it can be used to lift a person from the floor. You can also lift an elderly person from the floor and into a wheelchair or a bed.
Conclusion:
The elderly need a lot of care and attention and it should be given to them unconditionally. However, this can become a great challenge when they are facing lowered dexterity in the limbs or even immobility due to different issues and the normal aging process. Getting a lift for the elderly saves you time and energy. It reduces the risks of falling and protects the caregiver.
Lifts are not just limited for use by the elderly. They can be very helpful post-surgery, for the disabled, and those who are too sick to move by themselves. It ensures safety and convenience. Most caregivers suffer from back issues, especially because of moving and lifting patients. With the lifts at hand, things become so much easier.