When you think of "walking sticks," the image that pops up instantly is of an elderly, white-haired lady or gentleman, hobbling along, bent over, with a sturdy cane for support. But that picture doesn't give you the whole story. Today's seniors believe in living life to the fullest, and that age is just a number. They can continue to socialize and indulge in favorite hobbies with a little support from the right accessories and assistive aids. Apart from support, you will find the best walking sticks for seniors useful when you travel.
Airports have notoriously long lines and vast areas to cross before you board or alight from your plane. Floors in public places are certainly not designed with skid-proofing in mind.
And if you're a senior who leads an active, outdoor life, your stick is your reliable companion on hikes, treks, and even on a leisurely after-dinner stroll.
You'll find a bewildering array of sticks to select from when you set out to choose one for yourself. They could be stylish, high-tech, foldable, made of luxury woods and embellished with expensive metals, highly decorated or plain and functional, double up as an umbrella or a convenient seat, your sticks can be personalized with your monogram or family emblem, they may conceal a sword or gun for protection or even hold a peg of your favorite drink inside!
Whatever walking stick style you choose, it is essential to choose one suited to your mobility needs, height, weight, and lifestyle. However, remember that wooden walking canes offer only a limited amount of support.
If you have serious mobility issues and problems with your back or legs, this may not be the right choice for you. You may need additional support from a walker to avoid accidents and mishaps.
It is also important to consult your doctor or physiotherapist before you select a walking stick. They can give you the right advice and help you select one that will protect your safety and health and ensure that you get the perfect support you need.
What Is A Walking Stick?
Walking sticks are also known as walking canes or alpenstocks in different parts of the world. This is an assistive aid product that helps a person gain more stability, improve posture, and provide balance on uneven terrain.
Walking sticks are usually held in the hand opposite to the site of injury to offer support. This helps the person shift their weight to the side that is whole and healthy instead of on the injured side. Otherwise, most people prefer to hold the stick in their dominant hand.
Persons with mobility issues can use them to correct their balance or posture. In such cases, walking sticks provide them with a degree of independence and self-confidence.
For persons with severe disabilities, walking sticks may not provide the complete support or strength they need, but they can certainly offer some degree of assistance.
In some religions, walking sticks or staffs are used as a symbol of office. They may also hark back to the original founders of the religion and serve as a reminder of them. They may also be a fashion accessory or a protection device.
The best part of it is that you don't need just one. You can get yourself a selection of sticks for different needs and occasions, just like your shoes or wardrobe choices. In such cases, there's even a word to describe such a person: a Rabologist. They collect walking sticks.
There are different types available for seniors:
⇒ Wooden: These are probably the oldest and most original forms of aid or support for walking. Traditional designs feature a crook handle that helps to give a good grip. They can be of different thicknesses to provide the right support.
⇒ Cane: Made of lighter wood, these sticks are lightweight, easy to carry, and offer minimal support. They are used more for maintaining balance and may not be able to support your entire body weight. Walking sticks are known as "walking canes" in the US.
These are not the usual type of cane walking stick, but they're made of carbon fiber, metal, or a sturdy wood. Many Presidents carried them as a fashion accessory or were presented canes as gifts. Popular entertainers in the early days of Hollywood used canes as props in dance item numbers.
⇒ Metal: Stronger than cane and more durable than wood, metal sticks are lightweight but offer good support to the body.
⇒ Foldable: These sticks are lightweight and manufactured to be in sections connected by hinges. When opened, they can form strong support. You can fold them and carry them in your bag or purse to be opened when required to use them.
⇒ Shooting stick: This can be folded out into a one-legged seat when you get tired while walking and need a short rest. The Pike Staff type has a pointed end that is useful when you negotiate slippery surfaces. The Scout Staff type of stick is a versatile piece that is recommended for many kinds of emergencies.
⇒ Basque: Is a decorative stick embellished with valuable metals such as gold or silver at the feet. These sticks often conceal a thin sword for protection.
They may conceal swords, guns, flashlights, umbrellas, Tasers, flasks, stun guns, tape measures, Masonic square and compass, and more. Gadget canes are also very popular and combine functionality with a host of amazing features.
⇒ Orthopedic: These unique walking canes or walking sticks are molded so that the handle fits the contours of your hand. Being ergonomically designed, they are available to fit different hand sizes and shapes.
These sticks are a good choice for those with joint pains or other difficulties with the hand region. They distribute the pressure and weight of the body evenly so that your hand doesn't suffer strain and injury.
⇒ White Cane: The iconic white cane for the visually impaired is a versatile tool for the visually impaired. It is a symbol of the challenges they face as independent people in a sighted world.
It was invented during the interim period between the two world wars. It helps visually impaired people scan their surroundings for orientation marks and obstacles and is intended to identify the person as visually impaired.
The white color is mandatory, and there can be several variants in terms of size and material. In Argentina, a green cane signifies a person with low vision but not complete impairment.
⇒ Quadripods: These sticks have a four-legged configuration at the base and are a good choice for persons who have suffered injuries, fractures, or stroke. They help persons with Parkinson's Disease to maintain balance and independence.
Where It All Began
Walking sticks have a history that's almost as old as humanity itself. When man first began walking upright, the use of an aid to help maintain posture would have been felt, and it is assumed that they started as being simple and versatile tools.
With time, they began to be used by people who followed certain occupations such as sheep-herding. Since people traveled mostly by foot before the invention of vehicles, the stick was a useful aid to travelers, both as a support and protection against robbers on the route or wild animals who might attack.
Gradually, the walking stick became associated with power and status, as their owners began to decorate them with elaborate carving, expensive metals, and woods.
In many cultures, sticks and staff were associated with royalty and nobility, who were allowed to carry them during various ceremonies and events. Egyptian rulers have been depicted carrying staffs ranging between three and six feet in length depending on status, age, and gender.
They were topped by elaborately designed knobs often in the shape of a lotus flower which symbolized long and strong life. The Greeks depicted their gods carrying staffs. Sticks in many cultures were made not just from wood but from ivory, whalebone, or ebony.
The stick gradually morphed into the scepter that the monarch held in one hand when seated on the throne – if, in the right hand, it portrayed power, and in the left, justice. The Christian Church adopted the staff as a symbol where the Pope is considered the Shepherd of his Flock.
It was only in the 11th century that women in Europe adopted carrying a stick or cane. Marie Antoinette in 18th-century portraits is shown as carrying a slender stick as a fashion accessory.
Cane carrying for men became popular much earlier, in the 16th century. High society gentlemen had to get a license for cane carrying, and it was considered a status symbol to be so privileged.
As a symbol of age and seniority, the walking stick is a more recent phenomenon, probably from the 19th century onwards.
Canes as collectors' items are a different category altogether. Walking sticks with hidden gadgets, unusually shaped heads, animals, fish or serpent heads, novelty canes, hand-carved pieces, and more are available from across the world for the avid collector.
How To Choose The Best Walking Sticks For Seniors?
With such a bewildering array of walking sticks to choose from, it's certainly a mind-boggling effort to know about the best canes. And more importantly, what's right for you?
1. Consult Your Physician: Ensure that you work closely with your medical professional before purchasing a walking stick. They will help you choose the one best suited to your condition, age, physical status, and mobility issues.
The stick is not intended to support your full weight, so your physician will assess the type of material, size, and type that you require. Matching the stick to your body size is important because otherwise, it can prove more hazardous than not having one at all.
2. Know Why You Need It: Analyze your requirements, physical disabilities, and mobility issues. In some cases, you may need support following an injury, operation, or illness.
A walking stick can relieve the pressure and strain on your joints, maintain your balance and independence, and compensate for the weakness of a particular part of your body. Sticks can also help you to sit and stand comfortably.
3. Walking Sticks offer Support only on One Side: Remember that walking sticks don't offer complete support. You will benefit most if you're recovering from surgery on one side of the body. Leg or hip surgery patients can use the stick most effectively.
Back pain, injury on one side, arthritis that affects knees, ankles, hips, or back, stroke victims that suffer from balance issues are other instances where a walking stick is useful.
4. Type: Based on your unique needs, preferences, and budget, you can choose the material, design, type, and size. Single-tip canes are the most common, and they offer support for persons with mild mobility and balance issues.
If you need more support, select a quad-tip cane that can stand on its own, has a wider base, and considered best walking cane for stability. However, it is bulky. Select a folding cane that can go easily into your purse or tote bag if you move around a lot. They are available in both single and quad tips.
5. Fitting: Your cane has to be perfectly aligned to your height, size, and weight. Check the elbow bend for a comfortable 15-degree angle. While checking the right height, ensure that the top of the cane is in sync with the crease of your wrist when you're standing upright.
If you wear heels, try the cane with your walking shoes and select a cane with adjustable height for best results. The cane should be on a level with your hip bone or upper thigh. Ensure that the stick can support your body weight.
If you are an overweight person, get a stick made of a sturdier and long-lasting material. Seniors may find some materials too heavy, so look for materials that are both sturdy and durable as well as being lightweight.
6. Sizing The Stick: It is essential to size the stick in proportion to your height. For instance, people shorter than five feet tall need a stick in the range of around 41 inches.
People who are above 5'11" would need sticks that are about 58 inches. It's more convenient to purchase a stick with adjustable height so that you can use it accordingly.
7. Grips: Various grips are available, based on your needs and the type of handle. You can choose from a range of materials, thick or thin, textured, padded, slip-proof, etc. Handles can be L-shaped, T-shaped, or classically curved and rounded.
Candy-shaped canes must be avoided for seniors. They are difficult to grab and don't distribute the weight properly across the stick's shaft. Straight grips and handles are ideal, provided they're centered over the shaft.
8. Special Features: Walking sticks are available with special features such as offset handles, functional grips, and more. You can also customize your walking stick to ensure that it has the special features you need for your unique condition and preferences.
Many people have a selection of different sticks for different occasions and needs. They can be stored in special cases that are easy to transport.
Best 10 Walking Sticks For Seniors
With age, we tend to become more anxious about falls, avoid venturing into unfamiliar terrain, restrict our movements in poorly lit areas, perhaps even forgo travel and doing the things we enjoyed when we were younger.
Deteriorating eyesight and sense of balance, aches and pains, conditions like arthritis, weight gain, and changes in our body structure can affect mobility. We may also undergo surgery, suffer injuries in accidents or have a stroke. In all these cases, we may require a mobility aid such as a walking stick.
Here are the ten best options in walking sticks for seniors:
1. HurryCane Hcane-bk-c2 Freedom Edition Folding Cane with T Handle, Original Black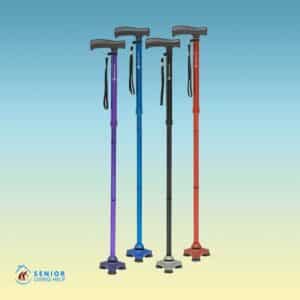 This is a good choice if you're looking for an affordable yet sturdy walking stick for elderly. It features patented stabilizing technology, and this is beneficial in helping to maintain balance and increase traction.
The product has a sturdy and strong build that can support your body weight up to 350 lbs. This walking stick has been featured on national TV and is designed to be almost an extension of the human body.
It pivots on its quad base like the human ankle, offering you the flexibility to move independently at your own pace. It is designed for men and women and bends like the human knee on its double joints.
The height is adjustable, and the product is a folding one that makes it easy to transport or store in your glove compartment, behind your chair, or in a purse or bag. You can add accessories such as replacement feet or handle.
Pros
Affordable, sturdy, and versatile
Lightweight and foldable
Cleverly and mindfully designed for seniors
Adjustable height and strong enough to support up to 350lbs
Cons
A small base doesn't allow it to stand properly on its own
Not suitable for city walking
Not very durable, doesn't have shock-absorbing quality
2. HONEYBULL Walking Cane for Men & Women – Free Standing Cane, Foldable, Pivot Tip, Heavy Duty, with Travel Bag | Walking Sticks, Canes for Seniors & Adults [Black]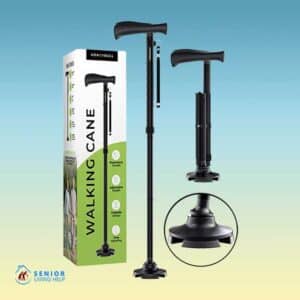 Easy to use, reliable, and ideal for seniors and persons who have recently undergone injury or surgery. This stick has an extra-wide 4" diameter quad tipped base. Another great feature is the pivoting tip that stays flat on any angled surface.
There is a greater amount of ground contact through the non-scratch rubber base. The height of this stick is adjustable, fit for people ranging from 5 to 6.5 feet. Being flexible and foldable, it is easy to change when you opt for different footwear or moving around.
The stick is also collapsible and lightweight. The ergonomic handle with an extra grip base offers comfort and safety. The stick is intended for people below 350lbs and may not suit those with latex allergies and must be used only as a walking aid.
Pros
Sturdy, durable and height-adjustable
Foldable, lightweight, and versatile
Affordable and good value for money
Cons
Handle and bottom part not durable
May make squeaky noises
Not well designed for self-standing
3. Hugo Adjustable Quad Walking Cane, Rose
Made from heavy grade, anodized aluminum, this lightweight, adjustable 4-pronged quad walking stick is great for men and women. The height is adjustable to between 28 and 39 inches and is suitable for persons between 5 feet and 6 feet 5 inches. 11 height settings are conveniently changeable.
This stick can support people weighing up to 300 pounds. The flared rubber tips increase traction and stability. The unique K-shaped base, available in different sizes, can be rotated to suit both right and left-handers.
The cushion-top handle is comfortable and ergonomically designed for shock absorbency and a firm grip. Thoughtful touches such as the reflective strap aid in nighttime safety. This stick is ideal for persons who need some support and balance.
Pros
Affordable, long-lasting, and made from quality materials
Freestanding
Night-time reflective strap for safety
Suitable for both left and right-handed people
Push-button feature for convenient height adjustment
Cons
Some products may be unstable and of poor quality finish
Wobbly on hard surfaces
Not a good option for persons with serious mobility issues
4. Hugo Mobility Quadpod Offset Cane with Ultra Stable Cane Tip, Smoke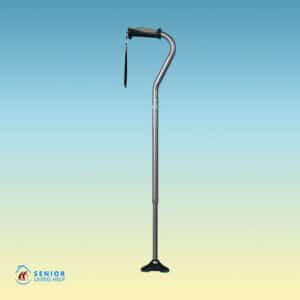 Durable, lightweight, and made from anodized aluminum, this walking stick for seniors is a good option for those who need enhanced stability. The stick can be adjusted to accommodate persons of height between 5 feet and 6 feet 5 inches.
It is ultra-lightweight, weighs 54% less, and is 80% more compact than the typical quad walking stick. The 12 precision height settings range makes it easy to get the perfect height level for your unique needs.
The shock-absorbing, ergonomically designed Hypalon sponge handle fits comfortably without exerting any undue pressure. This walking stick can support persons of weight up to 300 lbs.
Thoughtful touches like the anti-rattle lock nut, nylon wrist strap for safety, and stick tip with a wide suction base make it ideal for those with mobility problems.
Pros
Lightweight, easy to transport
Stable and sturdy design
Quality materials
Reflective strap for safety
Cons
Expensive
Not durable
Poor support on slippery surfaces
Heavier persons may cause the material to crack suddenly
5. BigAlex Folding Walking Cane with LED Light, Pivoting Quad Base, Adjustable Walking Stick with Carrying Bag for Men/Women (4'9"-5'6" Red)
When looking for the right walking stick for seniors, it's important to prioritize quality. With a well-established brand such as BigAlex, there is a level of trust and confidence in this line of products from its reputation for quality products. Manufactured from high-grade aluminum, this walking stick is available in a cheerful red color suitable for both men and women.
It has great features such as an LED headlight fixed on the handle for day and night visibility, an anti-slip base, and an ergonomically designed handle. It is foldable and weighs just 12 oz, making it easy to transport. The pivoting ball at the base offers superior stability. There are five levels of height adjustment.
Pros
Foldable, lightweight
Good quality material
Trusted brand
Good features
Cons
Expensive
It is not durable when used by heavier people
Customer service is not satisfactory in some cases
6. Travelon Walking Seat and Cane in One, Grey, One Size
If you're a senior who loves spending your Golden Years traveling, hiking, attending events, sightseeing, or spending time outdoors, here's the product for you.
This walking stick unfolds into a 3-legged seat that gives you the respite you need when you want to take the weight off your feet. Made of lightweight high-grade aluminum, it can support up to 250 lbs weight. It's portable, good-looking, and sturdy. Just make sure you sit and get up safely.
Pros
Well-established brand
Convenient for outdoor and indoor use
Good features
Lightweight and portable
Cons
Height not suitable for people with back pain
It may not be stable
Seat too small for large person
7. Sminiker Professional LED Folding Walking Cane with Carrying Bag for Old Gentleman or Lady Aluminum Alloy Foldable Cane with Light
This walking stick or walking pole is a great option to support you when you're on your walks. Made of aluminum alloy and foldable, it's lightweight and portable. The handle grip is firm and offers stability, and corrects your posture when you stand.
It also has rubber padding for shock absorption. The built-in LED light provides visibility. Another good feature is the rotating head that helps you to turn position conveniently without losing your balance. The base made of heavy-duty rubber is tough and durable, and stable on uneven terrain.
Pros
Strong support and safety
Carry-bag provided
Foldable and lightweight
Rotating head for a convenient position change
Cons
LED light not durable
May bend when used by heavier persons
Not recommended for those who need complete support
8. DMI Wooden Cane, Wooden Walking Cane, Wooden Walking Stick, Lightweight and Strong, Made in the USA, Walnut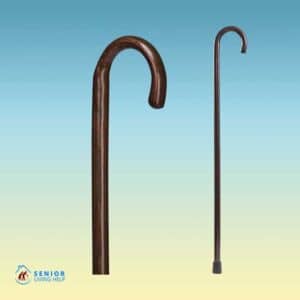 Choose this charming, old-world walking wooden cane if you're a senior who loves classical style and elegance. Made from premium walnut wood, it has the traditional crooked handle in the candy-cane design. It is lightweight but has a sturdy metal insert for strength and stability.
It is FSA eligible and customized to your height requirements by simply getting it cut to the right size. A Good-looking, glossy finish makes it a stylish accessory that offers adequate support.
Pros
Simple, elegant, classical design
Lightweight
Customizable
Affordable and functional for daily use and gentle support
Cons
Not foldable or portable
Not weight bearing
Some products may have defective wood
Not eligible for return
9. Walking cane for men and walking canes for women by Medical King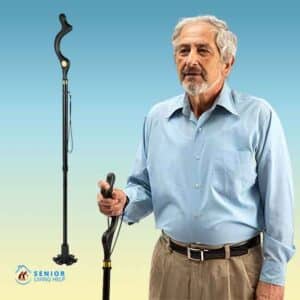 This specially designed walking stick has ten adjustable heights and can support weights up to 300 lbs. It is self-standing, and the handle design and height make you walk upright and straight. The material is high-quality, and the handle design is ergonomic.
The replaceable, non-slip rubber tip helps maintain stability and balance. The product meets all US safety requirements and can be used by left and right-handers.
Pros
Ergonomic design for upright walking
Free lifetime warranty
Adjustable height
Convenient carrying strap
Cons
Not suitable for people with severe back problems
Handle not durable
Slightly heavy
10. NOVA Designer Walking Cane with Offset Handle, Lightweight Adjustable Walking Stick with Carrying Strap, "Butterflies" Design
Add this uniquely crafted design to your collection if you love something different from the run-of-the-mill walking sticks. The offset handle design offers convenience and comfort. There are 31 different styles for both women and men.
The stick is durable and chip resistant, with an anti-rattle locking system that prevents those annoying rattles and squeaks. It can support weights up to 300 lbs. This affordable option is a great choice for those on a budget
Pros
Affordable, lightweight
Beautiful design
Fade and chip-resistant paint
Cons
Traction not up to the mark
Flimsy and not durable for regular use
Grips may get damaged when used by heavier persons
Conclusion
Seniors entering the Golden Years are anxious about retaining their mobility and independence and would like to enjoy the things they did earlier. The answer is simple – get yourself a sturdy, portable, lightweight best walking stick for seniors, designed specifically for support and manufactured by a premium brand. It must be adjusted to your height and weight as well as your medical needs.
Your physician and physiotherapist can give you the right tips and advice so that safety, balance, posture, and budget are all taken care of. There are plenty of great options available on the market, and there's no need to sacrifice style and elegance for comfort and functionality. So make your walking stick a go-everywhere fashion accessory that you'll enjoy being seen with!