Spending the Golden Years on a warm and sunny sea coast is something that most seniors love to dream about, and many of them do end up living out their fantasy. Comfort, peace, healthy air and a salubrious climate are some of the main reasons for this choice.
But, negotiating sandy beaches and finding a shady spot to doze over your book can be challenging. Relaxing in the sun 'n' sand can be made more comfortable and safer with suitable high beach chairs for elderly sun worshippers. These chairs are designed specifically for this age group, with features that make them extra comfortable, stable and easy to transport.
The Country's Getting Older!
As the world is slowly beginning to notice, the elderly population in the US and across the world is set to increase dramatically in the coming decades. A United Nations study suggests that by 2050, at least one in six persons in the world will be over the age of 65.
The world is experiencing a longevity revolution and today, seniors account for more than a fifth of the population in 17 countries. These numbers help businesses to gear themselves up to service an older demographic, while healthcare, nutrition, financial and social systems have to evolve accordingly.
Where Seniors Love To Gather
California, Florida and the Southeast of the US are among the most popular destinations in this country. Statistics reveal that the state with the oldest population is California, with the highest percentage of people over 65, but it also has the highest population in the country.
Florida comes in second with a high elderly population. A report in Statista estimates that by 2050, more than one-fifth of the American population will be aged 65 or older.
Currently, there are an estimated 21,000 senior living spaces across the country, although a majority of Americans do not wish to relocate from familiar surroundings, neighbors, family and friends to a new place.
The baby boomer generation is moving swiftly into the senior age level currently, and while Florida continues to dominate as the first choice, other cities such as Phoenix AZ, or charming communities such as those in Massachusetts are gaining ground too.
Making Waves: Why It's More Fun In the Sun
Senior communities have been heading for Florida since the 1960s. One of the first real estate entrepreneurs to spot the opportunity was a businessman from Michigan, Harold Schwartz, who had been selling land in this area via mail order.
When the government banned this form of selling, he and his son began to take advantage of the real estate boom in the area that catered to retirement communities.
In time, several large townships began to come up, each one self-sufficient in terms of recreation, medical and financial facilities, sport, entertainment, transportation and more. Most importantly, Florida and similar retirement communities are centered around the beautiful, scenic beaches in their state.
Retiring On The Beach: What's So Great About It?
Of course, you know all about the several amazing advantages to living on the seaside, but here they are, just to remind you that you've made the right choice:
1. Weather: Retiring to the Sunshine State, for instance, guarantees you at least 200+ days of warm, sunny weather. The subtropical climate, gives you lots of rain but no snow at all. Humidity can go up in summer, but the weather is nevertheless considered pleasant and healthful. Provided you take the right precautions to avoid the harmful effects of sun exposure, and stay well hydrated, you can enjoy the outdoors safely and comfortably.
2. Tax-Friendly: Many states offer great tax breaks for seniors to retire to. Florida, Mississippi and Georgia are some of these that are very tax-friendly. They have either no income-tax and retirement tax, or they have a sizable deduction on your taxable income, including Social Security benefits. Sales, property, estate and inheritance taxes are also quite reasonable. Others such as North and South Carolina are relatively tax-friendly too. So while you're relaxing on the beach, you're not going to worry about taxes.
3. Beached Out: With more than 1,200 miles of fabulous beaches available in Florida, the challenge is which to choose! The sand is pristine white, soft on bare feet, and the bright sunshine and fresh breezes will do much to perk you up. Ranging from tiny islands that dot the coastline to affordable water-fronts, you'll enjoy every inch of the gorgeous Sunshine State. All you have to do is ensure that you choose the best beach chairs for the elderly.
4. Great Lifestyle: Whether you retire to a beach location as a couple, you're single, or you're with a group of like-minded friends, you're sure to enjoy an active social life. Most retirement communities have plenty of activities on-site, sports and entertainment, and they provide lots of opportunities to go on trips, concerts and theater nights, pub- and restaurant-hopping, hiking, sightseeing, wine tours and more.
You can also enjoy a range of water sports safe for seniors, along with long, relaxing walks or runs on the beach and then chill out in a high beach chair for old people.
5. Health Care: Retiring to a beach-front senior living community can also take care of your health concerns. Florida for instance, has access to some of the best medical facilities in the world, geriatric specialists, emergency care and assisted living support. Living close to the beach gives you a more healthy lifestyle. You can soak up all the Vitamin D you need to keep your bones strong and dense. Spend time walking, swimming, or just dozing in a comfortable, purpose-designed high beach chair for elderly.
The fresh, ozone-filled air is ideal for sound sleep, and you'll never toss and turn in bed again when you retire to a beach location. Studies have also shown that the sound of the sea is one of the most relaxing and soothing noises in the world.
6. Range of Amenities: Most retirement communities offer convenient, safe and useful amenities. Housekeeping, laundry and linen, restaurant-style dining or home-delivered meals, home and garden maintenance, assisted living and memory care, arts and crafts classes, learning center and library, in-house music and dance activities, exercise and gym facilities and more. You can choose the package you want based on your needs, preferences and budget.
Beach Essentials That Seniors Must Have
While there are huge plus points to life on the beach, it's a smart move to ensure that you have the right clothes, accessories and safety gear as well. Sun safety is very important, as seniors can face a sudden health emergency due to dehydration or sun-stroke.
Be prepared for changes in temperature, sudden downpours and storms, fatigue due to your general health condition and age, not eating on schedule, or getting the right type of food.
⇒ Sun Protection: In the immortal words of Baz Luhrmann, "If I could offer you only one tip for the future, sunscreen would be it." This is especially true for the elderly, because many of them didn't encounter this product in their youth. As a result, they either don't know how to purchase and apply it, or they don't apply it at all. Ask your doctor about the right product to buy, ensure that it's hypoallergenic, fragrance-free and suitable to your skin type and age. Apart from sunscreen, make sure you carry sunglasses, shady hat and perhaps restrict your time on the beach to avoid the intense afternoon sun.
⇒ Dress Right: Layering is a great idea, as you could face sudden dips and highs in temperature. Cover your skin if you're out in sharp sunlight, and wear loose-fitting clothes in breathable, natural fabric. Lighter pastel shades not only look chic, but they also don't absorb heat. Wear your hair in an easy but firm style so that it doesn't get tangled. Footwear is vitally important. The skin on your feet and other parts of the body gets thinner with age, so never walk barefoot on the beach, as you could injure your feet stepping on shells, rocks and hot sand. Well-fitting, breathable footwear can also prevent falls.
⇒ Eat and Drink Right: Never go out for extended periods in the sun without ensuring that you drink lots of fluids. Many seniors avoid liquids because they fear they'll have to use the restroom more often. But you could end up seriously dehydrated before you know it. Seniors should have more liquids that contain sodium and potassium as these are sweat-replacement essentials. Make sure you eat well and add fresh fruit and veg to your meal before you hit the beaches. Pack a cooler with plenty of water and snacks and take it with you.
⇒ Don't Forget Medications: Certain medications can respond differently to sunlight and heat. Talk to your doctor about this and take the right advice on these aspects, because some medicines can cause heightened sensitivity to sun exposure.
⇒ Accessories: Enhance your beach experience with the right accessories that suit your age and general health condition, fitness and preferences. When you were younger, you could perhaps just wake up and run out onto the sand, but as a senior, you need to be a little more mindful. You need more than just a big towel. Get a comfortable high beach chair for elderly beachcombers that is sturdy, comfortable and easy to get in and out of.
A personal tent or beach umbrella keeps the glare out of your eyes, and it's also a place to keep your stuff together. A beach cart or stroller wagon is a great accessory to help you transport things up and down. Don't forget extra batteries, your e-reader and steel plates and tumblers to hold your snack and drink firmly against the sea breezes.
Beach Chairs For The Elderly
Traditionally, beach chairs are lightweight, foldable and meant to rest for an hour or two before you get into the water again. Some may be designed to be more strong and similar to deck-chairs that you can sit in to read and enjoy a drink.
Many older adults dread the thought of getting in and out of beach chairs because they're unstable and low, which means you need support. Apart from the embarrassment of falling on your back in front of the crowd, you could also hurt yourself badly.
The conventional beach chair is portable and folding, with a strip of canvas, thick cloth or vinyl forming the seat and back-rest. They can be adjusted to change the angle of the back-rest. Before you assume they are modern inventions, the remains of folding beach/deck chairs have been found in Northern Europe, dating back thousands of years.
Must-have qualities in beach chairs for seniors:
Lightweight
Sturdy
Higher than normal
Comfortable for long hours of seating
Breathable and easy to wash fabric
Easy to store
Multiple positions for reclining
Extra features such as cup-holder, head/footrest, built-in canopy and handy pockets to hold your stuff
There are different types of beach chairs available and it's important to know the pros and cons of each type. They are made from different materials such as aluminum, wood, steel or hard plastic.
If you're looking for super lightweight options, choose aluminum because it doesn't suffer wear and tear when exposed to saltwater or sunlight. They are light enough for you to carry more than one at a time, saving you a few trips back and forth. Wood is elegant and classic.
However, it's also heavier than aluminum and is more easily damaged. Wooden chairs require regular care and maintenance to keep them looking great. Steel chairs are good-looking, durable and sturdy, provided you ensure that they're well-maintained.
Types and styles include:
Lounge beach chairs: Loungers are great when you want to stretch out, sleep or sunbathe. You can look for models that have in-built pillows or headrests.
Backpacker: If you are looking for super convenience, choose the backpacker models that leave your hands free to walk.
Traditional: The classic beach chair or deck chair can't be beaten for looks and comfort. They could be a little low-rise for seniors, so look for high beach chairs for elderly when you shop. Otherwise, they're great when you want to stretch your legs and lie back and relax.
Advantages of High Beach Chairs
1. Height: This is priority #1, while choosing a beach chair for seniors. Low-rise beach chairs are simply not suited for aging bodies and bones. Getting into one of those ultra-low beach chairs is bad enough, but getting up and out can be close to impossible without support.
2. Measurements: Typically, tall beach chairs measure about eight inches to a foot up from the ground.
3. Posture: The height makes it the ideal chair for senior citizens to stretch out and lounge.
4. Prevents Pain and Discomfort: You may suffer from stiffness of joints and lack of flexibility, or you may have recently undergone surgery. Higher chairs allow you to get in and out of the chair more easily and quickly, without asking for support.
5. Better Circulation and Pressure Control: Higher beach chairs for seniors provide more chances to get up more often, leading to better circulation. This allows you to shift positions frequently to avoid pressure points on the body that could lead to bedsores.
6. Comfort and Support: While sitting and standing, higher chairs provide a more comfortable experience, while giving you the right support.
7. Independence: Just because you're in the Golden Years doesn't have to mean complete dependence. You can get in and out of your high, lightweight portable chair, carry it around with you and sit in your favorite spot on your own.
8. Extra features: Apart from height, it's a good idea to choose beach chairs for older people with enough width and depth. Extra large beach chairs help distribute body weight better and ensure that you're seated comfortably, with no pinching or crushing. Look for chairs that offer better support for the back as well.
Disadvantages of High Beach Chairs
While the best beach chairs for elderly do have their plus points, there is a downside to them too.
1. Right Height: Selecting the high chair is a great decision to make, but it's important to pick the height correctly. Choose the height carefully based on the person's own height. If you choose one that's too high, they will find it uncomfortable to have their feet dangling off the floor. One that's not high enough doesn't provide any benefits.
2. Pressure Management: High chairs tend to focus the weight unevenly with more pressure on the buttocks and back. This can lead to pressure issues in people who are prone to bad circulation.
3. Expensive: Oversized beach chairs that are extra high can be more expensive than the traditional beach chair. Portable chairs for the elderly may have a range of extra features that boost the costs.
4. Quality: Unless you focus on good quality materials, design, manufacture and a reputed brand, you could end up with a cheap, tacky and unsafe product.
5. Cumbersome: Because of their extra height, beach chairs for seniors can be cumbersome and bulky, even if they're lightweight.
The Top 10 Best High Beach Chairs For Elderly
Selecting the right high beach chair can make all the difference to your beach experience. You will enjoy your time on the sands, relax, get your daily dose of Vitamin D, and also get a good night's sleep. Take a close look at our top 10 choices in this category.
1: Best Choice Products Oversized Padded Zero Gravity Chair, Folding Outdoor Patio Recliner for Backyard, Beach w/Headrest, Side Tray, Textilene Mesh – Gray
This one's great for days out on the beach, or for relaxing in cushioned comfort on your patio or yard. The weight capacity is 300lbs, making this product ideal for heavier seniors. It reclines up to 170-degrees, with safety locks to hold the position. Suitable for indoor and outdoor usage. Made from premium materials, it uses a lace-up bungee system with high-density, fade-resistant fabric. Ergonomic design with convenient side table and removable/adjustable headrest. It's a little on the heavy side at 22lbs.
Pros
Stylish, sturdy and good materials
Suitable for outdoors/indoors
Full body padded comfort
Cons
Heavy and materials may not be durable
Not waterproof
May not be of the best quality: fading and tearing issues with fabric
2: RIO Beach 4-Position Lace-Up Backpack Folding Beach Chair
Here's a high beach chair for senior citizen that makes getting in and out of it a breeze. Made of rust-proof aluminum and can be folded and transported.
The flexible, nautical style, lace-up suspension design gives your back just the right amount of support. The elegant armrests give you great grip and strength. The flexible 4-position chair weighs just 8lbs and can take weight up to 250 lbs.
Pros
Functional, strong, portable
Stylish-looking high chair for seniors
Good material
Lots of convenient features
Cons
Some customers find it unstable
Maybe a little too big to carry
No instructions on folding and opening
Stitching may work loose
3: MacSports 2-in-1 Outdoor Beach Cart + Folding Lounge Chair w/Lock | Tanning, Sunbathing, Lounging, Pool, Backyard, Porch | Portable, Collapsible with All-Terrain Wheels | Blue w/Lock
The best part of this versatile beach chair for seniors is that it doubles up as a pull-cart wagon to transport your cooler and other accessories while you head beachwards. Comfortable lounger with backrest and pillow is sturdy with an aluminum frame and strong denier fabric that's easy to maintain.
Pros
Versatile and stylish
Useful cargo-cart for transporting gear
Recliner and lounger positions
Sturdy, easy-clean materials
Convenient indoors and outdoors
Cons
May be too heavy to push when loaded
Three-wheel wagon design is unstable on sand
Poor quality fittings
4: WEJOY High Back Outdoor Lawn Concert Beach Folding Chair with Hard Arms Shoulder Strap Pocket for Adults Camping Festival Sand, Supports 300 lbs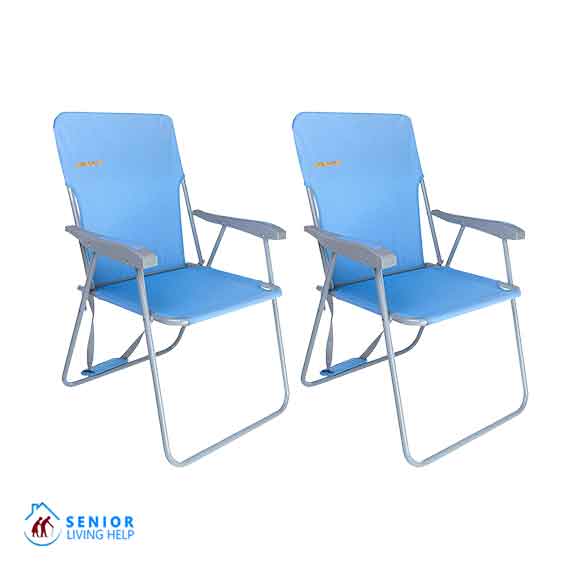 Affordable, sturdy and easy to store and carry, this lightweight portable chair weighs in at just 7.1lbs. It's is a great choice for the outdoors, relaxing on the lawn or beach, or carrying to a concert or camp. Alloy steel frame with tough Oxford fabric panel, convenient pockets for your stuff and supports 300lbs.
Pros
Lightweight, supports heavier seniors
Easy to maintain with strong frame and seating
Versatile, convenient to fold and store
Affordable two-pack
Cons
Uncomfortable design for leg placement
Seat too short
Cheap quality materials
5: ALPHA CAMP Low Beach Camping Folding Chair, High Mesh Back Ultralight Backpacking Chair with Carry Bag Compact & Heavy Duty Outdoor, Camping, BBQ, Beach, Travel, Picnic, Festival,2PC
Designed for style and comfort, these extra large beach chairs are stable and easy to transport. They come with a convenient front mesh pocket to hold your gear and the mesh net seating is breathable and soft for extended hours of sitting. Super-easy to clean with just a quick soap-n-water wipe.
Pros
Extra wide design for larger people
Stable and sturdy
Stylish and has good features
Premium quality materials
Cons
Plastic joints on steel frame not suited for heat exposure
Not suited for heavier seniors as it may collapse under your weight
May tip over backward if you're not careful
6: Deluxe XL Wide Tall Plus Size Aluminum Folding Big Heavy Duty Beach Chair for Sand, 17 inches Seat Height – 300 lb Load
Lightweight, durable, comfortable, functional and stylish beach chair is great for tall and heavy seniors. Available in a range of chic colors, the anodized aluminum frame and easy-clean denier fabric make it ideal for beach enthusiasts. Extra wide seat and tall back provide comfort and support. The zipper-pouch holds your gear safely.
Pros
Extra-wide and tall design
Lots of convenient features
Holds up to 300lbs but weighs just 6.8lbs
4 reclining positions
Cons
Arms are flimsy and don't provide enough getting-up support
Wood is wobbly and not sturdy
Seat not designed well for comfort
7: Margaritaville Big Shot High and Wide Folding Beach Chair
Available in bright and cheerful lime or aqua blue, this is a good high chair for seniors. Adjustable to 4 different seating positions, it's durable and lightweight for easy transportation. Conveniently adjustable head-pillow and armrests.
It has a convenient cup-holder and side pocket. The fabric is tough polyester and the frame is lightweight aluminum. The 17" high chair (weight capacity 225lbs) is to get in and out of.
Pros
Good-looking, durable and sturdy
Convenient features
Lightweight and easy to clean
Cons
Not easy to maneuver into different positions while seated
Makes squeaky noises
Shallow seat
8: Ostrich 3 N 1 Beach Chair / Lounger Color: Blue [3N1-1001B]
This patented design has an open/close face cavity for better ventilation and arm slots and pillows for comfort. There are 5 adjustable positions, with a 3 position footrest. Average height at 12" it weighs 9.5lbs and can carry weights up to 275lbs. A rust-proof frame makes it durable and the seating materials are easy to clean.
Pros
Stylish, with elegant wooden armrests
Extra high back for reclining
Easy in and out egress for seniors
Versatile to lie on back or stomach
Face cutout design ideal for reading or sleeping
Cons
Not sturdy enough
Arm metal may get distorted after some use
Poor quality stitching
9: Camping Chair Hard Arm High Back Lawn Chair Heavy Duty with Cup Holder, for Camp, Fishing, Hiking, Outdoor, Carry Bag Included (Blue)
The high back on this sturdy product offers great support while sitting and relaxing, making it the ideal chair for senior citizens. A durable, tough steel frame is rust-proof and the legs have non-slip rubber covers for extra stability. Versatile and easy to transport, it comes with a 1-year guarantee.
Pros
Easy to set up, transport and clean
Versatile
Durable, with good back support
Good cup-holder and carry-bag included
Cons
Tilted back design is not convenient for shorter people
Rivets not durable
Not very easy to put back into carry-bag
More suited to patio or garden locations
10: Nice C Low Beach Camping Folding Chair, Ultralight Backpacking Chair with Cup Holder & Carry Bag Compact & Heavy Duty Outdoor, Camping, BBQ, Beach, Travel, Picnic, Festival (Mandarine_2, Classic)
Durable, good-looking, chic and functional, this low camping chair is manufactured from industrial grade material. The folding size is convenient for storage and transportation. Breathable mesh fabric is comfortable and easy to clean. The heavy-duty frame supports up to 300lbs. Arm-cushions, carrying-case and cup-holder included. Versatile for camping, park, hiking or beach, these lightweight chairs are very easy to manage out on the beach.
Pros
Sturdy and durable
Stable classic design
Industrial grade materials
Good cup-holder, carrying-case and arm-cushions
Cons
Not good value for money
Too low for seniors and sink into sand on the beach
Poor quality stitching
Not heavy-duty as advertised
Conclusion
High chairs are the right choice for seniors who enjoy their time on the beach. They offer the right support and convenience so that you retain your independence and dignity. Senior-friendly chairs should have a comfortable ergonomic design, adequate height off the ground, sturdy materials, and have a choice of reclining and seating positions. The armrests must be supportive and strong. Look for added features that make it easy and convenient to hold your accessories, snacks, drinks, etc.
It's also important to choose easy-clean, breathable materials so that your chair remains fresh and hygienic. Lightweight products help in easy storage and transportation. Ensure that you buy good quality products from reputed brands. This will go a long way in keeping you safe from injuries, allergies and discomfort. It also helps you enjoy time with your loved ones without having to wait for help in getting in and out of the chair. The best thing about high beach chairs for senior citizens is that your precious grandson or granddaughter can safely perch in your lap too!