Mobility is an issue for people as they age. One of the most frustrating things that people with mobility issues face is the lack of adequate ramps around and in buildings to make things easier for them. It becomes difficult to even navigate using a scooter or a wheelchair.
This can make many areas that are not disabled friendly inaccessible. If this is the case, an elderly person may decide to use portable wheelchair ramps. It is important to find something that is not only affordable, but also durable and one that you can take everywhere with you.
This kind of ramp is usually a plane that is inclined and it is then installed to the stairs. It can also be installed instead of the stairs. Ramps for stairs for elderly make it possible for everyone on a wheelchair or anyone using a wheeled object to access buildings and spaces that would have otherwise been impossible to get into. It can be portable, semi-permanent, or permanent depending on what it is that you are in need of exactly.
The permanent ramps are made in a way that they are attached or bolted in place and cannot be moved. For the semi-permanent, they usually rest on concrete pads or the ground. They are often meant to be used for only a while. In most cases, portable ramps are aluminum made and they can be folded.
Are portable wheelchair ramps safe for elderly or disabled people?
When you are caring for an elderly person. Safety is one of your greatest priorities. You may need to use a ramp once in a while, especially in areas where they are not already installed. The million-dollar question is whether the portable option is safe or not.
Portable wheelchair ramps can be safe, especially if they meet some very specific standards. For a portable ramp to be safe, it needs to have non-skid surfaces. This lowers the incidence of accidents. A good option also comes with safety edges on either side.
When you are picking wheelchair ramps home depot, it is important to consider the weight of the person who will be using it. It should be adequate to hold the weight of the wheelchair and the person. You should also consider the weight of the caregiver since they need to be pushing that wheelchair over the ramp.
Portable ramps VS Threshold ramps
The two portable handicap ramp options come with similarities and differences that are worth noting.
Both ramps are designed in a way that they can allow easy access where there are obstacles or in buildings and rooms that are hard to reach.
Threshold ramps are designed for permanent solutions while the portable ramps offer just the best choice when you need to handle temporary situations like travel and vacations.
The portable options tend to be a little more versatile and accommodating if you want to deal with different kinds of rises. They are designed in a way that they can go easily over the stairs. The threshold ramps only work for the kind of rise that they were initially designed for. They are designed to create an accessible entryway into buildings and rooms when necessary.
With the above information, you should be able to choose between the two types of ramps. Assess your needs, and why you need a ramp and you will definitely know the perfect choice for your situation.
Advantages of portable wheelchair ramps:
There are many advantages associated with portable wheelchair ramps. We may all understand how frustrating it can be to have mobility issues and to be unable to access areas where we are supposed to enter.
The wheelchair ramps are therefore a cost-effective and practical solution, which helps to improve lifestyles, especially for elderly persons with mobility issues.
Easy navigation of doorways
Easy entry into houses
Independence since you can navigate the outside and insides of the home alone
Ability to take showers unassisted
Ability to access outdoor areas
Exit and entry into a car
Running errands alone
Disadvantages of portable wheelchair ramps:
Ramps are not just inclined planes. They make it easy to access all areas easily. Some localities have even enacted legislation that promotes accessibility and this is making more room for ramps. There are some disadvantages that you need to be aware of and they include:
Some ramps are created too steep and this increases the chances of tipping
Some ramps do not have handrails and this is problematic
Wooden ramps are not easy to maintain because they can rot and cave
Some are too heavy
Some need to be fastened in place
They are not a fit for every mobility gadget
The material used could make them slippery, especially under wet weather conditions
How I selected the best portable wheelchair ramps:
Normally, the portable wheelchair ramps for stairs are meant to be used with a wheelchair or sometimes they can be used with wheelchairs that need assistance to be pushed.
This means that the ramp has to be as functional as possible and it should be designed with the elderly persons in mind. There are different needs that need to be met and there are some features that should be looked at when you are making your choice.
⇒ Surfaces
It is always better to pick an option that has a non-skid surface. The best thing about them is the fact that they are ideal for the outside and indoors. Regardless of where you plan to use it, ensure that it has a non-skid surface to reduce the chance of accidents.
⇒ Safety edges
The best ramps need to have the containment edges to make sure it does not run off the set incline.
⇒ Weight capacity
This is obvious. You need a ramp that can support the greatest weight possible for purposes of weight.
⇒ Transition Plates
These are landings found at the ramp's bottom and they allow the wheelchair to transition to the ground level.
⇒ Drainage Holes
If for outdoor use, drainage holes are necessary. The material should be rust resistant.
The best 10 portable wheelchair ramps
By now, we have already established how important it is to use portable ramps for stairs. They are a great idea if you want to keep your elderly loved one safe and from accidents. When they have a handrail and other features, it means that they are even better and can offer even more benefits to the user.
1. Prairie View Industries SFW330 Portable Single folds Ramp
This is one of the best portable ramps that you can choose. It makes use of welded fabrication instead of riveting which means, it has a more solid build.
The surface is also covered with a tape that is skid resistant allowing maximum traction. The ramp is therefore safe and the accidents are minimized greatly.
The platform is 30 inches wide and therefore offers the best stability and support. It can also handle a capacity of up to 800 pounds. It also comes with a handle, which makes carrying it, a very easy thing. You can carry it as if it was a suitcase. The welded construction is very durable.
It can accommodate scooters as well as wheelchairs that come in different configurations in terms of wheels. The material used to make the ramp is aluminum and it is lightweight. It can be folded conveniently making storage and transport berry east.
When the ramp is delivered to you, you will also get security pins and an instructional video that ensures safety. This item has been thoroughly tested to ensure that it is as functional as it needs to be.
The ramps are strong, even though they are light and they are made in the USA. They have a lifetime warranty, which is limited.
2. Drive Medical Single Fold Portable Wheelchair Scooter Ramp
This ramp is designed specifically to make it easy for the user to transition from a scooter or wheelchair from one surface to the other. It has a very durable construction that happens to be lightweight as well.
The best thing is the fact that the ramp also includes a carry bag that can be used when you are traveling. The slots are perforated, which ensures that no water gets to collect on the ramp especially when it is meant to be used outdoors or when the weather conditions are not favorable.
The overall dimensions are 37 inches long, 28.5 inches in width, and a height of 4 inches. The inside track width stands at 26.5 inches. Its weight capacity stands at 600 pounds, which is a decent number. This is one of the most durable options that you can choose for your elderly loved one. It is easy to use and to store.
Its portability means that you do not have to worry whether a building is disability friendly or not because you can carry it everywhere in your car. The ramp is also long enough to cater for the surface height of up to 6 inches.
3. Titan Ramps 6′ ft. Aluminum Multifold Wheelchair Scooter Mobility Ramp portable 72″ (MF6)
This is another ideal ramp for the elderly. It has a grip surface, which is slip resistant. It can handle a capacity of up to 600 pounds. It has a 2.5-inch angle lip that has holes.
The holes are meant to hold the ramp in place when it is in use. It also comes with a nylon handle, which is very soft to make it so much easier to carry the ramp around.
The total weight of this tramp is 40 lbs. while the size is 77 inches by 29 inches. The ramp is made using aluminum, which makes it lightweight and durable too. This great ramp can be used by people on scooters or wheelchairs. It is not ideal for walking on and it is not designed for that purpose.
This ramp can be used in different areas. It is an ideal option for loading on minivans, steps, landing, curbs, or even porches. It can also be used at the back of trucks. It has a very easy fold design, which makes portability and storage quite easy.
The surface is slip resistant and therefore accidents are reduced to a great extent. It is an ideal choice that you can make for your elderly loved one.
4. Ruedamnn Telescopic Portable Wheelchair Ramp 8'for Pair MR107-8
The wheelchair ramps are 8 inches long. The highest can handle height of up to 15.7 inches. It is ideal for car trunks, stairs, threshold, and so on. It is an option that is quite easy to carry and to store. This is because it can be folded to dimensions of 4.4' by 8.3". The ramp is made of aluminum, which means that it is durable and lightweight.
The aluminum can support around 600 lbs. capacity, which makes it the perfect choice for electric wheelchairs and scooters. It also has nonskid holes on the surface, which makes it less likely for accidents to occur. The holes also mean that it does not retain any water within. This means that it can be used outdoors, even during wet weather conditions.
This is a perfect choice for wheelchairs that have back wheels and front wheels are within a single line. It is also ideal for power chairs and manual wheelchairs. This item is new and it is of the greatest quality.
It is very easy to set up the ramp and it is easy to push a wheelchair on it. It is a great choice for telescoping and it saves a lot of space if it needs to be stored. The maximum gradient is 16" or less.
5. Goplus® Multi-Fold Aluminum 3′ Non-Skid Wheelchair Ramp
This is a wheelchair ramp, which is designed in a way that it can traverse raised surfaces, curbs, and spaces. The ramp is very easy to fold into a compact size that is easy to store and to transport.
This means that it is a very portable option that you can use while you travel to different places. It can fit into your car without taking much space. It also includes a comfortable handle that is built in. This adds to its convenience.
The surface is a high traction one offering an optimal grip regardless of the weather. It can handle an elevated surface of up to 6 inches. The material used to make this ramp is welded aluminum and it has a maximum capacity of 600 pounds.
We all desire to have a ramp that is safe and convenient for our elderly loved ones. We know accessibility can be a great issue, but ramps are designed to make things so much easier. Regardless of the weather, this is the ramp of choice and it can ensure safety due to the features that are included.
6. Clevr 3′ (36″ X 31″) Non-Skid Aluminum Wheelchair Loading Traction Ramp
The clevr 3 nonskid aluminum wheelchair ramp is extra wide and this makes it so perfect for different users. It can be used for wheelchairs, walkers and so on. Its dimensions are 31" by 36".
It is a great design for power and manual wheelchairs. It helps the user to access landings, curbs, and porches on a convenient and easy manner. The coat surge offers a high traction, which is one of the best things about this model.
The product is also compliant with ADA. ADA recommends a ramp with a length of 36" and it to handle a height rise of 6" from the ground. The set maximum height when scooters and wheelchairs are not occupied is 10".
The product is portable, light, and safe. It comes with safety pins as well as a carrying handle which is built in. The ramp is also a lightweight option at 16 pounds. This makes it very easy to move it around.
It is also a compact option since it can fold to sixteen inches wide and 3 inches high. This means that it can get easily transported using cars or it can be stored away conveniently if it is not being used.
The construction is made of aluminum, which allows durability and stability. It can handle around 600 pounds. This capacity can handle electric chairs and heavy scooters as well.
7. Portable Aluminum Wheelchair Ramp Foldable Separated Mobility Scooter Traction Ramp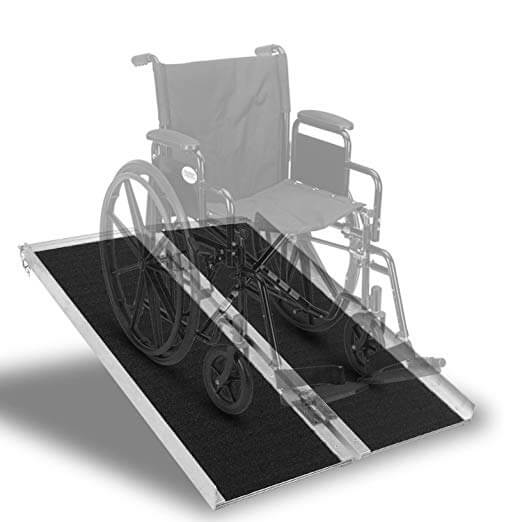 Ramps are very important for people with mobility issues. They are multipurpose and they help to create a favorable access point for strollers, scooters, and wheelchairs.
They are a good fit for anyone who has issues going down or upstairs. They can be used for temporary or permanent access to the business, vehicle, home, or any other location.
They have a sturdy construction, which makes them resistant to different climatic conditions and fire. The ramps are also constructed in a way that they can be left outdoors without suffering any damage.
This option is portable and easy to use. Since it is made of aluminum, it is lightweight. It can be folded into two and then carried with the easy to use handle that is inbuilt. The best thing is that the ramp can be separated into 2 different pieces to make it easy to carry and store when it is not being used.
The finish is safe and is a non-slip option. This is applied well to the surface to make sure that anyone using it gets a safe footing. It also comes with some two guardrails on each side that helps in the prevention of accidental falls.
8. HomCom 6′ Folding Portable Suitcase Mobility Wheelchair Threshold Ramp
This product is created from an aluminum alloy that is anti-corrosive. It is a sturdy product, which guarantees the safety of your elderly loved one when they are using the ramp. It also has a skid proof surface that makes it less likely for slipping to occur.
On either side of the ramp, there are guardrails. This ensures that the elderly person does not fall off. You can easily fold up this ramp to carry it easily and to facilitate storage if it is not being used. The dimensions of this product are 72"x29"x3.5".
The ramp can handle up to 600 pounds maximum weight and therefore it can suit almost anybody regardless of his or her size and weight. It is a ramp that can be used by motorcycles, bikes, scooters, and all other types of unwieldy wheeled objects. This makes it one of the most versatile portable options that are available in the market today.
Safety is one of the most important things that you should consider when you are picking the ideal ramp. This is built for that purpose. You can make it over small stoops very easily and without sliding regardless of the weather conditions.
9. DMI Portable Wheelchair Ramp
This is yet another product that is ideal for seniors. It has a non-skid surface and it is a portable ramp that can be used for vehicles, curbs, and steps. The tracks are u-shaped which adds to their stability and their safety.
The dimension of the ramp is 7"x3'-5' and an inside width of 4.5". It is easy to adjust, telescope, and retract. This means that you can conveniently and easily store the ramp at home, within your car, and so on. It can also adjust from an incline of 3 to 5 feet by simply pushing the lock mechanism button.
This ramp is created using lightweight aluminum. The material is durable and it is rust resistant as well. They come with two each one is able to handle 300 pounds, which means that together they can handle a capacity of 600 pounds. Their total weight is 6 pounds a piece.
Assembling this ramp is quite easy because it does not require any tools for this. It has a storage bag, which is made of nylon. This is one thing that makes it such a suitable option for storing, transporting, and travel. The inner track is around 4 inches wide while the track rails are 2.25 inches in height.
10. EZ-ACCESS SUITCASE Single fold Portable Ramp
This is another suitable portable ramp that you can select for your loved one. It is a portable option and it has a single-fold design that is very easy to set up.
It is an ideal option for wheelchairs and scooters as well. The product is created from lightweight aluminum that has a design, which is very easy to carry. It has handles that are ergonomically designed and they facilitate its movement from one point to the next.
It has a tread which is built-in. This makes it possible to have great traction regardless of the prevailing weather conditions. It has a hinge, which makes it stronger and more flexible. It has a weight of 17 lbs. and can handle 800 pounds of weight. The folding specs are 36"x15"x4".
The ramp is very easy to set up and this can be done quite safely. It is an ideal option for high traffic with single steps, curbs and so on. The ramp can cover mobility devices to different terrains using transition plates that are located at the bottom and which work independently.
By getting your mobility back, you regain your freedom, confidence, and the chance to live independently.
Conclusion:
Ramps are very important, especially for the elderly who need to use wheelchairs because they cannot move around by themselves. It is important to choose a ramp that is easy to install and to use and one that makes a guarantee of safety and stability. Choosing a sturdy option and one made of durable materials means that you don't have to deal with accidents so often and also it ensures that you don't need to make replacements every now and them.
You need to choose wheelchair ramps for stairs that are designed carefully to ensure that they serve the purpose that they are meant for and to be useful in many areas. Safety is important and that is why most jurisdictions dictate the specs that are acceptable.