If you get a chance to visit a nursing home, one of the things that may catch your eyes is an elderly person slumped on a chair supported by pillows. Taking care of the elderly is a challenge, especially when they have minimal dexterity and balance issues. It is often hard to take care of them around the clock. Poor posture does not help the aches and pains associated with aging. As such, choosing the best chairs for the elderly should be a priority especially if you really care about the wellbeing of your loved one.
One thing you note is that the elderly spend a lot of time sitting, especially as they become less mobile. Giving them a little comfort goes a long way. The elderly complain of pains and aches even as they sit.
They may become unbearable and you may find them, preferring to go to bed even during the day. Depending on their condition, they may slouch in the chair or even slide or fall off the chair altogether. Renting or buying a good chair for your loved one can be the best investment for their health.
Types of chairs for the elderly
There are different types of chairs that you can pick for the elderly. The chairs fall under four categories.
Wheelchairs: these are mainly used outdoors and when one wants to travel. There is a wide variety to choose from.
Recliners for elderly: these have two functions. They have a riser that makes sitting and standing easy as well as a recline function for comfort.
Therapeutic chairs: these offer pressure management and postural support. These chairs are widely researched and therefore are some of the best.
Advantages of recliner lift chair:
You may find that at some point during the aging process you may start considering the best lift chairs for elderly. Most people use ordinary chairs, but a recliner chair can do so much more for your loved one. There are many benefits associated with getting yourself, or your loved one, one of these as they age.
Allows the elderly person to feel independent since they can stand and sit without outside help
It reduces the risks of injuries, especially with reduced mobility and loss of vision
Saves the caregivers time
Offers comfort depending on the features included
They come in different types so you can make a selection
They help with posture issues
They come in different designs and colors so you can pick the best for your decor
Disadvantages of recliner lift chair:
So far, we have established that a recliner lift chair is one of the most convenient things that an elderly person can have at his or her disposal. However, as much as there are many advantages associated with lift recliners for elderly, there is a flip side that has to be considered as well.
They may hinder the chance of getting some physical exercise
It hinders normal movements that can only be achieved through daily tasks
An elderly person may become emotionally and physically unfit
It may make the elderly person too reliant on the chair
Less activity means less strength
Less activity also means less balance, both dynamic and sitting
A greater fall risk because of being over reliant on the chair for support
So How I Selected the Best chairs for the elderly:
There are many things that you should consider when you are selecting the best chairs doe the elderly. There are several aspects I looked at keenly when creating the list and they include:
⇒ Comfort
Comfort is one of the most important things to consider. If the elderly person is not comfortable in the chair, then the whole point is lost. The best chair can help the elderly person stay awake longer and avoid napping this sleeping better at night.
⇒ Adjustability
It is also helpful when you have a chair that can be adjusted. This allows you to meet the elderly persons changing needs. This can include a seat width. Make sure that the chair always suits the patient needs especially if they are gaining or losing weight.
⇒ Wheels
You should consider wheels as well, especially if you want to be able to move your loved one across the facility or home. Wheels can help caregivers with this very important task.
⇒ Pressure management
You should consider this feature, especially when your elderly loved one has to sit for a long time during the day and they cannot shift their weight. Pressure management can increase comfort and reduce the risks of getting bedsores or pressure ulcers.
⇒ Head support
If your loved one has declining or poor head control, they need some additional support. A good chair should have this feature to support the spine, the neck, and the head.
The best 10 chairs for the elderly
Below is a list of the best chairs that are ideal for the elderly. They may be used when you are feeling weak. If you can, it is always good to try doing things by yourself. Encourage your loved one to get up on their own unless it is very impossible.
1: Esright Massage Recliner Chair Heated PU Leather Ergonomic Lounge 360 Degree Swivel (Black)↓
2: Stander Couch Cane↓
3: Lifestyle Power Recliner Fabric, Taupe↓
4: BONZY Lift Recliner Classic Power Lift Chair↓
5: MAGIC UNION Power Lift Massage Recliner Heated Vibrating Chair↓
6: Dorel Living Padded Dual Massage Recliner, Tan↓
7: Ashley Furniture Signature Design – Yandel Power Lift↓
8: Lucas Gray Fabric Modern Sleek Recliner Club Chair↓
9: Domesis Renu Leather Wall Hugger Power Lift Chair Recliner↓
10: CANMOV Power Lift Recliner Chair↓
1: Esright Massage Recliner Chair Heated PU Leather Ergonomic Lounge 360 Degree Swivel (Black)
This is one of the most relaxing chairs that you can select for your loved one. It is a reclining chair and comes with vibrating, massaging, and heating features.
The design is sturdy and soft. It is made of PU leather and it is great for intensive use. The chair is padded with a thick sponge to offer a back cushion as well as an armrest. The chair also includes two-cup holders as well as storage bags where you can stuff your drinks and magazines.
The swivel is 360 degrees while the recline feature is 150 degrees. The recline is controlled manually. There is also a remote control as well as a power cord that makes things so much easier. There are five control modes that you can select as well as tow intensity levels.
The chair can be assembled very easily and without needing expert knowledge on the operations of the chair. Usually, the chair is delivered in two boxes.
This is one of the ideal chairs for the elderly. The only downside is the fact that recline has to be done manually. This means that you will still need to assist your loved on to some level.
2: Stander Couch Cane
This is a safety support handle, which is quite helpful to the elderly person using the chair. It also has a standing aid that can be adjusted. The organizer pouch allows the elderly person to actually have important items close to him/her.
The cane grip is also adjustable and therefore you can set the hand position you feel is the best to maintain balance at all times. There is a reversible and adjustable base that can be installed on any end of your couch styles.
There are also anti-slip pads installed to protect your floor and reduce the incidence of slipping. This product comes with the following pieces that have to be assembled:
By stander
Couch cane
Organizer pouch
Main handle
Base piece
It is true that mobility is an issue that most elderly persons deal with every single day. It can be particularly difficult to get into a chair or couch and out of it.
This couch cane comes in handy when you need a boost. The couch cane is steel made and has a satisfaction guarantee that covers a lifetime so that you can make the purchase in confidence. It can be fitted next to your favorite seat or chair.
This is an amazing choice for not only the elderly, but also people who have just had surgery or those with serious back issues.
3: Lifestyle Power Recliner Fabric, Taupe
This is yet another amazing choice for the elderly. The lifestyle power recliner has an amazing design and is made using plush and heavy-duty fabric. It has a USB plug that can be used to charge gadgets conveniently, while you are still seated. The charging port is integrated to the switch.
There is also a wall saver mechanism and a lay flat mechanism that can be used to change positions easily.
The product comes with a very fresh design, which gives it more value than just comfort. It comes with very generous padding so that your loved one remains very comfortable as they sit. There are coils that are wrapped individually in durable and soft fabric.
The seaming is also done professionally creating very smooth lines. This makes the recliner look casual but still very clean. This recliner features a power recline that has full chaise offering great leg support.
The fabric used to make this product is family friendly and can be cleaned quite easily as well. It is also very soft making it one of the best for the elderly.
The reclining action is also very smooth and it is activated by a simple button touch. This means you can get into your favorite position easily and without any assistance.
4: BONZY Lift Recliner Classic Power Lift Chair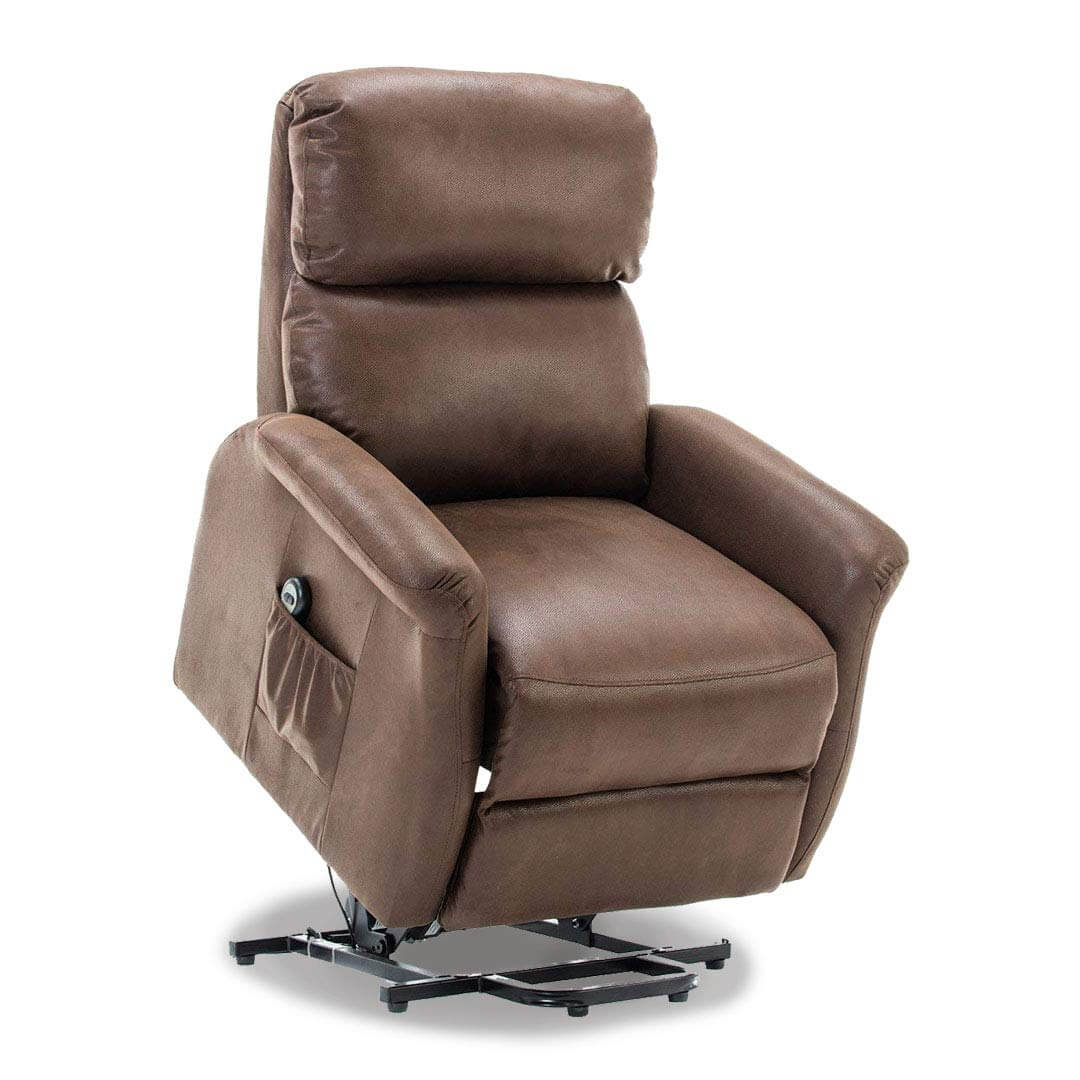 This great recliner lift chair can be used by the elderly. It is a product that is quite user friendly. It comes with a remote control, which allows the lift and the recliner to work easily. This product can be quite helpful to medical handicaps, nursing women, loungers, or the elderly.
The lift works by simply lifting the chair slightly and then tilting to allow your loved one to slide gently to a standing position without stressing the knees or the back.
The chair is also quite family friendly and it can be cleaned very easily. This means that your home will remain clean and fresh regardless of having the chair added to your space.
The fabric is durable, but very soft. This chair is able to hold up to 300 pounds. It has a pocket located on the right side where the elderly person can place small items like remotes and so on. This means that you can carry out daily activities without having to get out of the chair.
The product also focuses on environmental wellness, comfort, and safety. It embraces creative approaches of the newest technologies available today to conform to international safety, quality, and environmental regulations.
5: MAGIC UNION Power Lift Massage Recliner Heated Vibrating Chair
This is a great chair made of a wooden frame that is quite solid. It is also made of PU leather. It has cup holders as well as pockets where you can put the TV remote and other small items that you may need to reach from time to time.
It has a power lift function that can push the whole chair upwards from the base to assist the senior to stand easily. You can also recline this chair easily and release the footrest, which is built in. All the functions are powered fully by a remote. The footrest and the back work hand in hand.
This is a chair that is very easy to use and it comes with two remote controls. It is run safely and smoothly.
It has a massage function as well. The massage focuses on the back, lumbar, tight, and leg. It also has five modes that include normal, auto, wave, press, and pulse. This allows the elderly person to meet different massage demands easily. The heat function is meant for the lumbar part.
For this chair to work well, it should be 54 CM from the wall when it is being used. The item is shipped in two boxes.
6: Dorel Living Padded Dual Massage Recliner, Tan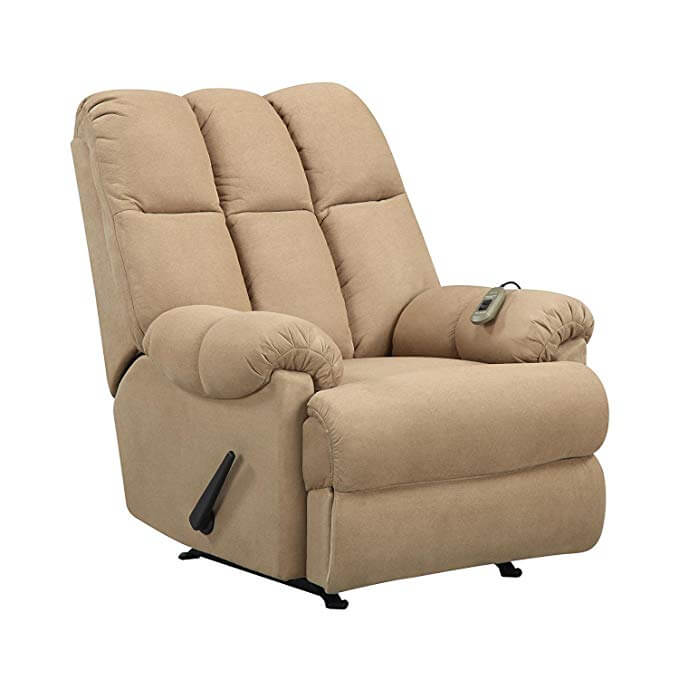 This is another recliner that is ideal for the elderly. It has zone massage with low and high settings that are located at the back and the seat. It can operate separately or together.
There is a lever release that allows the reclining function to take over. The chair has a pad that supports the knees and the legs. To give the elderly person the need durability and comfort, it has a foam setting.
The back and seat cushions are sewn in meaning that they do not get out of place when the elderly person is using the seat. The chair is also covered in a microfiber fabric that is soft and easy to clean. The foam seating makes the chair durable and comfortable too.
The reclining function is also very helpful to the elderly. They can adjust the chair to the position that is ideal for them.
The supreme comfort and the classic style are the main hallmarks of this recliner. Having this recliner within your space adds that casual touch to the living area. It is a great way to relax after a long day's work with the dual massager in place.
7: Ashley Furniture Signature Design – Yandel Power Lift
This dual motor recliner combines functionality and style together. With a simple button touch, the power lift will ease you and elevate your legs to have that ultimate experience as you lounge.
The comfort is undeniable. It is designed to concentrate on comfort and support. The back is high, the cushions thick, and the frame sturdy. The upholstery is made of faux leather. The frame is metal reinforced.
The upholstery is saddle brown and it looks just like real leather. However, poly fiber has a cozy feel and is soft to touch. The chair is also sized generously. This includes the seat area and height. It also has a footrest that makes it even more comfortable.
The chair is also quite easy to assemble. It comes with tools, hardware, and instructions on how it should be done. The chair can fit through doorways that are up to 30'' wider. The item is shipped directly from the manufacturer.
This product is made by Ashley furniture industries, the company has been around for decades, and it has produced some of the most stylish mattresses, accessories, rugs, lighting, and furniture. This means you can buy the chair with great confidence.
8: Lucas Gray Fabric Modern Sleek Recliner Club Chair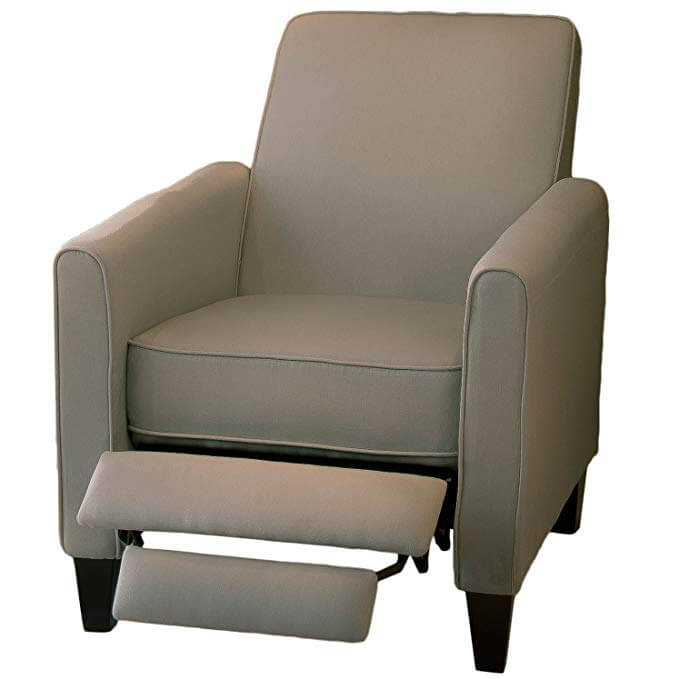 This is a sleek recliner that adds a flare to your décor. The seating is made comfortable by padding in the seat, the armrests, and the backrest. You can choose the position that you prefer most by using the multi-position recliner.
The construction is quite sturdy and is made of hardwood. The upholstery is made of soft fabric, making it more comfortable for the elderly.
This is one of the most durable pieces that you can pick for your loved one. It is comfortable, and functional which is what most elderly persons need.
The chair is quite comfortable to sleep in too, especially if you do not move too much while you sleep. It is only good for sleeping on your back. It can handle only three positions. That is, upright, hallway back, and all the way back. It is a decent chair and fairly priced too.
Dealing with the signs of aging can be a hard period for anyone. It becomes worse if you have conditions such as arthritis that make it hard for you to move around freely.
It is common to find elderly persons spending most of their time in bed. That is no longer necessary since there are recliner chairs that can make things so much easier.
9: Domesis Renu Leather Wall Hugger Power Lift Chair Recliner
This is an amazing product, especially if you need to save space. This is because this lift chair only needs to be 4 inches from the wall to lift or recline. It uses very little floor space during the recline.
The recliner has two buttons for control. This does not complicate things so you only have to hold the down or up button to get to the desired level.
It is a practical option for anyone who has mobility issues. There is the lift feature, which is electric, and it helps in sitting or getting up from the chair. Electric recliner chairs for the elderly are convenient and easy to use.
The chair also gives ergonomic support. It is fully padded with high-density foam that allows you to have enough cushioning on the legs, the seat, and the back. It is a great choice for your afternoon nap and for watching your favorite TV shows.
It is made using RENU leather. This makes or breathable, comfortable, and durable. This is a leather blend fabric that feels like leather. It is an armchair for elderly that is similar to the popular ones made of leather but at an affordable price.
10: CANMOV Power Lift Recliner Chair
This is a functional and very sturdy option for the elderly. It is quite stylish as well. It has a heavy-duty mechanism and a single motor. You can lift, lay, stand, or tilt very easily. You can also adjust the chair to find a customized position for all your lounging needs.
The antiskid upholstery makes it safe for the elderly person to use it comfortably. The pillows are overstuffed to offer comfort in the armrest, the seat, and the back. It offers the needed support and comfort. The back is high offering the much needed comfort and style.
For the sake of health, it may be necessary to contact a health professional before use. If you feel any joint or muscle pain after using the product, it is important to get in touch with the doctor.
The item is functional, durable, and of unique quality. To assure the customers of this, the manufacturer offers a warranty lasting for one year against all the material defects as well as workmanship.
It is an environmentally friendly piece that can embrace technology, design, and innovation. The piece is made by hand for more attention to detail.
Conclusion:
There are many issues that face the elderly. However, there are innovations that we have in the modern world that can make it easier for them to cope. Getting a chair designed especially for the elderly ensures that they face each day with confidence and with great ease. Looking for a functional seat that is easy to clean and use is one of the best things you can do for your loved one. When you have a chair that can be controlled helps the elderly person get up and sit down easily. They can also recline it to the positions they feel are the best according to their current situation.