In the senior years, most people are already retired. However, the traditional concept has been changing over the years and it is not unusual to see seniors employed. Older adults feel the need to continue working regardless of retirement. Many seniors appreciate the satisfaction that is often associated with being in a workplace and social life. There are many jobs for seniors available in different areas today.
According to studies, it has been noted that most older people continue working because of the many objectives that do not have to do with finances. Older workers are increasing in many economies and it has become necessary for the employers to actually change the job structures at the work place and redefine careers, as we know them.
We used to conceptualize careers as a kind of linear progression where you go through a job series with each one have more responsibility than the first. However, the realities have changed and that straight career ladder is no longer applicable.
It is important for older persons to continue working even after retirement to keep busy and feel useful and productive. Working ensures that an elderly person remains active both mentally and physically. There are many jobs for disabled adults as well.
Which jobs are good for seniors?
For most seniors, retirement is not everything they thought it would be and sometimes the retirement income may not be adequate to cover your needs. In such a case, you could consider returning to work.
There are many work options today. An elderly person can try or freelance jobs, part-time, seasonal, short-term, and even temporary jobs. Good jobs for senior citizens should be selected carefully so as to make it fun.
If you spend all your life working, you may consider trying out something new. You should keep an open mind so as to enjoy going back to work. You could also consider trying online jobs for seniors if you want more flexibility.
What are great part-time jobs for seniors?
Most workers feel the need to work even after they hit the retirement years. Sometimes you may want to supplement what you are currently doing or even stay active after you retire. Part-time jobs can be an excellent option for seniors.
However, you need to note that part-time jobs are not all the same. Some are better suited for seniors than others. Regardless of how good you feel, find a job that is not too physically challenging.
There are different part-time jobs for seniors in every professional background. This means there are many options available for each senior person depending on their academic qualifications, experience, physical ability, and state of mind.
Top 20 best jobs for seniors
When people hit the age of 60, most of them want a change and they do not want a fast-paced life. There are those who are ready to retire while others want to remain in the workforce.
It is common to see the elderly switch careers so as to work in a different field and in a different capacity. There are seniors who work because they need the money while others stay employed so as to continue with daily routines and cultivate social connections. Some of the top 20 best job ideas for seniors include:
1. Tax preparer
This is the perfect best jobs for seniors over 60 who were in the finance industry. People with accounting backgrounds can be very efficient and knowledgeable in the tax area. Accountants have the training and experiences that are needed to actually do tax returns while following all the guidelines laid out in law.
If you have been an accountant for most of your life, then you definitely know everything there is to know in finance and that includes tax laws. Most economies do tax returns at a specific time of the year and you should be able to find clients who need such services.
A tax Preparer may have to work long hours, especially in the tax seasons, but with lighter work all through the remaining part of the year. A tax preparer can earn around 12 dollars per hour.
2. Tutor
If you are a retired teacher and you have the experience and educational background to assist students, then you can be a tutor. You can assist students to prepare for different kinds of exams on the subjects that you specialized in so as to bring those grades up.
There are many milestones that a tutor can help a student achieve. When you see them excel, it gives you satisfaction and you will feel useful. This is an excellent job for retired people.
There are many flexible work choices that are up for grabs for teachers. It is important for the elderly to stay active both physically and mentally.
Being a tutor helps you achieve this and gives you the chance to nurture young people to be responsible adults. The median pay for tutors is around 18 dollars per hour.
3. Athletic coach
This is a great option for any person who is very passionate about sports. You see many young people today who are quite enthusiastic about a particular sport.
There are many budding athletes today that need the guidance of someone who has seen it all. They need the motivation to push themselves to greater limits and to be the best they can be.
For an athletic coach, you should not expect such a high pay, but you will get the opportunity to stay active most of the time. It gives you the opportunity not to be a couch potato, but to actually go outdoors and stay active. The pay is around 15 dollars per hour.
4.

Consultant
If you were in a career that you really loved but you do not want to spend all your time working after retirement, then you should consider offering consultancy services.
You use the experience, expertise, and network achieved over the years to your advantage. You can then offer part-time services to your former employers and to any other companies that operate within the field.
The pay for consultants is variable. You should set your own rate depending on the hours that you will be working. As you do the calculations, it is important to consider time off and retirement benefits.
5. Clergy
This is a very enjoyable job for seniors. Most of the elderly people working in this field claim that they actually enjoy the work that they do. They say you get wiser with the years and this is a job that gives you the opportunity to guide people into clearer paths in life.
Being a clergy allows the elderly to make very many meaningful social connections. It is also a very flexible job option. It makes the elderly person feel more useful since they get the chance to help others through different facets of life. The pay is not that good, but it is a good job for seniors who have some other sources of income.
6. Counselors
If this is your kind of thing, then you will find it to be very enjoyable. It is always important to find a job that matches your character. Find something that you actually enjoy doing.
Older people prefer mentoring and counseling jobs because they give them the opportunity to pass the knowledge acquired over the years to other people.
Elderly persons have seen a lot of things in their lives and their experiences remain unmatched. As such, they are in a position to offer advice on a myriad of issues that happen in life.
7. Supervisors
Older people love feeling that they are in charge. Having an administrative role can actually boost the self-esteem of an elderly person, especially if they are organized and have some leadership skills.
Being a supervisor allows the elderly person to stay active without having to exert themselves physically. The elderly person gets their share of social interactions and this is what makes such positions attractive to the older persons.
Being a supervisor helps the elderly person stay alert in the mind since they need to be attentive to details. It also improves their organization skills.
8. Ranchers and farmers
Farming and ranching are all rigorous occupations and the require one to work long hours. For many elderly persons in this line of work, this is something that they actually enjoy and it is a kind of vocation.
This is a job that allows you to be close to nature and we all know how therapeutic that can really be on the mind and soul. Elderly persons with a passion for gardening nurture plants with care and precision.
Depending on what was earned during your working years, a lot of the heavy lifting can be assigned to younger hands or machines while you handle the bookkeeping and management.
9. Health care
Health care is another incredible field that you can choose to work in. The health care field has many areas that an elderly person can choose to work in. There are so many possibilities available in the industry.
Caregiver and nursing are some of the most lucrative options for the elderly. This is an industry that can give the elderly person so much meaning and pride in what they do.
They get the chance to help others in a meaningful way. The elderly may also get some non-medical roles. If you want an encore career, you can choose something like a healthcare navigator.
10. College Instructor
If you hold advanced degrees and many years of work experience, then you may find this job one of the most amazing options that you can go for.
You can choose to be an instructor and a university, a community college, or a professional school specializing in your area of expertise. At the age of 60 and above, most people may look for jobs at postsecondary schools.
This allows the elderly to remain productive and to actually instill the skills and knowledge they have acquired over the years into young minds. The median pay every year around 76,000 dollars.
11. Taxi driver or chauffeur
This is another amazing job for the elderly, especially when they are in perfect health. You can choose to transport people using private means from one place to the next.
You may also work for wealthy clients who are willing to hire a chauffeur. Elderly people are a great fit for this line of work because they are seen as being responsible and reasonable while on the toad. It is unusual to find an elderly person over speeding or with a DUI.
You can invest in a taxicab or work for a taxicab company. You may also get the chance to drive luxury vehicles such as limousines. The median wage here is around 12 dollars per hour.
12. Animal care at shelters or vet office
This is a category that has a wide variety of open options for seniors. Being around animals can have a healing effect on people and this includes the elderly. Interacting with animals is usually a great thing and an elderly person can find their purpose in such settings.
They may find a companion in the animals and this makes them less distressed and happy. This is a fun way that seniors can choose to make that extra cash.
Since most of the seniors live away from their relatives, being with the animals can be great even on a temporary basis. Taking care of animals at shelters or at the vet's office allows seniors to have social interactions.
13. Animal trainer and dog walking
There are people who are great at training animals. If you happen to fall under this category, then you may choose to be an animal trainer. Usually, this involves teaching animals how they should behave and how to take commands.
You may also have the talent and skills to teach them how to perform tricks. This is usually done with the assistance and the input of the owners. Trainers get a median age of 14 dollars per hour.
Dog walking is another area that you can try, especially for people who are too busy to walk their pets. You can make around 12 dollars hour while getting your walking exercise and social interactions.
14. Pet sitting
You can take up the pet sitting role. Normally, this involves taking care of people's cats, dogs, and other types of pets while they are out of town. This guarantees the owners that their pets will be safe for the duration that they will need to be away for their different engagements.
When you are choosing the pets, you will need to consider the demands. There are some dog breeds that need lots of physical exercise. If you are inactive physically or limited in one way or the other, then this might not be a good fit.
If you are partially active, you should choose a smaller pet that is not as active and one that does not have many demands. The median wage is around 11 dollars each hour.
15. Certified nursing assistant
In this case, you get to work under the guidance of nurses within a health care facility. Here, an elderly person can offer basic care to different patients under different capacities.
An elderly person may groom, dress, feed, or bath the sick. They may also be given responsibilities such as changing bed linens. The median age is around 13 dollars per hour.
You can also choose to be a health aide at home. You can assist patients to recover from illnesses or injuries at their place of residence. The elderly can perform tasks such as medication administration, changing bandages, and even dressing wounds. This is a great job for seniors at home. The pay is around 11dollars per hour.
16. Child care workers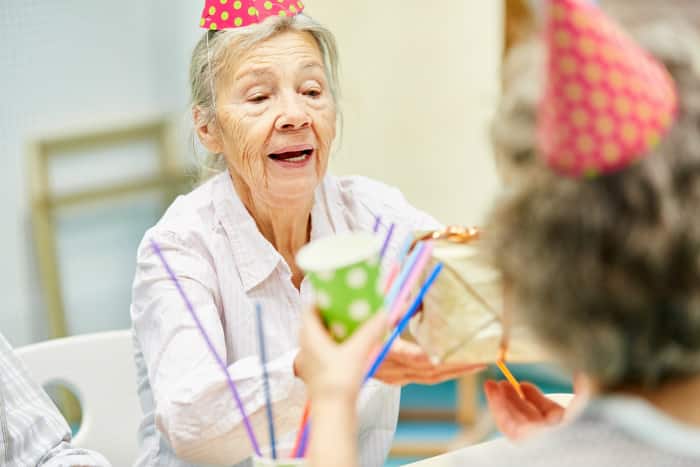 This is another rewarding job for the elderly. Most seniors love being around children and this is one of the reasons as to why they love it when their grandchildren visit.
Looking after young children while their parents are away at work is one of the greatest and noblest things to do. You can run a daycare or work in one.
You can also offer babysitting services to people who can afford it. Being a private nanny is also a rewarding job and enjoyable since you get to instill basic skills to the young ones through play and fun.
17. Administrative assistants
If you are a retiree who loves the buzz of an office environment, you can choose to work part or full-time as an administrative assistant. This is a path that is commonly taken by older women. You can serve as a secretary, receptionists, information clerk, office clerk, or in the bookkeeping and accounting department.
These are positions that may require you to go to work every day, even though it is still possible for you to act as a virtual assistant while still at home. You get a better pat as a supervisor of administrative and office workers. There are many good jobs for retirees available in offices.
18. Real estate agent
There are retirees who choose to start second careers as sales agents or real estate brokers. In such a case, the elderly person is responsible for assisting the clients to sell, buy, or even rent different types of properties.
Real estate brokers earn around 57 000 dollars, which is higher than what real estate sales agents make. Real estate sales agents need to work with brokers.
The agents are often times self-employed, meaning that they can set their house, even though they may have to fit into the client's schedules. Older women are also great as a community, real estate, and property association managers and this can give around 58,700 dollars.
19. Writing
This is another fulfilling job, especially if you really love writing different topics. You can choose to write so as to share the things that you have been able to learn over the years doing a particular job. You may also write so as to show off the creative side of you.
There are many people who start writing when they are elderly. This may be because they have a passion for writing, but did not have enough time in the past or because they have something, they want to express. Older people can work individually or can take assignments from different areas.
20. Engineering
Electronic and electrical engineers usually design and also test new technologies as they emerge. These can include GPS devices and communications systems.
Older people can be given the chance to supervise the production process and also troubleshoot any issue that may arise. To be an engineer, you require a degree as well as practical experience in the field.
It is important to have the math skills and ability so as to apply them to the newest technologies. Most of the electronic engineers work within the telecommunication industry.
Conclusion:
Working after you have retired has become a norm in different societies today. Elderly people should not hold back. Regardless of the kind of job you are best suited for, there are so many jobs for elderly who want to remain active. It is also never late to learn something new. If there is something that you have always had a passion for but never really tried out, retirement is a great time to start. You can enroll in different programs or short courses so as to learn new things. You can do such things online in the privacy of your home.