If you are looking for bathroom equipment for handicapped and seniors and ensure their safety then you have come to just the right place for that. This guide will tell you everything you want to know about keeping the seniors safe in the bathroom and what products to choose.
There is a lot of different bathroom equipment available in the market that promise to help the handicapped and seniors in the bathroom, but not all of them can ensure their safety and well-being. That's why it is important to choose the right bathroom medical supplies and equipment so that our family members can have the best bathroom experience.
The products mentioned below are not only safer, but they are also affordable. So, you won't have to burn a hole in your pocket to get them. Apart from that, the products can change the quality of life of an individual who is dependent on others for his or her bathroom needs.
That's why these classic products with revolutionary design can give them a chance to experience the bathroom independently. In order to know more about the handicap toilet equipment, continue reading the article as we have reviewed 5 best toilet equipment for the disabled in order to help you in making the right choice.
Who should use the handicap bathroom
The answer to this question is divided into a wide spectrum of individuals who can't fulfill their bathroom needs on their own either because of their old age issues or because of their disability. As the name already suggests, handicap bathroom should be used by handicapped individuals or elderly who are not able to sit or stand up on a toilet seat without any support or discomfort.
So, handicap bathroom should be used by those individuals. Its use can really alter their lifestyle and help them in fulfilling their basic human need without anybody else's help.
Bathroom safety equipment for seniors
Bathroom safety equipment usually includes an elevated chair for toilet or for taking shower. So basically what all these chairs do is provide a comfortable environment for seniors and the handicapped so that they can safely do their thing.
To avoid any mishappening, these products are manufactured with extra safety features. Some of the subcategories of bathroom safety equipment are:-
⇒ Shower chair- Used for bathing when standing becomes too difficult
⇒ Commodes- For toilet use and other bathroom needs
⇒ Handles and bars- For additional support and a comfortable experience
⇒ Elevated toilet seats- So that individual can easily sit on a high chair
Advantages of handicapped equipment bathroom:
It's easy to assemble
Comes with a sound and solid structure
Durable; Lasts long
Can be moved easily from one place to another
Can be safely fixed in a toilet bowl
High weight holding capacity
Safe for use of elderly
Comes with a guarantee
Highly affordable
Easy to store and handle
How I selected the best handicapped equipment bathroom:
While selecting the best-handicapped equipment bathroom that is available in the market, there are some factors that should be taken into consideration beforehand. But before that, one must understand the fact that no product is perfect and not all products can fulfill all the customer's requirements.
Now, some of the features that we kept in mind while choosing the best 5 products were:
-Design
Design plays an important role while selecting the toilet seat. Not all seats are the same and fit inside your toilet. So, it is important to make sure that you have the right design which can go with your toilet and can be conveniently used. Especially for the elderly, design plays an important role.
-Size
Again, size is something that should be considered while buying. If the seat is tall and wide then it is more comfortable for the individual to stand up or sit down.
-Quality
A good quality product lasts longer and is a value for money.
-Material
Most of the seats are made up of plastic. Make sure that the products you are purchasing are made up of durable material or a heavy-duty material.
-Stability
Stability is most important as the whole safety of the individual is dependent on it. If the structure is not stable then it is not safe to use.
Best 5 handicapped equipment bathroom for elderly
1. Raised toilet seat by Vive ↓
2.Drive medical folding seat by Drive Medical ↓
3. Drive medical folding bedside commode seat by Drive Medical ↓
4.Medical tool-free assembly spa bathtub shower lift chair ↓
5. Vaunn Medical 5-inch raised toilet seat and commode rise ↓
1. Raised toilet seat by Vive
This raised toilet seat by Vive is one of the best product when it comes to supporting the elderly in the bathroom. This seat is a complete comfort package as its ergonomic design has the ability to add height up to five inches.
That's how it makes it super easy and convenient for elders to stand up and sit down. The best part about it is that this toilet seat can fit on standard toilets as well as the elongated toilets.
All you have to do is attach it to the toilet bowl. You literally don't need any complex equipment to assemble the seat.
Now let's talk about its holding capacity. The seat is made of heavy-duty durable plastic. It can easily support weight up to 250 lbs.
And in order to make it even more secure, padded handles are provided with the seat which gives extra stability. In order to ensure that it securely fits the toilet bowl, a locking plate is also provided.
Moreover, the fact that the toilet seat is lightweight makes it even better as you can easily travel with the seat and you can easily store it. It also makes it easy to clean the seat. Overall, it is an amazing product for the elderly.
2. Drive medical folding seat by Drive Medical
This bedside commode is another amazing product that can be used by the elderly in your home. The reason this product made it to our list is its ability to easily open as well as a fold. This factor makes it easy to store the seat as well as transport it from one place to another.
You can put it in the room of your house's senior member for their use and once they are done, you can fold the chair and store it in a corner or anywhere you find it comfortable. Another good thing about this product is that it is made up of durable plastic.
You won't have to worry about the quality of the commode or plastic getting snapped. Also, steel coated with grey powder is used in the making of this seat which gives this seat extra durability and strength.
So, overall if we look at this product then we can conclude that it is a senior-friendly seat which is not only convenient and durable but it is also light on your pocket. The price you are paying for this product is way less than the service it is providing making it a great deal.
3. Drive medical folding bedside commode seat by Drive Medical
Just like the product above, this is another toilet seat for the elderly by drive medical. This bedside commode is something that you must have if the elderly in your house is suffering from old age issues that are making it hard to stand up or sit down in the bathroom.
This one is also easy to fold and open. Since it can be folded, you can store it easily and you can transport it from place to place without any problem.
The convenient part about this bedside commode is that you can install the lid without the help of any pushing buttons. Moreover, it is made of durable plastic making the seat last long. But unlike the previous one, this bedside commode's steel I coated with blue powder.
Also, to provide extra comfort, there are plastic arms for support. This commode makes it easy for you to make the choice as it works well and its price is not very different from the one we have mentioned before. Also, you can test yourself how it can improve the quality of life of the elderly.
So, if you are looking for toilet equipment for disabled or elderly then we would totally recommend this product.
4. Medical tool-free assembly spa bathtub shower lift chair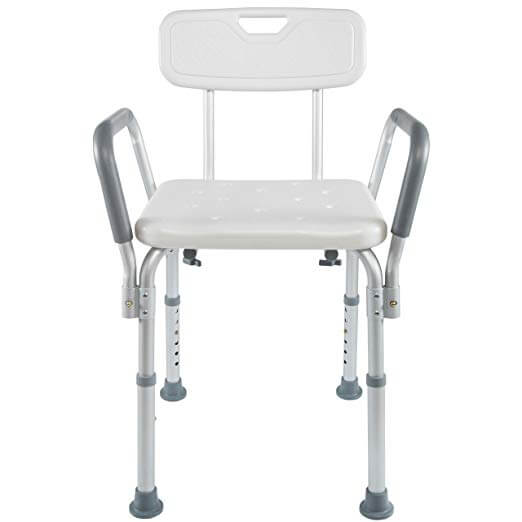 When talking about bathroom safety products for the elderly, we can not talk about a shower chair. Until now we have reviewed toilet seats, but just like using toilet seats, elder people also need to take a bath. And not only elders but also disabled people have to be extra careful while taking a bath.
So, a chair like this would definitely help them in taking a shower safely. An individual who has limited mobility can sit on this chair during the shower. It actually creates a very relaxing experience. Moreover, it allows individuals who are usually at fall risk, take a shower independently.
This chair is made up of the heavy-duty aluminium frame which is anodized. Moreover, it has a weight capacity of 300 lbs which is better than the most products available on the market. This high-density chair has a seat made up of anti-bacterial polyethylene which has padded armrests for maximum comfort.
Also, there's one thing you should know that it is super versatile. You can adjust this chair easily according to the user's preference. And it is very easy to use and assemble. We would totally recommend this product if you are looking for an ultimate shower experience.
5. Vaunn Medical 5-inch raised toilet seat and commode rise
This is the last product of our list but it is certainly something that can beat most of the bathroom equipment for the elderly. This commode from Vaunn is a must-have for every elderly household or household of those who have difficulty bending or sitting down.
So, let's start with the features of this toilet seat first. This toilet seat has an ergonomic design. This unique design adds to the width of the toilet as well as the height. This makes it easy for the individual to stand up or sit down easily.
Also, this seat comes with an anti-slip feature and a mechanism for locking, which ensures that seat is secure on the toilet bowl. Moreover, this seat has seamless edges and removable handles. They provide a very comfortable experience as well as ensure the stability and safety of the individual.
Another important feature of this seat is that it is made for long-lasting use which is why the high-quality material is used in its making and the plastic used is anti-bacterial. What else you need in a safe toilet seat for elderly? We would like to recommend this product too as a senior-friendly product.
Conclusion:
Now that you know what equipment should be used in a handicap toilet, you can make the right decision without any issue. Just make sure that the equipment you are using is convenient to use. In simple words, it should be durable and easy to assemble.
Moreover, it should not be too heavy to move around. The products mentioned above are one of the best choices available in the market right now, but you can still see some handicap equipment catalogue to explore more products that you think are good for you.