When it comes to making movements, not all elders or people with certain disabilities can do that. As people get older, their body becomes weak and doing tasks as general as going to the toilet can become a problem.
Either they have to rise from a chair or they want to sit down, one must agree that they need some kind of support. That's why there is an option of a portable toilet for the elderly. These portable toilets work as a support system and can be used as per the elder's convenience. These portable toilets hold the ability to make their life easier.
Since there are many portable toilets available on the market, it can be hard for one to choose the best one. There are many types of portable toilets. It can either be a commode, bedside toilet chair or a porta potty. There are so many variants that it can make a person indecisive.
But that's no big deal. We have come up with a complete guide to help you and your elder member of the family to help choose the right portable toilet that they can use in order to relieve themselves safely and without any discomfort. Just read the guide given below.
How do portable toilets work?
The working of portable toilets is very simple. Portable toilets are usually a travel companion because of their amazing properties. The first thing you should know is that portable toilets have a holding tank. This tank contains chemicals which have the ability to break any solid waste as well as kill the germs.
This chemical also destroys any odor. Then there is the flushing system. Usually, they have the pump flushing system which creates pressure, thus circulating the water stored in one of the tanks. The water runs through a pipe and gets to the toilet pan. And that's how a portable toilet works.
Portable toilets vs Portable commode
Even though portable toilets and portable commode are very similar, they do have some difference in their working. The first thing that you should know is that portable commode has the ability to double up as a chair which a portable toilet can never do.
So, it goes without saying that if you need a bed toilet for elderly then go for portable toilet and if you need something that you can travel with then portable commodes are the one for you.
Also, portable toilets come with a flushing system, whereas a commode doesn't have that. They might differ in the future, but they both serve the same purpose.
Are portable toilets unhealthy? Why or why not?
As we all know that these portable toilets are considered gross, and have a reputation of being a product too dirty to be put in a room. But that's not true. In reality, it all depends upon the user.
A portable toilet seat or handicap toilet seat for adults is just like any other toilet seat. If you won't maintain it properly or clean it properly, then it will become unhealthy and may cause diseases.
But if you will maintain it properly, make sure it is clean all the time and the whole setup is washed and not contaminated then, yes, it can be really healthy and can become your loved one's great companion.
What problems can a family have when caring for an elderly person?
There are numerous numbers of problems that a family can face when taking care of the elderly. This does not mean that they should get rid of them or think of them as a problem.
It is all about working together and making each other's life less miserable every day. Usually, when taking care of the elderly, the first problem that a person's face is their lack of time.
Sometimes, the person can be busy with day-to-day responsibility which can result in negligence. Also, there are toilet habits. Not every elder is comfortable with people escorting them to the bathroom.
Advantages of portable toilet for the elderly:
They can be very easy to assemble and disassemble
They are very versatile
Can be easy to use
You can easily transport them from place to place
Usually come at a very affordable and cost-effective
Ensure the safety of the user
They are very comfortable to use
Help with the hygiene
How are portable toilets cleaned?
Usually, the cleaning of these portable adult potty chairs is done with the help of cleaners. These cleaners have a certain chemical that destroys all the germs and bacteria from the toilet.
Now, in order to start the process, you should know that the potty chair for adults should be disassembled. You can easily do this as there are no tools required in most of the toilets for handicapped.
Once you have disassembled it, use the spray to clean the storage unit where all the waste goes. The cleaning must be done thoroughly. This prevents any possible harm that can be caused to your senior member of the family or anyone who uses it.
How I selected the best portable toilet for the elderly:
While selecting the best handicap toilet chair that is available in the market right now, one has to consider different factors that can affect the purchase. Before buying, one must know that there's no perfect handicap toilet seat that can fulfill all the requirements. Given below are some features that we had in our minds:-
The toilet must have an ergonomic design so that it can serve the elders as well.
If a person is going to sit on it, then space should be big enough.
The quality of the product can raise safety issues. So, always go for the best quality.
Material plays a vital role in deciding the sturdiness of the product as well as the life of it.
This is the most important aspect because if the seat is not stable then it can be really unsafe for use.
Best 10 portable toilets for the elderly
1. Camco Standard Portable Toilet↓
2. Luggable Loo Portable Toilet by Reliance Products↓
3. Medline Guardian Bedside Commode↓
4. Transport Chair Commode by NOVA Medical Products↓
5. Portable Toilet by Porta Potty↓
6. Portable Outdoor Toilet by Palm Springs Outdoor↓
7. DMI Bedside Commode by Duro-Med↓
8. Heavy Duty Commode by Medline↓
9. 8700-S Folding Commode by NOVA Medical Products↓
10. Vive Bariatric Bedside Commode↓
1. Camco Standard Portable Toilet
This portable toilet from Camco is one of the best ones available in the market right now. The standard style of this portable toilet comes in two variants. One is of 2.6-gallon capacity and one is of 5.3-gallon capacity.
The one made it to our list is the one with a holding tank of capacity 5.3 gallons. The holding tank itself is detachable. The toilet also has a flush tank which can hold up to 2.5 gallons. The best part is that this toilet has the ability to lock odor with the help of its sealing slide valve.
The slide valve also provides protection against the leakage. The side latches of this toilet help in securing the tank to the toilet. When it comes to flushing, this product provides you with a Bellow-type flush.
If we look at the overall product then we can say that it is made of genuine material and has a sturdy construction. It is a perfect companion for elders as it is very easy to use as well as it provides mobility. Apart from the elders, the toilet can be also be used by campers, or those who don't want to deal with public restrooms on their trip.
2. Luggable Loo Portable Toilet by Reliance Products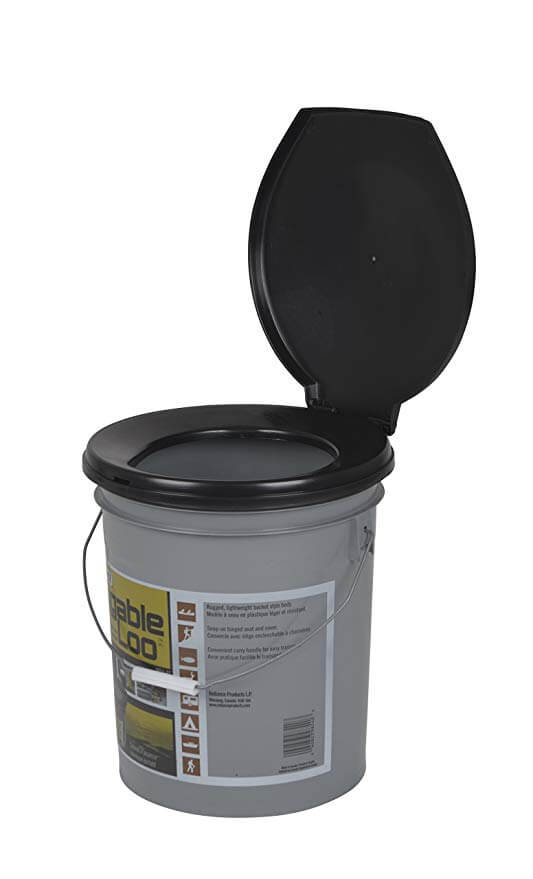 This portable toilet from reliance is one of the most economically viable products that one can ever invest his or her money on. So, let's start with its features first.
The toilet uses a very primitive design. It consists of a 15.56-inch long bucket with a width and length of almost 13 inches each. On top of that, there's a sturdy seat that can be attached or removed as per the requirement. Moreover, this portable toilet is compatible with a double doodle bag of standard size.
When it comes to the looks, it doesn't look as premium and looks like any other cheap quality bucket toilet, but in reality, this product is way better than those. This toilet is pretty sturdy and can be really useful. It only weighs 3 lbs which makes it super easy to move around.
Also, it gives you a holding capacity of 20 liters which actually balances the no-flush feature. If you are going on a trip with an elder then this toilet can be really handy.
We would totally recommend this product to those who are looking for an affordable commode toilet. It is made of good quality and can actually make a difference by helping the elder member of your family in relieving themselves.
3. Medline Guardian Bedside Commode
This Bedside Commode from Medline is one of those products that you can choose without giving a second thought. Let's talk about some of its features. The first thing that you'll notice about this product is that it looks more or less like a chair.
The design of this commode makes this product so much more comfortable for the elders that they can easily use this every day. Also, there are handles at the side of this commode which gives support to the elders. It has a very premium look and can be very easily used.
Now, let's talk about the safety factor. This commode is very sturdy and can easily take the weight of the one sitting on it. This commode is definitely designed by keeping the safety of consumer in mind. Apart from that, it is lightweight thus increasing mobility.
The features don't stop there. This commode is actually a 3 in 1 folding steel. Even though it is an amazing product, there are people who may disagree with the price, but it all depends on one's own experience.
Overall, this commode has everything to make the user feel comfortable. So, we'd definitely recommend this commode to everyone.
4. Transport Chair Commode by NOVA Medical Products
This one is a multipurpose commode by NOVA medical products. It can actually make the life of the elder person in your family very easy. So, if you are looking for a decent priced commode then you can consider this one.
Let's start with its features. The first thing that's really amazing about this product is that it has wheels. So, it's not just a commode, but a transport chair that can be used to move around. Also, it has a very comfortable pad which you can put on the commode seat.
The pad is removable which can help you in switching between transport chair and commode. When it comes to removing the bucket, then it can be easily slid from the seat's rear. Also, it is super-easy to assemble.
This commode also ensures safety. You can easily engage with the wheels with the help of foot pedal so the users don't have to bend and bring discomfort onto themselves.
The wheels are pretty durable and can easily roll. The rust resistance also gives them a long life. Overall, it's an amazing product with a capacity of 250 lbs. This product comes at a very reasonable price and a very premium look.
5. Portable Toilet by Porta Potty
An award-winning product that can be used by anyone, this portable toilet by Porta Potty doesn't get enough credit for its service. This portable toilet is best suited for those going for camping or driving RVs, boats, vans etc.
It has a tank capacity of 4 gallons of freshwater and 5.5 gallons of wastewater. Apart from the holding capacity, this toilet has a very sleek design. When it comes to actual usage, one can comfortably sit on the seat which has decent height.
Also, the flush runs on battery, making everything so convenient. If we talk about the functionality, then we can say that it is very easy to use as well as clean.
Its handle is ergonomic and the body has an integrated holder for toilet paper. The toilet itself is leak proof and odorless because of the sealed valve which prevents the odor of any kind from escaping.
It is also very easy to empty the waste tank due to the presence of pour-out rotating spout. Overall, it is actually a product that can make a difference when it comes to the safety of an elder. So, we'd totally recommend it to every senior out there.
6. Portable Outdoor Toilet by Palm Springs Outdoor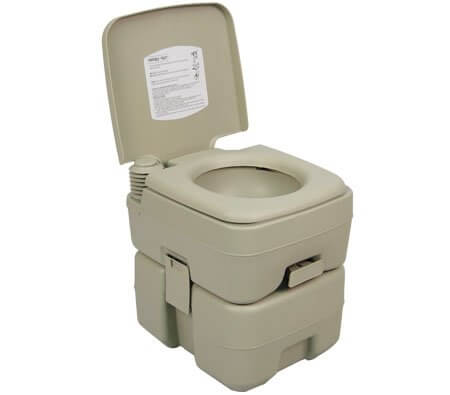 This portable outdoor toilet by Palm Springs Outdoor is another amazing product that can save your day. This is a self-contained toilet, which is definitely portable.
This toilet is amazing for elders as well as those who are going to some camp-site or a boat or RV. The features that make it so amazing include its sturdiness. Also, it has a full-size seat and a lid which makes it seem like it's almost a residential toilet.
The toilet has a matte finish which can really help in concealing the scratches. Now, let's talk about the capacity of this thing. The toilet itself has the ability to hold 3 gallons of freshwater and a holding tank for 5 gallon of wastewater which is pretty impressive if you ask us.
Also, it is a one piece and has leakproof tanks which are made of polyethylene of high-density. Also, its price is shockingly low. You can get it for really cheap even though it has premium features.
This product offers you a deal of the lifetime if you travel a lot. It is also very comfortable for elders to use apart from the fact that it doesn't have any handles for them to hold.
7. DMI Bedside Commode by Duro-Med
Now, this commode chair has the ability to solve an elder's toilet-related problems. Firstly, this standard looking product can actually be taken anywhere. You can put it in your loved one's room, beside their bed or you can put it in the living room where the elder person can use it conveniently. It is also FSA eligible.
Also, the frame of the toilet seat is very sturdy and the person can sit and get up from the commode very easily due to the stability in the frame. In case you want to position it over your existing toilet, you can also do that conveniently. Another great feature of this product is that it can hold up to 500 pounds of weight.
When it comes to safety, then the product provides you with a very wide seat. The seat has arms support which can support the elders. In terms of looks, you get a steel frame with a grey powder coating.
The seats are made of matching plastic armrests and plastic seats. It also features a grey anti-slip rubber foot. If you ask us then we'd say that this is also a deal of a lifetime. It is cheap and has the ability to last really long.
8. Heavy Duty Commode by Medline
This is another commode from Medline that made it to our list. It is very convenient to use and has a very premium look. This product ensures full comfort of your loved one due to its amazing properties.
Let's start with the looks first. This portable toilet has a steel frame and some padding to ensure comfort. There are arms for support. Usually, arms work as a barrier and can cause discomfort in moving from the chair, but that's not the case with this one.
This chair has the arms swinging out that can help in making the lateral transfers very easy. Now, your loved one can move on and off the commode very easily.
It would be even better for those elders who use a wheelchair to move. This can help in making easier transfers. Also, during the night, you can place it near the bed so they can move conveniently as per their choice.
With the price of the product, this is a total steal. So, we'd say that maybe you should really get this one if you are looking for a commode toilet chair or best bedside commode. It can do nothing more than making your elder's life easy.
9. 8700-S Folding Commode by NOVA Medical Products
This adult potty chair from NOVA medical products is a great travel companion for elders as well as the best toilet for the elderly. Let's start with what it can do to help your elder.
Basically, this product can be folded and unfolded within a few seconds. This makes it for a great travel companion. Also, this way, it will take less storage.
It comes with the complete set which includes a lid, a bucket, and a splash guard. These are also the basic things that a commode should have. The best part about this product is that it can either be used as a portable commode or you can use it as a commode chair over toilet.
Other features of this commode include the ease of use. This product is very easy to assemble as well as disassemble. Also, you won't be needing any tools to do that. It has a weight capacity of 300 pounds, which is also something you'd want.
The material used in making this product is plastic and you can easily adjust the height of the seat between 15.5" and 21.5" When it comes to price, then it is not something that will burn a hole in your pocket.
10. Vive Bariatric Bedside Commode
If you are looking for a versatile commode then this is the one you should go for. If you don't know what versatile commode are then let us tell you. They have the ability to provide the most convenient solution in order to meet the special needs of your elder.
This bariatric commode is a very lightweight product. Its six-quart pail capacity with splash guard and lid makes it the most convenient option for your loved one. This versatile toilet can be used in different ways.
You can either use it as an elevated toilet-seat for your existing toilet, or you can use it as a standalone unit, or it can be used as a rail frame for toilet safety. The choice is yours.
When you order this product then it arrives preassembled. Also, you can adjust height without using any tools. You can adjust the leg-height, anywhere between 14.5" and 20" depending on the comfort of an individual.
It also has a non-slip design which is durable. The frame is lightweight as well as resistant to corrosion. The frame is also made up of stainless steel which provides a sturdiness to this handicap toilet seat with handles. Also, you get a 60-day guarantee so that you can make the purchase without any hesitation.
Conclusion
In the end, we can only say that no matter what toilet seat you're buying, make sure that it is compatible with the needs of the user. The product should be made of the best material that can hold the weight of the person as well as should have the required capacity for the waste to go. Also, you should know that it's not about whether a commode is better or a toilet is better. It is about what's best for you. We have already mentioned the best ones available in the market right now. You can easily find them on Amazon.