It is always very refreshing thing because it allows your body to breath and relaxes. While it is an important task that is quite common, it can be rather dangerous, especially when the elderly are concerned.
A lot of slips and falls happen in the bathroom and lots of injuries and even death have been reported in this very important part of the household. There are many risks involved in the bathroom. However, the non slip bath mat for elderly is one of the innovations that reduce the chances of such occurrences.
The best bath mat is a great and very thoughtful addition to the bathroom not only for the elderly but for all age groups. Though the younger persons may not see the need of owning one, if you are caring for an elderly person, are an elderly person, or you have kids around, then you definitely need to invest in one.
You need to make a careful selection because you should note that not all mats that are designed for the bathroom are non-slip. There are some that will charge high prices without much to show for it.
You should make a careful and wise decision so as to find something that will guarantee your safety in the bathroom as well as the safety of your loved one.
How would you ensure your bathroom safety if you have seniors at home?
It may be the smallest room within your home, but the bathroom is one of the most dangerous places for everyone. It becomes even more dangerous for people with mobility issues such as the elderly.
So as to make this important space safe for an elderly person at home, a non-slip bath mat should be added. The fact that the bathroom can be wet and soapy means that one can slip and fall very easily.
A bathroom floor mat can aid in avoiding this. Including a grab bar in the bathroom can also add to the safety.
How do elderly people fall down and how can it be helped?
As we age, we are placed at a greater risk of falling. Falls are actually quite common among the elderly and they are one of the greatest causes of injury in this age bracket.
The most common cause of falls includes chronic conditions like low blood pressure, dementia, or heart disease. Impairments like muscle weakness and poor vision can also contribute. As our bodies undergo normal changes, we may fall more easily.
This means that when we are in an environment that is not favorable, we require some extra support. Bathrooms are a risky area and we should have grab bars and non-slip mats to make falls less likely to happen.
The advantages of non-slip bath mat for the elderly:
They help the elderly while using the bathroom
They can be used by persons with issues related to mobility
They reduce the incidence of falls and slips within the bathroom
They offer a sturdy grip in the shower or bathroom surface
They are the perfect addition for persons with leg fatigue
Can be used by people who suffer from muscle soreness
They don't take much space
How should you choose the best non-slip bathtub mat?
There are factors that you need to consider carefully before picking a mat. These factors include:
Safety:
This is the very first reason as to why you are choosing a bath mat in the first place. As you take a shower, things get slippery and this includes your feet.
When you have a bath mat, this issue is corrected. The possibility of falling and getting injured is reduced. Shower floor mats make things safer.
Comfort:
This is another thing you will have to consider. Elderly people may have issues like soreness in the leg muscles and so on and therefore it is important to have something that will not make the whole bathroom use a nightmare.
It can also be included in the bathtub since most people don't like getting in there in their bare feet since it can be very cold.
Absorbency:
It is important for the bathtub mats non-slip for the elderly to be absorbent to some extent. This feature allows you to easily dry your feet after you have showered. This means more safety.
Style:
Adding a non-slip bath mat for the elderly in the bathroom can add a fashion touch to that important room. It is a great thing when you can add style to your bathroom while at the same time offering comfort and safety for your loved ones. The bath mats add an amazing finish and they are not that expensive.
Design:
You will also need to consider the design of the mat so as to ensure that it will indeed serve the purpose for which it is meant.
Top 10 non slip bath mats for elderly
1: SlipX Solutions Clear Square Shower Stall Mat↓
2: Epica Anti-Slip Machine Washable Anti-Bacterial Bath Mat↓
3: Vive Shower Mat – Non-slip Large Square Bath Mat for Bathtub↓
4: FeschDesign Non-slip Bath Mat for Tub & Shower↓
5: VDOMUS Soft Microfiber Shag Bath Rug↓
6: Gorilla Grip Original Bath, Shower, and Tub Mat↓
7: Tike Smart Extra-Long Non-Slip Bathtub Mat↓
8: NTTR Non-slip Bath Mat↓
9: Simple Deluxe Anti-Bacterial Anti-Slip-Resistant Bath Mat↓
10: Evelots Square Bath & Shower Mat w/Drain Hole↓
1: SlipX Solutions Clear Square Shower Stall Mat
This is one of the best non-slip bath mats that you can select for an elderly person. The material used is vinyl and it is 21''X21''. The mat has great drainage and it is therefore perfect for use within the shower.
The mat offers protection from slips since it has may suction cups. It can be cleaned very easily and then air dried every time. It can be washed by machine too, which makes things even easier.
It is important to note that this mat is best used on surfaces that are not textured. Refinished surfaces are not ideal. It is not a good mat to use on the ceramic tiled floor since dirt tends to collect under the cups.
It is important to clean and dry the mat after use so as to avoid accumulation of dirt which can make it harder to clean later. The mat is created in a way that it prevents you from slipping.
However, the suction of the cups at the bottom can be lost especially when it has a lot of dirt. The suction cups give the mat its sturdiness and you should keep them clean so as to enjoy the best result.
2: Epica Anti-Slip Machine Washable Anti-Bacterial Bath Mat
This is a non-slip mat that is created for comfort and safety and it is made to last a long time. It is made of heavy-duty rubber and it can be used repeatedly on a daily basis while it stays soft and comfortable for many years. It is one of the best choices if you want something that does not have to be replaced every now and then.
It has so many suction cups that are very strong and they offer the user greater safety at all times. When out in the tub or the shower, it holds well. The suction cups are also good sized and this allows the mat to have more power when compared to others within the same price range.
The mat is great at repelling soap. It does not really matter how much soap you use. This mat holds regardless of the circumstances around the bathroom meaning that it is highly unlikely that you will slip and fall while using the mat.
The mat is also quite easy to clean as well. You notice that a bath mat is a great place for bacteria, mildew, and mold to hide. With this mat at hand, that will be the least of your worries. You can clean this mat using your washing machine every once in a while and you will be good to go.
3: Vive Shower Mat – Non-slip Large Square Bath Mat for Bathtub
This mat has 200 suction cups and they are able to attach to the surface of the shower. The suction cups are designed in a way that they offer a strong grip and they remain well in place even when the surroundings become wet.
There is a drain at the very center, which makes things convenient. This means that you will not have to stand in a water pool that can come about as a result of poorly drained. The water drains safely away through the 6'' drain hole that is at the center.
The surface is large and lightly textured. The mat measures 22'' by 22' and it covers a large shower area offering great stability and traction as you shower.
The footing is comfortable and safe as ell meaning that hazardous falls are very unlikely to occur. It is the perfect choice for children and seniors, especially the ones who have got any kind of concerns when it comes to balance.
The rubber used to create this shower mat is latex free. The mat is also treated using an antibacterial agent that protects the surface of things like mold and mildew as well as all other kinds of bacterial growth.
The rubber is durable and is slip resistant. There is a 60-day guarantee from the manufacturer which allows you to make the purchase without any worries.
4: FeschDesign Non-slip Bath Mat for Tub & Shower
This is a bath mat that is designed in a very professional way and it includes the Grip Tight technology. The cups are in their hundreds and they are engineered in a special way.
They are extra-large offering a perfect grip on different surfaces. The top of the mat has a pattern that is subtly textured and this gives it very effective traction as well as slip resistance for the feet. It is not a good fit for non-smooth surfaces like tile surfaces, textured tub or even grout lines.
The item is also PVC free and is non-toxic. It is made using the highest quality natural rubber and it is free from bromine, lead, cadmium, phthalate esters, and BPA.
It is a rubber shower mat that can protect one from getting any allergic reactions and it is European REACH regulation compliant. This is a regulation that is aimed at protecting the environment as well as human health.
Since it is PVC free, you will not have to deal with any bad odor. It is also a mat which is created in such a way that it can resist abrasion and it is very durable.
It can be used in shower stalls and bathtubs found in hotels, hospitals, gyms, homes, and all other kinds of living facilities where they may be needed.
5: VDOMUS Soft Microfiber Shag Bath Rug
This is a mat that is designed in a professional way and it is not like the cotton mats that slide all over the floor once they are stepped on. This is a rug that is non-slip because of the anti-skid backing that it has. This makes it a perfect choice for children and seniors.
The design is shaggy and soft and it has many microfiber shafts offering great absorbency as well as resistance to mildew. You can, therefore, have a clean and dry bathroom on a daily basis.
The bottom is non-skid and this is what holds the rug in the right place even when it becomes wet. The backing doesn't fade at all and it holds the mat in its place for a long time. This is the kind of mat that allows you to have your peace of mind, even when an elderly person or a child is using it.
The rug can be washed by machine. You simply toss it into your washer and let it do its magic. The material never shrinks and it doesn't become rough even after it is washed. The rug remains as it was originally. This is a good example of a bed bath and beyond bath mat.
6: Gorilla Grip Original Bath, Shower, and Tub Mat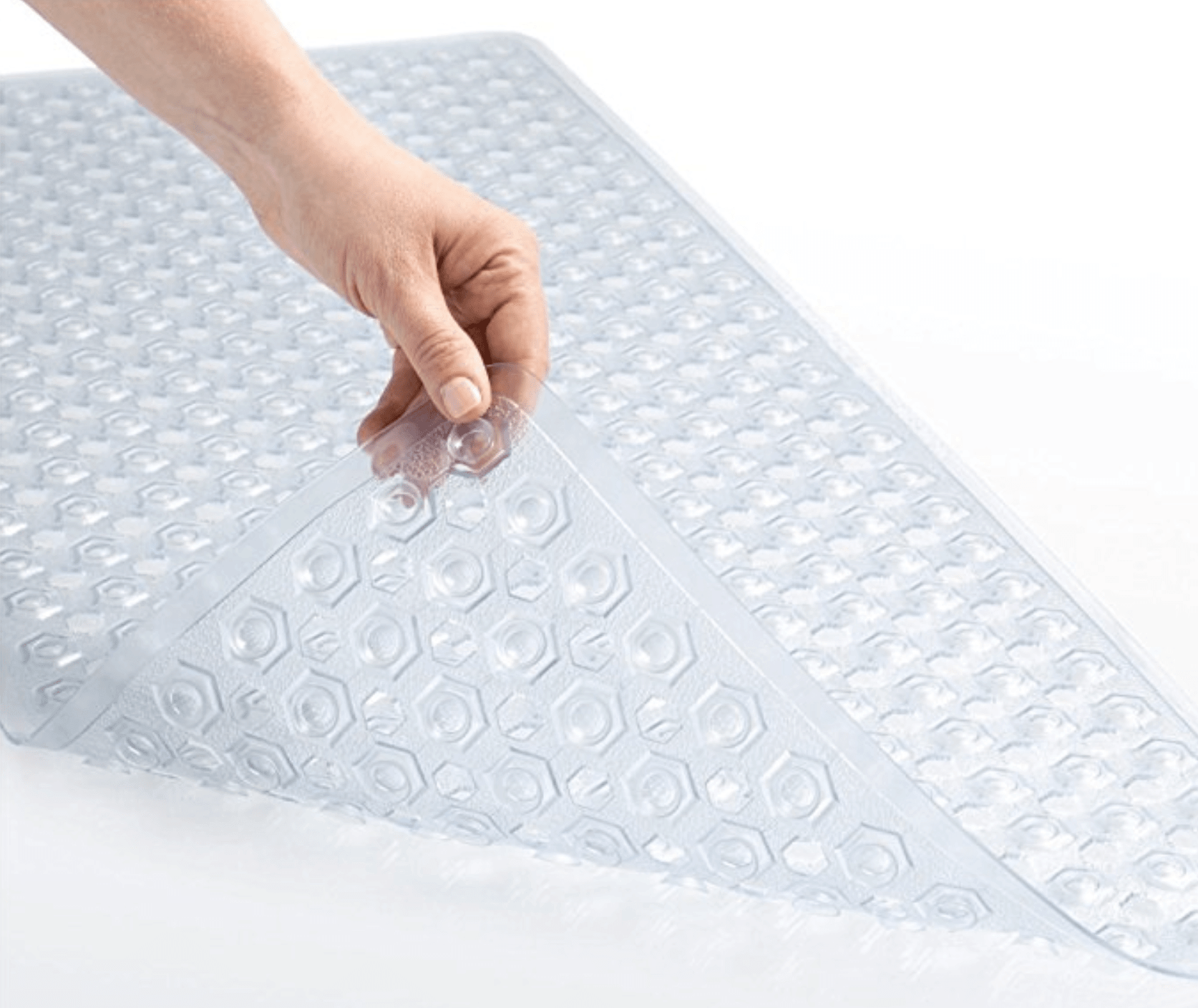 The gorilla grip has many suction cups that allow it to hold well on smooth and clean surfaces. It is the ideal mat for different settings, including the spa, gym, and home. There are no limits to the living facilities where it can be used.
There is the extra-large mat that is 35 x16 inches and offers generous coverage. You may purchase a smaller mat which may not be enough for your space and it may leave some tub areas exposed. The mat has holes all over and it is the holes that make it possible for water to circulate well.
It is a mat that is mildew and anti-bacterial resistant. It is not toxic and it is also free from phthalate. It is not made with any latex and you will not have to deal with any kind of toxic smell. The other good thing is the 10-year warranty from the manufacturer.
The other thing you should note is how easy this mat is to wash. You can machine wash it very easily offering you a maintenance option which is hustle free.
You will not have to worry about the appearance of the mat after a wash since it doesn't change. It is important not to use bleach or harsh detergent.
7: Tike Smart Extra-Long Non-Slip Bathtub Mat
This product is ideal for smooth surfaces and should therefore not be used on surfaces that have been textured. This is a mat that helps you to out your loved one's safety first.
The mat is extra long measuring 39 by 16 inches. It is the kind of mat that will protect the elderly, disabled, and children safe as they take a bath or a shower. The mat has 200 suction cups that are very powerful and they do not skid when you use in a tub or shower surface that isn't textured.
It can fit your standard tub well and it covers the entire floor, which is around 33% more in comparison to the average mat. This offers further protection against slipping and falling kind of accidents. It has a textured surface which translates to a very superior grip.
This is a bathtub mat that takes cleanliness to the next level. You can toss it in the machine and it will be squeaky clean. It is a product that you will use for years without having to replace it.
You will not have to deal with mildew or mild when you use the mat. It has 174 drainage holes through which water flows.
8: NTTR Non-slip Bath Mat
This is an amazing non-slip shower mat for the bathroom and it has way over 200 suction cups to provide a grip that can be trusted. With this mat, you can comfortably use the bathroom without worrying about slipping and falling.
This mat is created with the best material that is environmentally friendly and it is nontoxic. It is a long bathtub mat of 16 by 35 inches and can fit different kinds of showers or bathtubs. It is a durable product and it can be used as frequently as required within the home, hotels, hospitals, nursing homes and so on.
You will not have to deal with mold and bacteria with this mat as it is antibacterial, mildew and mold resistant. You can easily clean it so as to keep all undesirables at bay.
The product does come with a plastic smell which doesn't affect the way the product works or the user. When washed with some hot water, a cleaner, and an air dryer, you can enjoy using it without any disruptions or disappointment.
The design of the mat is pebble inspired and you will notice this with all the design styles which are available. You will no longer have to worry about your slippery bathroom floor with this mat in place.
9: Simple Deluxe Anti-Bacterial Anti-Slip-Resistant Bath Mat
The product is BPA free and it is made of the highest quality vinyl and it has no allergens. The product can be washed in the machine and then air cleaned.
This means that cleaning is made so much easier and shouldn't be something that stresses you out. It is also anti-bacterial. This mat is more than your average mat as it covers more and can work well with any non-textured surface.
It is important to evaluate the floor or bathtub surface that you want to choose this mat on since it doesn't work even when the surfaces are slightly textured. It is 39 by 16 inches.
This mat offers great coverage and an elderly person can take their bath or shower without any worry of falling. It is an item that is very easy to clean and when done regularly, you will not have to deal with dirt accumulation.
If an elderly person or an invalid has issues in the leg area, the bath mat is a great help because it is soft and very comfortable and gentle on the feet. The mat is very simple and has a rectangular shape.
10: Evelots Square Bath & Shower Mat w/Drain Hole
You can feel very safe with this vinyl square mat that is comfortable on the feet and cushions you in that standing position because it is thick.
It offers safety in the shower and offers very comfortable footing as well as stability, making it quite difficult for falls and slips to happen as you use the bathroom. It is a perfect choice where children, the elderly, recovering persons, and those with balance issues are concerned.
The mat has got five holes that are located centrally so as to avoid the buildup of water during use.
The grip is also worth mentioning. At the bottom of the mat, there are suction cups that secure it safely on the surface so that the mat does not slip at all. It remains intact even when everything around gets wet. It measures 21 by 21 inches.
This mat cannot be machine washed. You will need to get a little personal with it so as to get rid of the mildew. It is also important to note that it is meant for surfaces that are non-textured for it to remain in the portion that it is meant to.
Conclusion:
When it comes to bathroom security, things need to be taken very seriously because accidents can be very bad in this space. It is important to know the reasons as to why the bathroom is such a dangerous place for the elderly and people with mobility issues. There are things that can make things even worse.
One thing the elderly have to deal with is the slip and falls that could lead to serious injuries and a great percentage of these happen in the bathroom. Introducing a truly non-slip mat within the bathtub, or the shower stall can make a great difference. When you protect your loved ones, you can breathe easy knowing that they are protected. Adding a grab bar can add to that protection.