Innovative products for elderly are designed to make life easier for this age group. We can see so many innovations in our markets today that target the elderly to enrich and enhance their lives. However, everyone who wants to make things so much easier for themselves can use living innovations.
We all understand that age comes with its issues and handling them can be rather frustrating especially without help. It never feels good to always ask for help with things that we were used to doing in the past without much of a fuss.
Age comes with medical issues, loss of limb dexterity, vision, and mobility issues. It is important, therefore, to come up with safe living technologies that can help us be more efficient even with advanced age. This is the only way we can transform our lives and the lives of seniors who are a great part of our life.
Healthcare services are a great part of the whole thing, but there are many other applications in different areas such as robotics, network connectivity, media, virtual reality, and artificial intelligence that ate enabling our senior loved ones to remain engaged, connected, mobile, and independent with the world, their family, and friends in different parts of the world.
Advantages of innovative products for the elderly:
There are several advantages that are associated with making innovative products for our elderly in society and they include:
Social connectivity
Safety
Exercise through apps and video games
Managing medication
Health tracking using online tools
Convenience doing normal tasks
They help them be more organized
Top 20 best innovative products for the elderly
The top 20 innovative products for the elderly span from those that are aimed at handling their day-to-day living, to the ones that keep them focused, organized, and entertained.
Getting innovative products boosts an elderly person's self-esteem because they do not have to ask for help whenever they want to do the easy things that they cannot do on their own anymore. It is the best way to make them feel useful again. In this article, we concentrate on products that aim at making the day-to-day living a bliss for the elderly.
1. Automatic jar opener↓
2. Kuhn Rikon auto safety lid lifter↓
3. Easy jar opener↓
4. Buttonhook↓
5. Sock aid↓
6. Long handled shoehorn↓
7. Dressing stick↓
8. Motion activated toilet night light↓
9. Hair dryer stand↓
10. Big button TV remote↓
11. Desk lamp with magnifying glass↓
12. Automatic pill dispenser↓
13. Pill crusher↓
14. Cane with seat↓
15. Car door assist handle↓
16. Able life able tray↓
17. Kitchen aid can opener↓
18. No tie shoelaces↓
19. Bathtub mat↓
20. Back lotion applicator↓
1. Automatic jar opener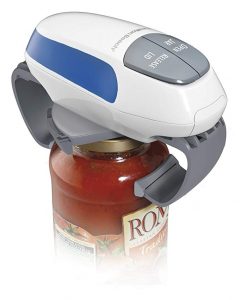 One of the things that our seniors in society have to deal with is the loss of dexterity in their limbs. In addition, medical conditions like arthritis can make it very hard for them to handle tasks that we perceive as easy and very normal to handle.
Something as simple as opening a jar can seem like a tedious and an impossible task for the seniors. Having an electric jar opener such as the Hamilton Beach Open Ease Automatic Jar Opener can make things very convenient and manageable for the elderly. With this, they do not need to call someone to open jars for them every other time.
The opener is usually operated using a push button. All the elderly person has to do is to place the opener at the very top of the jar and then press an engage button. The Hamilton model is quite compact and can be stored safely in a cabinet or drawer. There are many jar sizes that the opener can handle effortlessly.
2. Kuhn Rikon auto safety lid lifter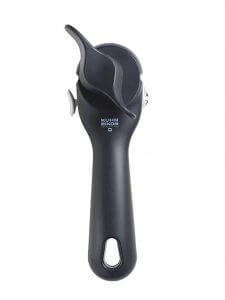 This is another thoughtful innovation that removes lids easily, leaving an edge that is quite smooth and one that can be resealed using a plastic lid.
The blade on the Kuhn Rikon is made of steel and can be washed in a dishwasher. The handle is quite ergonomic as well. It is an amazing choice the can be used to reseal cat and dog food cans and even coffee cans.
There is a turn knob that can be held comfortably and it turns quite easily as well. The lid lifter usually cuts from the can side leaving a non-jagged or sharp edge.
The lid can then be delivered to the trashcan by simply pushing the button. The best thing about this model is that it attaches to the cans automatically and it can open the can with very little effort. It is a very hygienic option since the contents within the can are never touched.
3. Easy jar opener
Jar openers for arthritis can make life easier for an elderly person living with the condition. Lids can pose a great obstacle for everyone, including the elderly. Easy openers such as the EZ Off jar opener can handle all sizes.
It is one of the best jar openers available in the market. It grabs the lid regardless of whether it is sealed to be tamper proof, childproof, or factory sealed and opens it. Even for stuck lids, this opener is the best choice that requires a very simple twist.
This opener is suitable for different lid sizes and can handle everything, including water bottles, nail polish and so on. It can also handle wider containers such as those that contain molasses, jams, peanuts, pickles, canned fruits and so on.
Operating the opener is quite easy and so is the installation. It is a great choice for people with arthritis, the elderly, those working in busy kitchens, amputees, people with limited hands use, and even those with carpal tunnel.
4. Buttonhook
One of the tasks we think are normal is buttoning. For an elderly person, this can be a very tricky thing to do. This is made even worse if the elderly person happens to have arthritis.
One of the best button hooks available in the market today is the Good Grips / Sure Grips Button Hook. With this kind of hook, you can pull buttons easily through the holes without having to snag.
This hook can be used to get a hold of the buttons that seem to be too hard to grasp. The hook comes with a handle that is cushioned and a flexible ribbing, which makes it so easy to adapt to different grips.
All you need to do is hook the button over and then pull it through the buttonhole. The model is latex free. With a buttonhook in hand, an elderly person does not have to call for help every time they have to dress.
5. Sock aid
These devices are designed to help the elderly put on their stockings or socks easily and without needing any help. It is made for those who have issues bending and those who have just had surgery in the hip, knee, or back and are recovering. A simple task like putting on socks can prove to be very hard, especially for anyone who has very limited mobility.
Sock helper like RMS sock aid is one such gadget. It has a plastic shell, which is flexible and contoured to help with your grip. It is the ideal choice for people whose hands are weak and to makes it very easy to get their socks on. The handle is made of non-slip foam, which makes it possible to have a firm but comfortable grip.
The ropes of the sock assist can be adjusted. This means you can choose the ideal length for you.
6. Long handled shoehorn
This is another practical product for the elderly as well as those with issues such as arthritis or recovering from surgical procedures. Putting on shoes can prove to be a very hard task for some and a long shoehorn can make things a bit more convenient.
Metal shoehorn like Shoe Horn Pro Comfort is a good choice. It is reinforced using a stainless steel paddle and a spring that is strong and less flexible to give you the kind of control and leverage that you really need when putting on your shoes.
The best shoehorn should adjust to your length. This is something you can achieve with the shoehorn pro comfort. This means that you can adjust the handle and extend it with a simple movement so that you can make your own extension.
It is a durable piece too and is made of heavy-duty stainless steel. It can be used as you stand or as you sit, whichever is comfortable. This product will help guide your foot into any kind of shoe very effortlessly.
7. Dressing stick
An elderly person may need as much help as they can to put on clothes and take them off again. A dressing stick is designed to offer the much-needed help to those who are incapacitated in one way or the other.
Such a stick can help in handling pants. Shirts, socks and even shoes quite effortlessly. With such a stick, you do not have to seek help every time you need to dress or undress.
RMS Deluxe 28″ Long Dressing stick is one of the best in the market. It is a dressing stick that has hooks so as to make things much easier. This item is highly recommended by therapists and health professionals.
It has a push and pull hook that is coated with vinyl and has a unique bend designed to assist in pulling up skirts and pants and putting on shoes taking off socks. The smooth finish allows you to use it on fabrics without causing them any kind of damage.
8. Motion activated toilet night light
What could be more convenient than a sensor that can detect motion and body heat to illuminate a room when you come in and then turn off immediately you leave? The elderly need all the help that they can get and a motion night light can serve to bridge a huge gap.
The Vintar 16-Color Motion Sensor LED Toilet Night Light is an led toilet light that comes with 16 colors which can be set to work on rotation or as one solid color which can be selected by making use of the control button.
The bathroom night light can also be adjusted to different levels if brightness using the control settings available. This means that the toilet bowl will receive the illumination that you want. The controls are usually placed externally and therefore changes can be made easily.
This is a gadget that can be fitted in any kind of toiletry because the PVC neck is quite flexible and can be bent. The sturdy material that makes it allows it to remain steady.
9. Hair dryer stand 
Looking good does not have an age limit and so the elderly should not be denied the chance to groom themselves to look perfect. The hair speaks volumes about who we really are. When you are older, styling your hair can be a bit difficult. A standing hair dryer can make things much easier for you.
The hair dryer styling stand holder is a welcome gadget for the elderly. This is a stand that will hold your hair dryer and leave your hands free so that you can style using a comb and a brush.
This offers you an extra hand that can be very helpful in getting the work done. The standup hair dryer can be adjusted up to 35 inches all the way from 27 inches.
This means you can adjust it for use on the countertop or the floor, whichever is more convenient. The adjustable strap included with the model means that you can secure all kinds of hair dryers.
10. Big button TV remote 
Easy Mote is one of the best TV remote for elderly. It allows the elderly to control their own home entertainment without struggling to use the normal remote.
You can use it to control the cable box and the TV using a single remote control. It is a very easy and stress-free experience that most elderly persons find very helpful.
According to statistics, seniors watch a lot of television and that means the remote is a crucial part of their life. A simple remote without too many buttons or complicated user interface is always a welcome thought.
The design happens to be elegant and sleek and will fit in the hand of the elderly person as he /she make use of it. It also comes with wrist straps that hold it in place so that the elderly person does not misplace it. This strap is removable too.
11. Desk lamp with magnifying glass
As we age, one of the senses that is affected most of the time is the vision. You realize that you cannot see as well as you used to in the past. A magnifying lamp, therefore, comes as a great addition and a necessary item for an elderly person, especially if he or she loves to read.
Brightech light view pro LED magnifying glass floor lamp is one of the best magnifying glass available and can be used for crafts, tasks, and reading.
It has an adjustable height so you can set it to the most appropriate one. It is a great choice for those who are visually impaired and can help you see even the smallest details like in professional tasks and crafts.
A magnifying glass with light is also a great aid for aging eyes or those that have macular degeneration. It can be used to read the fine print and even pill bottles.
12. Automatic pill dispenser 
Almost all elderly people require taking pills on a daily basis. These could be medication for various conditions or vitamins. The fact that we become forgetful as we age means that we need to be reminded every now and then. Dispensing pills can be tricky, especially if you forget what the right dose was.
Gadgets like the Live Fine Automatic Pill Dispenser offer the elderly persons a chance to organize their pills and even get a reminder. A monthly pill organizer allows the elderly person to take their daily dose without exceeding the set dosage and without forgetting. You can dispense prescriptions in good time every day.
A daily pill organizer allows you to get your daily doses at the various appointed times during the day. The best pill organizer should be able to dispense prescriptions several times a day and this particular one does that up to six times.
13. Pill crusher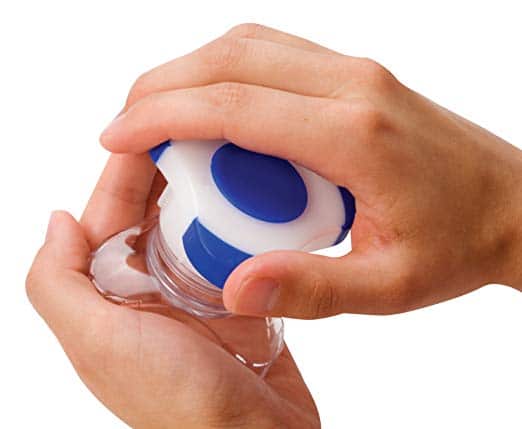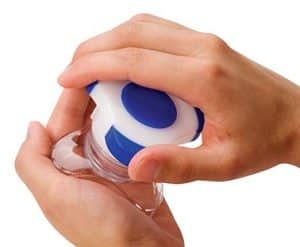 Elderly people may be unable to swallow well. As such, taking pills can be a task that is hard to complete. Having a pill grinder can come in handy for such a person.
The Carex health brands ultra-pill crusher can complete the task fast and efficiently. It has a triangle shape and is designed so that it can be handled easily.
The grinder can turn your pills into powder form, making it clean and easy to swallow them. It can be a great choice if you have pills that are hard to swallow.
This best pill crusher has a secure grip, meaning that even a person with poor dexterity in the arms can still use it. This crusher can be used by people with arthritis.
It makes use of the inverse molding process and creates a tight seal that allows you to apply even more pressure until everything is converted to a powder form.
14. Cane with seat
We all know mobility issues intensify with age. Arthritis and other medical conditions do not help either. A walking cane with seat is a thoughtful choice for an elderly person who wants to be up and about but still has to take breaks in between.
Having a cane such as the Mac Sports Folding Cane Chair gives you a great advantage over others. This is the best way to take some load off the feet and rest. After a while, you can continue with your walk.
This is a very convenient cane since it can be folded flat, making storage and transport very easily. It is also a great choice if you are planning to attend sporting events, fishing, concerts, camping, or even if you want to go to the beach.
There is so much more that this cane can allow an elderly person to achieve even with mobility problems. The best cane should be designed in such a way that it is easy to use and assemble.
15. Car door assist handle
The car door assist handle can be installed into cars to help the elderly to stand or sit safely as they enter or exit the car. The handle aims at offering the kind of protection and support that the elderly need to prevent falls that could hurt them.
The handy bar, such as the stander HandyBar is a great choice for anyone who is keen on ensuring the safety of his or her elderly loved ones. It has some added features such as a belt cutter and a tool for breaking the window. This ensures that the elderly person is safe and independent even while in the car.
This car cane is attached to the latch of your car's door and this allows you to have optimal leverage. The grip is non-slip and quite ergonomic too. It is not restricted to the elderly, but can also be used post-surgery or by people who have injuries.
16. Able life able tray
This is a handle that is usually placed by the couch, which makes it easier to stand from a chair or couch. It is made even more useful because of the convenient swivel tray that can be used for important items.
For web surfing or eating. The couch table tray is designed for use by the elderly. It can blend to the living room space just like all your other furniture pieces so that you can maintain that comfortable homey feeling.
The laptop tray for couch has a safety handle that gives the elderly the kind of support and balance they need while they sit or stand. The fact that the height can be adjusted makes this one of the best trays that you should get your loved one.
The adjustable tray table has no restriction and can be used for different uses, including as a pivot for your laptop or TV. It can rotate up to 360 degrees. Assembly is also easy and quick. You can have it fixed on most couches, sofas, and chairs without using any tools.
17. Kitchen aid can opener
Even without arthritis or advanced age, cans pose a level of difficulty, especially when they are tightly sealed off for obvious reasons. A hand can opener is a very important part of any kitchen and it allows the elderly to handle the task without much difficulty.
KitchenAid Can Opener is one of the best hand held can openers available in the market today. It has a large knob that is actually very easy to turn making opening cans a simple task even for the elderly.
It has a cutting wheel, which is very sharp and made of stainless steel. It is around nine and a half inches long and can be washed by hand in some warm water containing a mild detergent. Ensure that you rinse it and dry as soon as possible.
The best thing is that it comes with a warranty and you can return it if you are not satisfied with its performance. The warranty runs for a whole year.
18. No tie shoelaces
Shoelaces pose great difficulty for seniors. Having to bend all the way down to tie them can be a task that most people may not be able to handle, especially if they have mobility issues or a bad back.
Xpand No Tie Shoelaces System with Elastic Laces is made to help with the above-mentioned issue. The elastic system allows anyone to convert boots or shoes into slip ons that do not need to be tried and it is fully adjustable.
You can use the visible or the stealth mode when you are doing the installation. The lacing system is one of a kind and it has two 52-inch laces that can easily expand to 100 inches and above.
It also has four lace anchors that are used to secure the laces plus four end clips that allow the laces to give a finished look and maintain the visible mode.
They are great for the elderly, for the handicapped, those whose feet swell, for kids, bikers, hikers, triathletes, and anyone who has issues with the standard shoelaces.
Another issue that affects the elderly is mobility issues. When combined with vision impairment, falls become more frequent. We all know that very many accidents happen in the bathroom, especially because there is water, soap, and floor can be very slippery. For an elderly person, things can become even riskier.
With a shower mat, however, the danger can be reduced. Open of the best bath mat available is the Gorilla Grip Original Patented Bath Shower, Tub Mat.
It is easy to clean because you simply throw it into the machine. It is made of Latex and is phthalate free. It has suction cups that hold it securely in place as well as drain holes.
The non-slip bath mat is the sensible way in which you can prevent falls. It is important to ensure that all suction cups are secure before you allow the elderly person to use it.
The mat attaches to a smooth surface that is clean. With this mat, avoid bath oils, which may make it slippery thereby not serving the purpose it is meant for.
20. Back lotion applicator
Reaching the back can be a difficult thing even for a younger person. An elderly person can have an even harder time reaching and applying lotion. It is important to take extra care of our skin as we age and having a lotion applicator for back can be the only way to do that.
Back Lotion Applicator by Vive is a great lotion applicator for your back that you should consider purchasing. It has a long handle that makes it easy to reach the back.
There is no limit to what you can apply to the hard to reach parts of the back. A unisex product comes in handy for the elderly. You do not have to call for help every time you take a shower since you can apply the gels, creams, and lotions all by yourself.
You do not have to twist or bend every time you need to reach the back area. The length of the applicator is over seventeen inches in length and it has an applicator pad that is around 3.5 inches making it very easy to use.
Conclusion:
Being elderly does not equate a person to be helpless and needy. If you are not totally incapacitated from moving and bedridden, completely blind, or unconscious, then you still have a chance to take care of yourself. The gadgets for elderly mentioned above are basic ones that can be used on a daily basis by the elderly.
It is not possible to have someone take care of the elderly 24/7 and it is important to assist him or her in the best way possible to be productive and active for as long as possible. The products should be chosen in accordance with the needs that an elderly person has. This is the only way to boost their self-esteem and zeal for life.