It is important to exercise regardless of how old you are or what physical limitations you have to deal with. This includes the elderly. Seniors deal with multiple issues that relate to the natural aging process. However, age is not an excuse to be a couch potato. Exercising can help an elderly person in so many different ways and should therefore not be taken for granted. Exercise bikes for seniors are designed in a way that is easy to be used.
The traditional bikes, which are upright in nature, can be a great challenge for the elderly and they can be very uncomfortable in the heart and back. If you cannot deal with this, then you can get yourself a recumbent bike, which happens to be a lot more comfortable. I have included some of the best recumbent exercise bike reviews below.
As we get older, we may not be able to handle the outdoor bikes because of the many challenges that outer environments pose. When outdoors, you may lose track of time. This makes it even harder to get back to your starting out.
You could try getting a stationary bike to exercise regardless of the physical or health limitations that you may be dealing with. It is important to work out and cycling is one of the best ways to stay healthy and burn calories. Indoor cycling bikes are therefore an important investment for seniors.
Types of exercise bikes
There are different kinds of exercise bikes and they include:
Upright exercise bike: it is also called a static bike and is quite cheap.
Recumbent exercise bike: this is a bike that allows you to sit so as to support the back as you exercise.
Hybrid or combination bikes: this is a kind of 2 in 1 bike that combines the recumbent and the upright bike.
Studio bikes: this is a good bike to exercise with for an event and it has more resistance when compared to the traditional options.
Self-powered bikes: for these bikes, you will not need an external source of power. The bike does not have to be near a power source. You can place them literally anywhere within the home and you are good to go.
Which type of exercise bike is most suitable for seniors?
A recumbent bike is one of the best indoor exercise bike types for seniors. This is because it allows you to exercise in a position that is reclined and it allows you to maintain your balance. It is essential to note that most elderly persons have issues with balance and therefore need as much support as they can get.
You can maintain balance on an upright bike as well, but it is not the same as the recumbent option. Most of the recumbent options give you the option of adjusting as far back as possible so that you can achieve stability and comfort as you work out. The seat is also large and very comfortable which offers the senior even more support.
Recumbent bike vs. Upright bike

What does recumbent mean?
So, what is a recumbent exercise bike? It is a bicycle that allows the legs of the rider to be in a position that is horizontally extended while the body remains inclined. The bike can be adjusted.
It is one of the best bikes that you can choose for an elderly person who needs as much support as possible as they exercise. Your hands are free as you work out so you can do other things.
What does upright mean?
This is a bike where you exercise in an upright position. These are more affordable than the recumbent option and they tend to take less space. It is easy to fold them and store them too.
You are free to be versatile with this option since you can use it just as you would a normal bike. You can stand and cycle from that position giving the legs an intensive exercise.
What are the physical benefits of exercise bike for seniors?
1. Generates better lung capacity and a stronger heart
2. It lessens your chances of getting coronary artery disease
3. Helps you build some muscles in the calf, hamstrings, glutes, and quadriceps
4. The effect on bones, ligaments, and tendons help in the improvement of coordination
5. Reduces blood pressure
6. Improves balance
7. Improves the sense of purpose and belonging
How I selected the best exercise bike for seniors:
There are several things I considered when creating this list and they include:
Seat:
It is important to have a bike that has a comfortable sitting area. The seat should be of a good size and should be able to handle different kinds of needs so that you get the support and cushioning that is needed.
Adjustability:
It helps to pick a bike, which you can adjust to meet your length and height. This makes sit versatile. I considered adjustable resistance as well. This allows you to choose the intensity of workouts.
The size:
Exercise bikes for seniors come in all shapes and sizes. You should consider space. There are some bikes that can be folded while others cannot. Evaluate your needs and space and you should be able to pick the best bike.
Cost:
Everyone appreciates a bike that is not too expensive. I tried to pick a wide range of bikes at different price ranges. You do not have to break the bank if you are on a budget since there are many that fall under the category of the best budget exercise bike.
Stability:
A bike for the elderly is meant to improve their health. This means that you should avoid any accidents during workouts. Getting a stable bike is therefore very important and something that needs to be considered.
The following exercise bike reviews should be able to assist you to make a good choice.
Best 10 exercise bike for seniors
1. Exerpeutic 900XL Extended Capacity Recumbent Bike↓
2. Marcy Recumbent Exercise Bike with Resistance ME-709↓
3. New Schwinn 230 Recumbent Bike↓
4. Exerpeutic 400XL Folding Recumbent Bike↓
5. Exerpeutic ExerWorK 1000 Fully Adjustable Desk Folding Exercise Bike with Pulse↓
6. Schwinn 270 Recumbent Bike↓
7. Exerpeutic Gold 525XLR Folding Recumbent Exercise Bike, 400 lbs.↓
8. Nautilus R614 Recumbent Bike↓
9. Exerpeutic Folding Magnetic Upright Bike↓
10. Schwinn 230 Recumbent Bike↓
1. Exerpeutic 900XL Extended Capacity Recumbent Bike
This recumbent bike allows you to have a cardiovascular workout that is quite challenging without stressing the back and joints. You can adjust the height to find that perfect fit and workout even longer.
The magnetic tension control has eight levels, meaning that it is easy to customize the ride and you can intensify the challenge from time to time. This bike has an LCD display that allows you to see the heart rate, speed, time, the calories that have been burnt, as well as the distance covered.
This bike is capable of handling the weight of up to 300 pounds and has a manufacturer warranty of one year. This means that you can make the purchase with confidence.
You also notice that the seat is much wider and this offers better comfort. The bike is available at an affordable price as well. This bike also has hand pulse sensors and operates quietly so that you do not disrupt other people around you. You can also do other things as you use the bike.
It comes with transportation wheels and large pedals. The backrest is quite large as well, adding o comfort as you use this bike. The cranking system is smooth Torque.
Adjustable seat
Easy to assemble
It's quiet
Easy to adjust the resistance
Console works well
Not as comfortable as the more expensive options
You need to tighten the screw once you adjust the seat
2. Marcy Recumbent Exercise Bike with Resistance ME-709
If you want to improve your cardiovascular health and shed any unwanted pounds while saving on space, then this is the best recumbent bike that you should choose. This magnetic bike is suitable for everyone, including the elderly.
This bike allows you to have the same exercise features that bikes that are more expensive have to offer. It has a compact design that allows it to fit in exercise spaces that seem to be rather small.
It has a step-through design that features a construction that is heavy duty, with steel tubing. The design allows room for maximum mobility during a workout or training. You can mount and dismount very quickly without straining the back and the knees.
The bike also has some eight resistant levels. The bike has magnetic resistance and you can control the difficulty level that is like a simulation of different kinds of terrains. This allows you to customize the workout and challenge yourself in accordance with the fitness.
The bike also has a computer screen that is easy to read. The display is LCD and it is the odometer, with a panel that shows the calories burned, distance, speed, and time. The numbers can be read easily.
It's affordable
It's low profile
It's portable
It's valuable as compared to bikes within the same price range
Doesn't have high tension kind of settings
It has no programs like those on more expensive bikes
3. New Schwinn 230 Recumbent Bike
This is the newer model of Schwinn 230 recumbent bike. If you want a bike that allows you to set goals and strive at achieving them, this is the ideal bike for you. You can set your own goals according to your capabilities very easily. There are 20 resistance levels, meaning you can have different workout intensities as you please.
The bike is a high-speed one and it has an inertia drive system that is quite high. This allows your workouts to be quiet and smooth too. The screen displays are two in number and they are dual track too. This allows you to see programs and monitor your own goals as you work out.
You can then take advantage of the preset workout programs that are 22 in number. All these are designed to personalize your workouts as best as you can.
There is a rail slider system that can be used to adjust your fit. Regardless of your size, you should be able to adjust the seat to a position that favors you allowing you to work out with comfort at all times.
To keep you connected, where is the charging USB port that you can use to charge your music players, your tablets, and your phones even as you work out.
Offers a smooth ride regardless of the resistance
It is sturdy
It is easy to adjust
It has a low impact on the knees as well as joints
Has many programs to pick from
Easy to assemble
It only has 2 profiles and so is not the best when you have to share with any people
It has a plastic back and seat which could get uncomfortable when you work out frequently
4. Exerpeutic 400XL Folding Recumbent Bike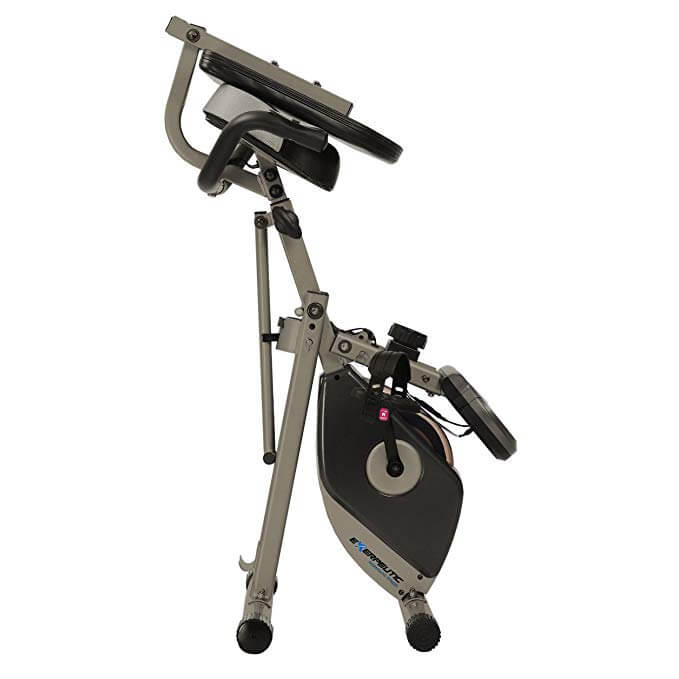 This is another amazing recumbent bike for the elderly. Its V-belt system is quiet, therefore; it does not disrupt other activities happening around you as you work out. There is the flywheel that is precision-balanced and tension system that has eight levels of control.
The bike also comes with an LCD display that is very easy to read and it can track the heart rate, speed, time, calories, and distance.
There is the semi-recumbent design that allows mounting and dismounting to be very easy. There is also a large backrest and seat that make it very comfortable to use this bike for workouts.
The bike is able to handle up to 300 pounds, which means a wide range of different sized people can use the bike without compromising its stability.
The best thing about the bike is probably the fact that it can be easily transferred and stored because it can be folded up. After an exercise, you can simply roll it away and store it until you need it again.
This helps in economizing space. The bike also comes with transportation wheels, which adds to the convenience. It has a limited warranty of one year from the manufacturer and so you can purchase this affordable bike with confidence.
It is quiet
It is stable
It's not important for the computer to function since you can set the resistance manually
Manual resistance setting which is a bit inconvenient
5. Exerpeutic ExerWorK 1000 Fully Adjustable Desk Folding Exercise Bike with Pulse
This folding bike is unique in its nature. It has a desktop platform where you can place your book, iPad, laptop, or even smartphone. You do not have to sit behind a desk in a sedentary manner. You can still be productive as you work out. This is multi-tasking at its best.
This bike features a three torque crank system, which is a state of the art. It also comes with a heart monitor and double drive system. You can work out as you read, watch a movie, or surf the internet.
The fact that the bike is foldable means that it can be transferred and relocated to other areas. This is made easier by the fact that there are transportation wheels included with the piece.
There are many benefits of exercise and work and they include improving the mental alertness as well as heightening creativity, tone your muscles, burn calories and deal with depression.
The desktop can slide and it is adjustable. You can tilt it down, up, back, and forward so that it can suit the different sitting positions. You can also achieve different angles with this. It has a storage drawer where you can stack important things, an armrest, and an LCD computer.
You can type easily because of the desktop and the fact that the bike does not move too much
It is comfortable
Easy to use
Suits people with a small build
6. Schwinn 270 Recumbent Bike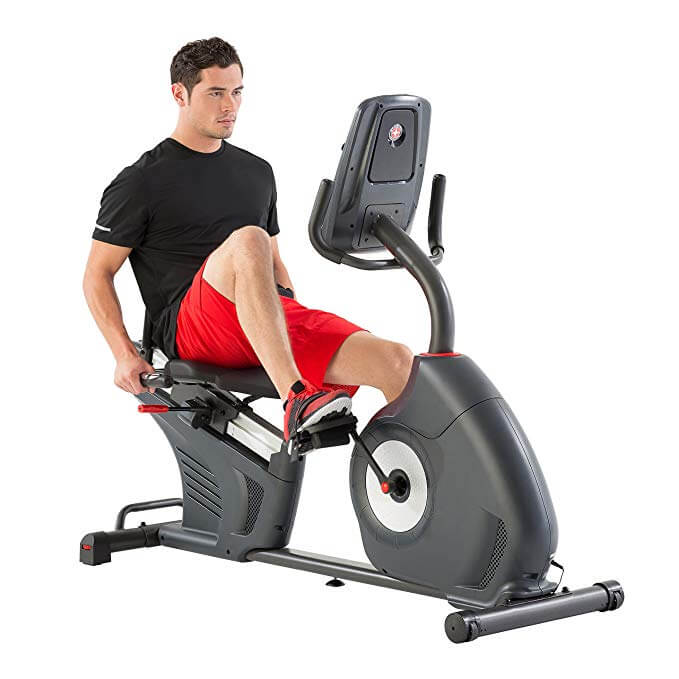 If you are determined to lose weight in an enjoyable way, this is the best bike to pick. It is important for elderly people to stay fit and the bike will definitely improve their stability and strength in the legs. This is one of the best exercise bikes to lose weight.
This bike has Bluetooth connectivity, meaning you can connect with other devices. It has a trainer app that it synchronizes with quite well. You can also connect it with fitness tracking apps too. You can make use of apps such as Ride Social app that lets you have a virtual world where you can ride with others in real time.
It also comes with 29 programs. There are 12 profiles, a quick start, 2 fitness tests, 4 custom, and 9 heart rate controls. You can plug this bike into any wall outlet as long as it is on a circuit of between 110-120V.
The resistance levels are 25 in number and therefore you can easily select the intensity options that you want. The bike is high speed and it has a drive system that is high inertia. The flywheel is perimeter weighted which makes starting easy and offers consistent and smooth workouts.
It is comfortable
Has a face fan, which is convenient
It is quiet
You can configure the lower display
You can adjust the seats
The slide scale for the seat is under the seat making it hard to reach
7. Exerpeutic Gold 525XLR Folding Recumbent Exercise Bike, 400 lbs.
The fact that this bike can hold up to 400 pounds means that it has a wider capacity in comparison to other options. It is made of a steel frame, which is very durable and heavy duty.
The bike has a magnetic tension control system, which is eight leveled and an LCD computer display that is large and indicates pulse, speed, time, calories burned, and distance. The seat is large and can accommodate different users of different sizes. The seat can also be adjusted to fit different user heights.
The bike has a semi-recumbent design that allows easy mounting and dismounting. The flywheel is a dual transmission one and it allows greater resistance as one works out. You can fold the bike to a half size that makes transportation and storage so much easier. It comes with a limited warranty of one year.
The pedals are larger and they have a safety strap which helps in the reduction of accidents as you exercise. It makes it less likely for your foot to slip.
One of the greatest highlights is how well you can economize space. You can use it during a workout and then simply fold it and store away until your next workout.
It is affordable
It can be folded after use and stored without taking up much space
It is easy to assemble
It's uncomfortable in comparison to high-end bikes
8. Nautilus R614 Recumbent Bike
This bike is one of the best, especially because it has the capability to track your goals and help you achieve them on a daily basis. It has nine profiles, one quick start, two fitness tests, two customs, and eight heart rate controls.
That adds up to 22 programs. It also has 20 resistance levels for different intensity options as you work out. This feature allows you to set your own goals and challenge yourself.
There is also the LCD display that allows you to track the functionality and the exercise goals. The bike also has an inertia drive system that can work at high speeds as well as a flywheel that is perimeter weighted allowing you to set up easily. The workouts are consistent and smooth.
Usability and comfort are the other things that you will note with this bike. The seat is vented and, therefore, offers a cool and quite comfortable ride. You can also adjust the seat using the sliding rail system that locks well.
It has console speakers and an input port for MP3. This workout bike can help you get in shape regardless of age.
It offers good support for the back
The speakers offer a good sound
The display is easy to read
It is not as comfortable as the high-end counterparts
You cannot adjust the backrest
The seat is un-cushioned
9. Exerpeutic Folding Magnetic Upright Bike
This product has a weight capacity of 300 pounds and should be used on a floor that is hard and flat. You get a lot of comforts as you sit because the seat is large and cushioned meaning anyone can use it.
It can also be adjusted quite easily to fit users who are anywhere between 5'3 and 6'1 inches. It has a hand pulse monitor too so that you can track your wellness.
As you pedal, you may notice some noise. To correct this, you should tighten the bolts and screws. This should then offer you a smooth ride every time you use the bike. You can fold the back to almost half its size, making it uniquely compact. It makes it easier to transport and move so you can save on space.
Tension resistance is also amazing with this bike. The tension control system is magnetic and it has eight levels, allowing the user to make adjustments for different difficulty levels. If the tension system malfunctions, you can make use of the manual that gives some troubleshooting steps that work well.
This upright bike is an amazing choice for the elderly. It can handle up to 300 pounds and has a high torque crank system and a pulse monitor.
It is affordable
Has a basic console
It's sturdy even at high speeds
Comfortable and ergonomically sound
Saves space
Quiet
Simple assembly
The seat is huge
Best suited for medium and light intensity rides
10. Schwinn 230 Recumbent Bike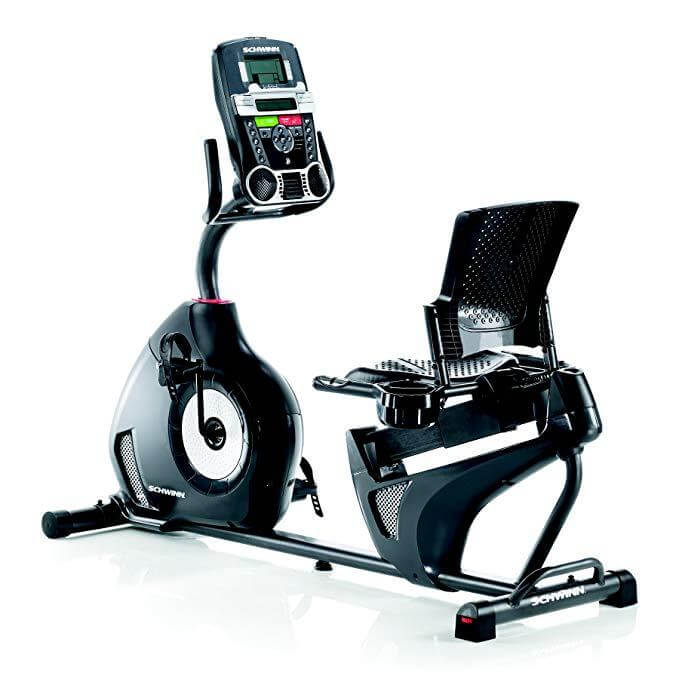 This is the best way to get a challenging workout while in a relaxed position. The bike offers enough back support and the seat can adjust in different positions. The LCD is dual track and it helps you to monitor different feedbacks so that you can keep track of your fitness goals.
The fact that you have twenty-two programs at your disposal helps you to set goals. This is a great way to challenge you and stay motivated to achieve even more.
The flywheel is perimeter weighted, making the workouts, quiet and very smooth too. The bike also has a data exchange and a charging USB port.
This bike is ideal for the elderly because you do not have to strain so much to get things done Resistance allows you to simulate different kinds of terrain. High resistance offers a greater workout for your legs and you end up burning more calories because you have to work harder.
The heart rate monitor is another great thing that you notice with this fitness bike. It is always important to monitor such things, especially when the elderly are concerned. Being able to know how you are doing and how many calories you have burned on a daily basis helps you work harder and stay fit.
Great speakers
It has a great fan
It is quite
Easy to assemble
You can export data directly to the mobile app
Conclusion:
We have established the importance of exercise above and why the elderly should engage in such activities as much as they can. Best exercise bike for seniors makes things much easier for the elderly, especially because they do not have to use them outdoors where there are many elements that may not be favorable for them.
Even with minimal dexterity in the limbs, anyone can operate a stationary bike without much effort. The fact that there are recumbent options makes things even better. For anyone who is health conscious, an exercise bike is a reasonable investment not just for the elderly, but also for everyone in general. The above are some of the top exercise bikes.