Buying something is not easy, especially when that thing has to do with the wellbeing of a person. It becomes even harder when something is meant to give them the ability to actually maintain their activities on a regular basis. Choosing the right kind of walker can be a daunting task. You may even be wondering where to buy a walker for elderly.
Many things to consider include whether to choose a wheeled option or a slide. You may also be wondering about the height and any extra features that can make the life of the elderly so much easier.
There are many advantages that are associated with walkers and if an elderly person really needs it, you should get them one. There is nothing as gratifying to an old person as being able to carry out their own things without necessarily asking for help from anyone. It is important to choose the right walker that is safe and one that can be adjusted.
If you choose a wrong one, you may cause safety concerns. You should understand the differences between walkers as this will help you understand their features and what they can or cannot do. Walkers are worth buying and should be a consideration where elderly people are concerned. You may even get a used walker for seniors.
Why do some elderly people choose to use walkers instead of wheelchairs?
There are some physical reasons that may make it hard for an elderly person to walk, especially without any kind of assistance. They may feel comfortable using walkers in and out of the home. Some of the reasons why the elderly prefer walkers to wheelchairs are accessibility and ease of use.
With a walker, the elderly person has the power in their hands and can go to places that would be hard to access with a wheelchair. It also takes less space in comparison. The walkers can be folded and fitted in a car with ease. They also improve posture since you have to stand and give the elderly more control. There are some walkers for seniors with a seat that make it possible to take a rest.
Importance of the Walker for Elderly
Walkers have been used for a long time now and there are many benefits that are attached to them. The elderly are given a chance to maintain their independent lifestyle regardless of any physical constraints. Seniors may have conditions such as arthritis, back problems, hip issues, or even breathing conditions that can limit endurance and the ability to walk.
A walker is important because it allows the seniors to control their pace and take a rest when they need to. Since they require them to stand, it helps them to maintain posture and exercise at the same time. They get a chance to access different places on their own. Narrow walkers for seniors also allow them to venture in small spaces when necessary.
How to choose a walker for seniors?
When it comes to walkers, there are many considerations and options to select from. Walkers can serve lots of purposes and they come equipped in different ways. This only means that you will find different walkers with different features. Choosing the best walker could, therefore, be rather overwhelming, especially if you have never had the chance to buy one, or if you have no idea of the features to look for.
The best way to choose a walker is to educate you. Take time to learn as much as possible about walkers and rollators. When you learn about the features that are important and asking professionals for an opinion can help you come up with the best option unique to your needs.
Where to buy a walker for elderly?
So where exactly do you buy a walker for the elderly? There are online options and local shop and storage options. Online shops are a great idea because of the wide variety that you can select from. The best place to buy a walker is Amazon. One thing you notice about this online store is that items are from verified sellers and they also connect to the manufacturer.
The reviews are also reasonable and you can, therefore, purchase something that you can rely on. Amazon has also been around for a long time and so far, it is the largest e-commerce store that you can use with a wide variety of items that can be delivered right to your doorstep.
Advantages of buying a walker for the elderly:
The advantages associated with buying walkers for the elderly include:
Maintain mobility even at long distances
They offer maximum support to the seniors
They allow them to be self-dependent
They don't have to stay indoors all day but can venture outside with a walker
They are designed in a way that they offer safety
They help the elder maintain an upright posture
How I Selected the Best walker for elderly from Amazon:
Selecting the best walker is not an easy task because as you will notice, there is a wide variety available online. When selecting the walkers, I put some things into consideration so as to come up with the best there is. Amazon has a wide selection, but with the different criteria's, I made a list.
Design: one of the most important things that I had to take into account is the design. Of course, there are some walkers that have more details than others. Others can be adjusted so that they can be used at different heights; some have rollers and so on. I chose designs that are practical to the elderly.
Size: the size is also very important. You don't want something too huge that an elderly person can find it hard to maneuver. This is something that I put into consideration as well.
Quality: of course quality matters. You don't want to be buying a walker every other day. It needs to be durable for it to serve its purpose.
Material: some materials are heavier than others. I considered high-quality material that is also lightweight for ease of use.
Stability: walker stability needs to be considered as well. It should be added support for the elderly person and should not topple at all while in use.
7 best walkers for elderly
1. Drive Medical Aluminum Rollator Walker ↓
2. Drive Medical Four Wheel Rollator with Fold up Removable Back Support ↓
3. Drive Medical Nitro Euro Style Red Rollator Walker ↓
4. Deluxe Two Button Folding Walker with 5-Inch Wheels ↓
5. Able Life Space Saver Walker ↓
6. NOVA Traveler 3-Wheeled Rollator Walker ↓
7. Medline Heavy Duty Bariatric Mobility Rollator ↓
1. Drive Medical Aluminum Rollator Walker
This is one of the best walkers that you can purchase. It has casters that are 6 inches that make it an idea, walker to use outdoors or indoor. It has a backrest that is removable. It is also padded and can be folded down or up. The height of the handles can also be adjusted. The other amazing this is the fact that it has a padded seat that has a zippered pouch just beneath it. There are also loop locks that are easy to use and a standard pouch.
This drive medical Rollator that has a removable and foldable backrest is one of the best available in the market today. It is the surest way to ensure that an elderly person or an invalid gets the kind of support that they really need while on the go. Mobility is taken to a whole new level. The adjustable height can be anywhere between 32'' to 37''. You can also enjoy the whistles and the bells and a removable backrest, a secure pouch, and padded seat.
The walker frame is made of aluminum and is therefore lightweight but at the same time sturdy. The handles are ergonomic and they have deluxe loop kind of brakes to make stopping much easier.
2. Drive Medical Four Wheel Rollator with Fold up Removable Back Support
This is another amazing walker that is ideal for the elderly. It is a four-wheel Rollator. It has a fold up as well as a removable back support that makes this so much easier for the seniors to use and to rest when the need arises. This is one of the walkers that can help the elderly gain back lost mobility.
This walker offers reliable support because it is quite sturdy. It also offers full comfort. The other thing about it is that it can be used outdoors, even in areas that have got uneven terrain.
So as to make it even safer, the walker comes with some deluxe loop locks. For added convenience, your personal belongings will always be secure since there is a basket attached to the walker. This is one of the best features of the walker.
There is a built-in padded seat that also has a backrest making it very easy to move around in comfort. The handle heights can also be adjusted so as to make sure that you get customized comfort. It is also easy to transport and to store the walker. You only have to remove the backrest or even fold it to a compact size and you are good to go.
3. Drive Medical Nitro Euro Style Red Rollator Walker
This is a Rollator that is easy to collapse into a compact size with just one hand. You only have to pull the seat grip up. This brings the sides together and the handles almost touch. This means that transporting it or storing it is not hard. The design is very sophisticated and it features an aluminum frame which is lightweight. It has a brake cable that is built in offering some extra protection and safety.
It comes with a seat as well. The seat is made of nylon and it is very comfortable for the elderly person or invalid. It is also possible to adjust the height, providing a kind of universal relief that is customized. There is also the caster fork design that makes it easier to turn.
The other thing that is notable about this walker is the fact that it has back support height that you can easily adjust without any tools. There is a thumbscrew that handles the task quite well.
The front wheels are quite large and they are so crafted so as to enhance the turning radius. There is also a storage bag that is sleek and can be removed to ensure safety and convenience to the user. The walker can handle 300lbs.
4. Deluxe Two Button Folding Walker with 5-Inch Wheels
This walker comes with a handgrip that is vinyl contoured. It also has wheels. The sides operate independently of one another so as to allow very easy movement even in narrow spaces. This means superior stability while standing. It also has a push-button mechanism that is very easy. It can be operated using the fingers, the palms or the side of your hand.
There is also the rear glide cap that is newly designed so as to allow the walker to slide very smoothly and easily over almost all surfaces. The aluminum construction is sturdy and stands at 1 inch in diameter. The construction ensures that there is a maximum strength, but at the same time, the walker remains lightweight and easy to handle.
If you want an aid for your daily activities, a walker can be your most ideal solution. This walker combines durability with strength. The fact that it is also lightweight means that it is so easy to use.
It features a push-button making it easy to fold at will. The U-shaped frame offers clearance and the enhanced cross-frame design means that you enjoy more stability. It is definitely a great choice for the senior members of society.
5. Able Life Space Saver Walker
This is a lightweight walker that can be adjusted and can also be folded for storage or transportation. The walker is suitable for seniors and comes with rear glides and fixed wheels. You can fold this walker up to 7'' diameter and this allows you to access even the very narrow passageways.
You have the option of buying the swivel wheels as well if that is what you would like. With this walker, you have the option of three colors namely cobalt blue, regal rose and black walnut.
This walker is outstanding because of its size. It is actually the smallest walker that you can buy. When you lift the tab, the walker folds up to 7 inches. It is also lightweight and 7.5 pounds, meaning that you do not have to be so worried about a walker being too heavy or too large as you move around or as you travel.
It is the kind of walker that you can use indoors and outdoors as well. The space saver has 6-inch wheels and the weight capacity stands at 400 pounds. The handles can also be height adjusted, adding to the convenience. This walker enables one to enjoy stress-free traveling.
6. NOVA Traveler 3-Wheeled Rollator Walker
The traveler is the ideal choice if you want to maneuver small and diverse spaces. It is very easy to use meaning that the senior using it doesn't have to strain unnecessarily. You can fold the walker in a matter of seconds. When you fold it, it stays in that standard position and you can easily roll it so as to park anywhere.
It also has a tray and a storage pouch that is large and zippered. There is the basket as well. This item comes with great features that are associated with the NOVA brand. The paint finish is done beautifully and it lasts longer.
The brakes and the wheels are well equipped with rubber wheels that can handle all terrains. The base of the wheels us 1 ¾" wide. The wheels are very durable and they do great indoors or outdoors. This is the walker you need so as to have a stable and smooth ride anytime.
The handbrakes of this model are NOVA patented. These are usually feather touch and they are designed in such a way that they offer great comfort as well as control. You can easily engage the brake using minimal hand strength and a small grip. To keep or to park the walker, you only need to gently push the lever down and then pull upwards so as to release.
7. Medline Heavy Duty Bariatric Mobility Rollator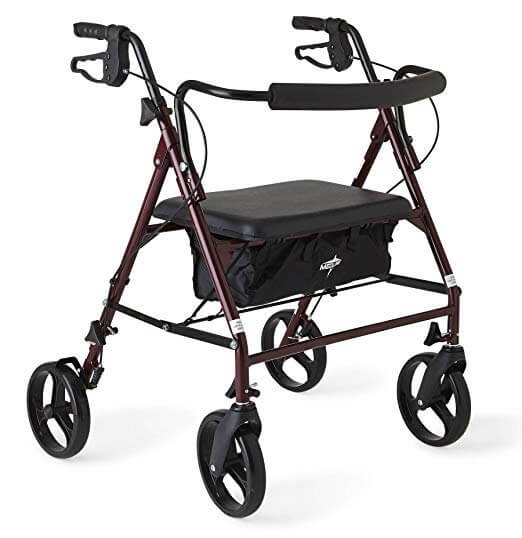 This is one of the strongest walkers that you can select. The frame is made of reinforced steel and can support 500lbs. It has 8-inch wheels which are quite large and they have spikes so as to give it that extra strength. The dimensions of this option are larger than the others, meaning that it may not fit all the door frame sizes.
This walker also has a padded seat that has a Velcro pocket beneath it. You can adjust the handles so as to customize your usage and get the perfect fit. It also has push down brakes that can be used to lock it. You need to always make sure that you have the breaks locked before you sit on the Rollator.
The walker is ideal for persons that have rehab and health conditions. It is also a great choice for the elderly. The walker is built with comfort in mind. You can sit and rest after a walk. There is the foldable design that makes it easy to transport or store away when you are not using it. It is the kind of walker that you can safely use, regardless of the terrain.
Conclusion:
There are many things you should consider when you are selecting the best walkers for seniors. Evaluate how the walker will be used and try to understand that more stability usually means less maneuverability. There are many types of walkers for the elderly available in the market and therefore you should be in a position to find something that fits your specific need.
It is also important to appreciate the fact that the walkers will never move on their own, you have to move them. Even if they have wheels, you have to use your muscles for control of pace as well as the direction. If an elderly person doesn't have the ability to maneuver the walker, it is not safe to use one at all. You should find out where to buy a walker for the elderly near me.