There are many options that are available when it comes to toenail clippers for the elderly. It is good to appreciate that the elderly have some limitations and they may not be able to handle even the simplest tasks the way we do.
Older adults have hard nails that can be very difficult to cut through. They can be also hard to reach. Toenail clippers for the elderly need to be able to handle the thick toenails. The clippers should be able to work well even for persons with arthritis. Arthritis is quite common among the elderly.
The key issues that exist among the elderly include thick toenails that are hard to cut through. It is also quite difficult for the elderly to reach their toes. If they have arthritis, they may not be able to operate the clippers well.
When conditions like arthritis are present, the toes may be unusually bent making it even harder to operate the normal clippers. There are the ideal toenail clippers for arthritic hands.
There are many nail clipper options as well as tools that can be used by the elderly person's so as to make it easier. It is important to take care of the elderly in the best way possible and where possible get the tools that will allow them to remain self-sufficient.
How to Properly Care for the Elderly Feet and Toenails?
If you ever find yourself caring for an elderly person, you should take time to learn about the best practices to make their lives as easy as possible. It can be an overwhelming experience since there are many details that you need to pay attention to. As you juggle different tasks, you may not think about the toenails.
Even though it can't lead to anything serious, taking care of the elderly person's feet allows them to be comfortable and clean. Make sure you wash in between the toes and also dry. The skin needs to be moisturized as well. Stay alert to any color changes and lesions.
Look at the toenails and cut them using the recommended clippers. Electric toenail trimmers and long reach toenail clippers work great if they are used properly.
What is the best way to cut an elderly person's nails?
You should note that not taking good care of an elderly person's foot can cause different complications such as foot deformities, warts, infections, ingrown toenails, friction blisters, dry skin, corns, and calluses.
An elderly person may need some help so as to trim the toenails well since they may not have very good sight or even be able to reach their toes. The best way to cut an elderly person's nail is to get a podiatrist to do it. A family member can also do it as long as they know how to do it.
You need to examine the feet so as to look for any problems. You should clean and lotion the feet and then start clipping.
How to cut an ingrown toenail correctly?
Ingrown toenails usually affect the big toe and they are common in adults. So as to cut it correctly, you should take a close look so as to determine if it is severe or not. You should make sure that the nail clippers, the cuticle sticks, the tweezers, and all other pedicure tools are actually disinfected using hydrogen peroxide or alcohol.
The foot should then be as soaked in water so as to make sure that the skin and nail have softened. Tea tree oil, Epsom salt, or other disinfection oils can be added. Dry and massage the foot. Scrape the skin at the nail sides so as to remove the dead skin cells.
You can encourage the nail to unroll. You can use a cotton ball beneath the nail so as to encourage it to take a new direction.
What is the difference between fingernail clippers and toenail clippers?
Toenail clippers are not the same as fingernail clippers. Fingernail clippers happen to be way smaller and they have a cutting edge that is curved. Toenail clippers on the other hand, usually have straight blades. The blades can also be sharply curved.
You should know that there aren't any fast rules regarding the usage of the two. If your nails are particularly thick and hard, you should be able to use a toenail clipper for the same. If the toenails are soft, then a fingernail clipper can be used regardless of whether you are clipping the toes or fingers.
Advantages of toenail clippers for the elderly:
There are many advantages associated with toenail clippers for the elderly. They include:
They are easy to use
They are safe to use
They are designed to handle the nature of an elderly person's toenail
They can assist with ingrown toenails
They allow the elderly person to feel relaxed and clean
They help to avoid different foot conditions
Most are designed in a way that the elderly person can take care of their toenails without assistance.
How I Selected the Best 5 toenail clippers for the elderly?
Selecting the best clippers for the elderly was not an easy task. There were many areas that needed to be looked at and considered critically. These include:
Design: the design is everything. If it is meant for the elderly, it should be able to offer convenience to the greatest level. It should also be safe and easy to use with or without assistance.
Size: size matters a lot. You should realize that most elderly persons have minimal dexterity in the hands. As such, the Clippers should be of a reasonable size that can be easily maneuvered by the user.
Quality: quality equals safety. Something that is made of the highest quality doesn't fail that easily. A good clipper should be durable, but something you have to buy every other day.
Material: material also determines how durable and usable the clipper really is. I chose clippers that are created from the highest quality materials that are rust free and easy to clean too.
Stability: a good clipper should be sturdy and stable to avoid accidents while in use. If there is something that the elderly persons need most is stability in all areas for purposes of convenience.
Best 5 Toenail Clippers For Elderly
1. Kohm KP-700 Toenail Clippers for Thick/Ingrown Nails↓
2. Mehaz 668 Pro Angled Wide Jaw Toenail Clipper↓
3. Toenail Clipper↓
4. The Original Soft Grip Toenail Clippers by Fox Medical↓
5. Happy Healthy Smart | Long Handle Toenail Scissor↓
1. Kohm KP-700 Toenail Clippers for Thick/Ingrown Nails
This product is highly recommended for anyone with thick nails. It is perfect for irregular nails too, that could be as a result of diabetes and fungus. The jaw of the clipper opens well and the blades are a bit curved so that they can contour around the nails.
This is one of the easiest clippers that you can maneuver. You can be sure if getting a smooth and clean cut at all times. It is a great tool when you are dealing with the ingrown toenails. These are perfect toenail clippers for diabetics.
The clipper also has smooth control and an easy grip as well. The length of this clipper is 5 inches and this makes it possible for the elderly person to hold it without much effort. It is also very easy to control. The handles have ridges that are designed so as to increase the traction and to prevent finger slippage.
The clipper is made of stainless steel that is of a premium grade. This material is very easy to clean and also sanitize. Remember, it is essential to sanitize the clippers before use. Simply wipe your clippers using some alcohol after you have used it. Ensure it is dry before storage. You should store using the safety tip cover.
2. Mehaz 668 Pro Angled Wide Jaw Toenail Clipper
This clipper also has wide jaws that are able to handle thicker nails. The material used to make it is stainless steel that can be sanitized very easily. The blade is angled straight edge and includes a built-in file and a clipping catcher. The length of the clipper is 3.4 inches and the mouth opening is 3/16 of one inch.
The Mehaz 668 is one of the best toenail clippers that an elderly person can get. As we noted earlier, as we grow older, out toenails tend to get thicker requiring something sturdier to cut them without causing any harm.
An elderly person requires comfort in even the smallest things. When you have a blade that can handle an elderly's person toenail, then you will be in a position to put a smile on their face.
The design of the clipper is done ergonomically and it is this that makes it so easy to use. The other outstanding thing about this clipper is the fact that you can adjust the handle for the left or the right-handed use. This means that it doesn't matter which arm you use. You can get your nails neat within no time at all.
3. Toenail Clipper
This is a clipper which is designed to handle thick nails and it is made from stainless steel which is surgical premium. It is also hand polished, especially so as to allow it to be comfortable and give maximum beauty.
The grip is durable and offers secure control of the toenail clipper which is what every elderly person really needs. The blade is curved so as to ensure that the clipper performs effectively at all times.
This toenail clipper can handle ingrown toenails too. You will not have to worry about the pain caused by paronychia because this is a clipper which is very professional. You can make the purchase with great confidence as it really delivers and that is why it is among the best in the market today.
When you are storing the clipper, make sure that you use the tip covers so that it remains safe and clean throughout until you need to use it again. The packaging of this clipper is also done quite well and can serve as a perfect gift for your loved one.
You can use the clipper to get rid of dead skin when you soak your feet first. Always remember to wear proper footwear to avoid some of the foot conditions that are common today.
4. The Original Soft Grip Toenail Clippers by Fox Medical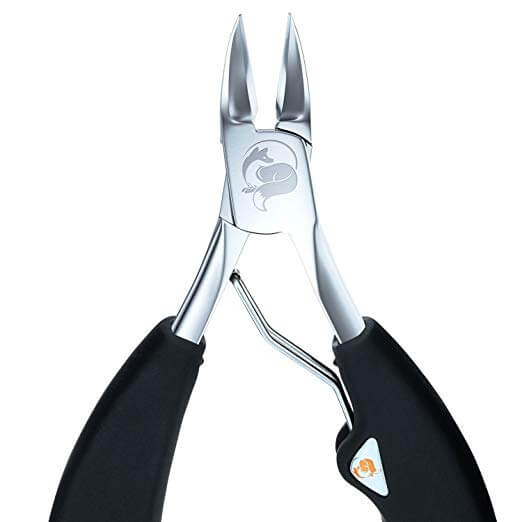 If you have been struggling with hard and thick nails, then this is the best toenail clipper for you.
It is a clipper that can also handle the ingrown nails. These clippers come with many unique features that are designed so as to cut through even the toughest banks. With this in hand, your visits to the podiatrist will be greatly reduced.
One of the things that you probably didn't know about this clipper is the fact that the blade is hand honed. This is not very common with other toe clipper makers. The edge is finished by hand, which adds to the precision.
The clippers are therefore razor sharp and they remain sharp for an even longer period of time. The blade is designed very carefully and this results in one of the best nail cutting experience that you can ever have.
The other thing that should give you confidence with this clipper is the guarantee that is given. There is a replacement policy that covers the lifetime of the clipper. If for any reason you don't like the clippers, the issue is handled very fast.
The grip design is ergonomic and you can maintain your nails without any kind of discomfort. The soft grip handle allows you to maintain a firm grip even if it is wet.
5. Happy Healthy Smart | Long Handle Toenail Scissor
The design of this toenail clipper is ergonomic and it is actually long handled. It can be used by both women and men, regardless of their sizes or shapes.
The stainless steel used to make it is of the highest grade. The grip is also quite tight and it is angled in a way that it provides the best comfort at all times. You will get your toenails looking great in the shortest time possible.
The design also allows you to enjoy maximum control of the scissors. You don't need to be cramped up or even hunched over. You can handle the task at hand quite well.
If you have ever used the tiny toenail clippers, this tool will definitely change your life. The durable design that is easy to use, allows you to have an experience like no other. The extra-long handle toenail clippers make sure that you can reach the toenails easily and the angled blade also allows you to make very accurate cuts safely.
The tight grip makes it possible to stay in control of the actions. This is a must-have pedicure tool for persons with any flexibility issues. It makes toenail trimming an easy and very quick affair.
Conclusion:
We have already established that taking care of the elderly feet is very important as it can deal with many issues associated with unkempt nails. When done regularly, an elderly person will definitely have great and clean nails that will boost his or her self-esteem. Toenail clippers for handicapped also serve the same purpose. There are lots of advantages associated with the highest quality clippers.
When you understand your needs, it becomes even easier to actually pick a clipper that will be suitable for your type of nails. Take time to care for the elderly and make sure you do not forget to check their feet. Getting an easy to use toenail clipper that they can handle by themselves goes a long way in boosting their self-esteem. There are electric toenail clippers for elderly that you can go for if you are up to it.