Younger people prefer designer sunglasses that are fashionable and protect their eyes. However, Old people sunglasses are also very important as one gets older. Older people are more likely to develop eye problems, especially when exposed to UV rays.
Being exposed to sunlight for a long time regularly contributes to eyesight issues. Some common issues include lens clouding due to cataracts and cornea irritation called Keratitis.
Cataracts are quite prevalent. Excessive sunlight is one of the factors that contribute to the growth of the condition. Macular degeneration is also age-related. This can lead to blindness, and it is closely linked to Ultraviolet light exposure.
It is not possible to avoid sunlight altogether, and it is not recommended because it can lead to the development of some other issues. However, when the sun rays are blocked using sunglasses, it is a stylish and simple method of keeping any damage at a minimum.
There have been many warnings from health experts regarding the damage that bright sunlight can have on the skin. There is a great need to use sunscreen. Apart from the skin, the eyes should be shielded from the sun rays also among the elderly.
What are old people sunglasses called?
Old person sunglasses are called solar shields. They are readily available and come with different features depending on the brand. There are some glasses that can fit well over the prescription glass.
Eyecare is very important, and as we get older, we become more prone to eye issues, especially due to exposure to UV rays. It's important to wear sunglasses all through the year to prevent harm from UV rays. There are many sunglasses available from different brands.
It's important to wear sunglasses while outdoors regardless of the weather. It is the only way to be sure that the eyes remain safe. It's important to pick eyeglasses that block out the UV rays completely.
What are smart glasses?
Smart glasses attempt to bring wireless imaging and connectivity enjoyed on cell phones and computers into lenses and frames of different eyewear. This technology may help us enjoy connectivity and versatility from contact lenses and eyeglasses in the future.
Google was the first company to introduce smart glasses in 2013 when the Google Glass Explorer was introduced. This was to boost wearable devices like smartwatches and making them more popular.
Smart glasses are made that way by including sound, a CPU, a microphone, a camera, a prism, and a projector. There are different ways of controlling smart glasses include swiping, tapping, or touching.
Advantages of old people sunglasses:
While sunglasses are very fashionable, they are great for elderly people as well. When sunglasses have enough UV protection against sun rays, they can be very helpful. This is because the sun rays can damage the eyes and lead to eye disease and cataracts. Some of the advantages of using old people sunglasses include:
They protect the eyes from all the elements
They prevent the development of some sun-related eye diseases
You get to enjoy and see more views
Sunglasses protect eyes, especially after eye procedures
They reduce bright sunlight, thereby preventing migraines and headaches
They offer glare protection
They help make a fashion statement
How I Selected the Best 10 Old people sunglasses?
When selecting the ideal sunglasses for old people, various considerations have to be taken into account. It helps to understand what exactly you need before making a decision. Some of the things to consider include:
It is important for old people sunglasses to offer the best protection against UVB/UVA. This can only be achieved when UV-coated lenses are picked.
It is important to find out how necessary prescription glasses are. Many seniors need to use prescription glasses throughout. In such a case, getting sunglasses that can fit over prescription glasses is an added advantage.
Lenses and frames need to be considered as well. The best frames are made of metal, carbonate, or plastic. These materials tend to be the best. Lenses may be created using plastic or glass.
Some sunglasses are polarized. When this is the case, it means that the sunglasses can reduce reflections of horizontal surfaces. This reduces eyestrain.
While choice is not always about how sunglass looks, aesthetic value is important to some people. Some want a sharp look regardless of age, and the right sunglasses can make it possible to achieve this. Sunglasses tend to slow down the development of wrinkles around the eye area.
Best 10 old people sunglasses
Sunglasses for seniors should allow them to look good and make sure they assist with common issues. Sunglasses are great at preventing wrinkles and eye deterioration. Older adults tend to be more sensitive to light and sunlight flares. Those with glaucoma and light sensitivity tend to have a harder time outdoors. The following are some of the sunglasses that you could consider.
1. Women: SUNGAIT Vintage Round Sunglasses for Women Classic Retro Designer Style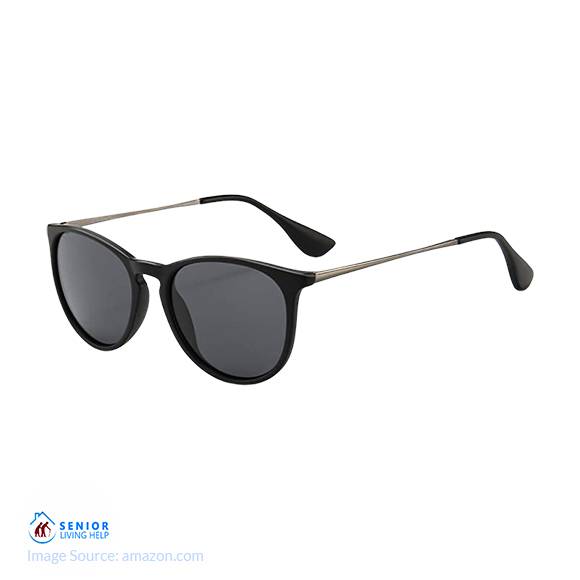 Sungait is a brand dedicating to creating products that perform highly. They create polarized and non-polarized sunglasses for men and women in different colors to meet different needs. These sunglasses provide protection all through the year with the best style.
Sungait offers quality and also an amazing customer service experience. These old lady sunglasses offer a classic design, and they offer great UV protection and good coverage. They are also quite attractive with a keyhole kind of Nose Bridge and round lens.
You can choose different colors to meet any personalized demand, and they are fashionable enough to be worn on different occasions. The packaging is also great, and they are suitable for every season. They can be used for outdoor activities, shopping, driving, or vacation.
Pros
They come with a cloth for easier cleaning
High-quality frame
They have a mirrored lens meaning people can see the eyes
Good choice for smaller faces
Stylish and sleek
They are comfortable
They don't have nose pieces, so they don't get caught in hair if you decide to have them on top of your head
Lightweight
Easy to clean
They do not easily scratch
Cons
Tend to be a bit loose, so they could slide when the wearer bends over
They are not polarized
Some find them a bit too dark in areas with limited sunlight
Not ideal for wider faces
2. Women: SOJOS Fashion Round Polarized Sunglasses for Women UV400 Mirrored Lens SJ1057
This is a high-quality product with a metal frame, polarized, and mirrored lens. The lenses are polarized, meaning they can filter out reflected glare from the sun, thereby protecting the eyes from all sorts of damage.
UVA and UVB rays are completely blocked out, which is a great thing for the user. The materials used are of high quality. The metal frames are made of stainless steel. It also comes with a nose pad made of silicone and metal hinges. The lenses are colorful and mirrored.
This is a fashionable and trendy option and comes in multiple colors to match different tastes and preferences. These sunglasses' details make them an outstanding selection for different people looking for different things in eyeglasses.
Pros
They are polarized
They are durable
They are affordable
Come with a solid feel which makes them stable
Not easily scratched
They come in a variety of colors
They come with a microfiber cloth for easy cleaning
They also come with a carrying case that makes storage much easier
They give a nice fit
They are secure and comfortable
They are mirrored
Cons
The rubber nose pieces are a bit tight
Closing and opening hinges causes the screws to get loose, but they can be tightened
They let in light from the sides
These may not be great for wider faces
3. Women: SOJOS Classic Round Sunglasses for Women Men Retro Vintage Large Plastic Frame BLOSSOM SJ2067
This is another great UV protector for the eyes and comes with anti-glare lenses that block UVB and UVA radiation. These sunglasses are great for filtering sunlight glare and protecting the eyes from damage caused by UV when one is outdoors.
The sunglasses are made of high-quality materials. The plastic frames are great, while the hinges are metal and solid. This makes the sunglasses a durable option for different weather and climatic conditions. These glasses are perfect for different activities such as hiking, traveling, shopping, and driving.
They are very stylish, and they help make a fashion statement. They have a UV protection coating and polycarbonate lens. They are well packaged, which is a great thing. They come with a cleaning cloth, and they can serve as a very practical gift for family and friends.
Pros
Hair does not get tangled on the sunglasses
They are stylish
They look durable
They have a cleaning cloth as well as a bag for storage and for carrying
They have a good fit
They keep the sun out
They are comfortable
They have a solid nose piece
They are lightweight
They are affordable
They have an amazing packaging
They offer good mirroring
Available in different colors
Cons
They are not ideal for smaller faces
They are non-polarized
At some angles, the reflection can make it a bit hard to see because of the flat straight lenses
4. Women: Yodo Fit Over Glasses Sunglasses with Polarized Lenses for Men and Women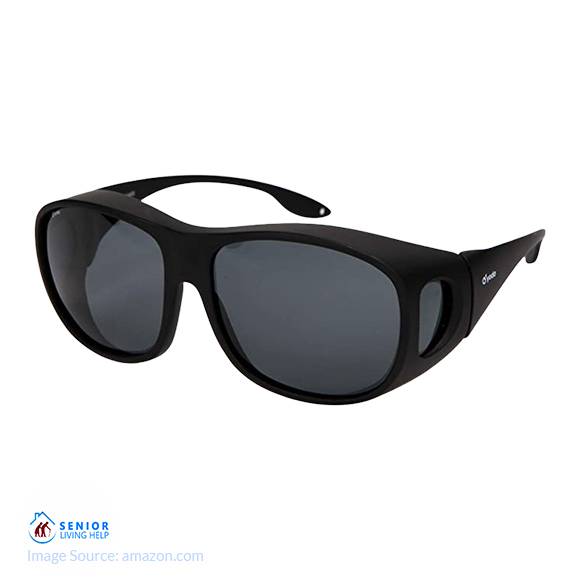 These are polarized sunglasses with a polycarbonate frame and tri-acetate cellulose lens. They have a scratch-resistant coating and can fit over the normal lenses used for reading and prescription glasses.
The sunglasses are great for UV protection and the harmful UVC, UVB, and UVA rays. Since they are polarized, they reduce fatigue and eliminate glare that can affect the eyes. These lenses are durable and lightweight as well. The coloring system adds some contrast.
It does not distort the natural colors. Polarized lenses usually have a special filter to reduce glare from long flat surfaces such as on roads and car hoods. These are a great option for the elderly, especially those who use reading or prescription glasses.
Pros
They are sturdy and durable
They are very comfortable even with eyeglasses under them
They offer a good vivid view
They are anti-glare
The color is well enhanced, which makes things easier for the eyes
They are fairly priced
They fit well on the face even without prescription glasses under them
They fit big frames as well
They are great for wide faces
They have a band to secure the earpieces at the end so that they stay in position during windy conditions
Cons
The side panels are non-polarized
They are not perfect for people with smaller faces
There are some who feel that they'd be better if darker
They don't look very fashionable
5. Women: Cover-Ups Black Fit over Sunglasses for People Who Wear Prescription Glasses in the Sun
This is another option for seniors who need sunglasses that can fit over prescription glasses. They have UV 400 protection that is effective at blocking out the rays of the sun. These eyeglasses are made in a wrapping style, which means the eyes are protected from all angles.
These are a good choice for those in need of UV protection while still wearing glasses and don't want to incur the cost of getting new prescription glasses. The lenses are created in a way that they can fit many of the modern glasses.
For anyone sensitive to sunlight, this is a good option. They are great when driving and when doing other outdoor activities.
Pros
They offer great coverage
Can be worn over prescription glasses
They provide lateral protection
They allow peripheral vision
They are great for light protection and help with migraines as they block out the light
They are durable
Fairly priced
They have a good design
They are comfortable
Cons
They are not very attractive
They sit a bit far from the face, and that allows some light from underneath
The periphery does not seem very good for solar shields
Some find the sunglasses a bit too tight
They don't work well when you move your head a lot
6. Unisex: MERRY'S Unisex Polarized Aluminium Sunglasses Vintage Sun Glasses for Men/Women S8286
This is another great pick for seniors who want a polarized product to reduce glare usually reflected off water bodies, roads, snow, and other surfaces. The sunglasses restore color and block any reflected and scattered light. They protect the eyes in a perfect manner.
With these old people glasses, the haze and glare are cut off, making it more comfortable for the eyes and improve vision. These eyeglasses are ideal for many outdoor activities such as trekking, climbing, racing, fishing, running, driving, houseboat, and many other outdoor activities.
The glasses are fashionable and very trendy. They are elegant as well. The glasses are created with the best technology as well as processes.
Pros
Available in a variety of colors
Have nose pads for a better fit
They are polarized
They adequately block out the light, which in turn reduces heat radiation and enhances contrast
They restore the accuracy of images
They offer UVA/UVB protection
They are string because of the synthetic resin frame
Can be worn for a long time with minimal fatigue
Are comfortable
Cons
Some feel the polarization is not as good
They scratch easily
You have to get the size details right if you are to get a perfect fit
7. Men: Polarized Sunglasses for Men and Women Semi-Rimless Frame Driving Sunglasses 100% UV Blocking
This is another unisex sunglass option that is ideal for seniors who understand the importance of health. These are glasses that can be worn daily for both men and women. This is a frame choice that is polarized and resistant to scratches and impact.
They are ideal for daily use regardless of whether you are sunbathing or taking a walk in the park. It is also ideal for boat sports and fishing. The glasses are stylish, and they come with a gift box, a pouch for dust protection, a cleaning cloth, a test card for polarization, and are multi-colored. The lenses are anti-reflective as well, and they have a UV protection coating.
Pros
They are stylish
They are polarized, which reduces the flare caused by shiny materials and mirrors.
They give true color perception because the coating is neutral colored
They are very comfortable to wear
The manufacturer offers a money-back guarantee for 30 days
The bones pads are skin-friendly
The glasses are made using comfortable and durable materials
Are lightweight
Cons
The polarization is not satisfactory to some
The film bubbles and peels
They have a cheap construction
8. Men: Sunglasses Fit Over Glasses, Polarized 100% UV Protection Wrap-around Sunglasses for Men & Women Driving by URUMQI
This is another unisex option with a mirrored lens. They can be used over prescription sunglasses, but it is important to confirm the size before purchasing. It's also important to check the kind of lens picked. This is because some are non-mirrored, and this depends on the color.
They are polarized and are anti-reflective to provide great UV 400 protection. This reduces glare usually reflected from different horizontal surfaces such as snow, water bodies, and roads. This takes care of discomfort caused by bright light.
The best sunglasses for sensitive eyes are designed especially for wearing over glasses and can be worn by those with normal vision or those who use contact lenses. They have a wraparound design that offers better coverage.
Pros
They have side lenses for a good peripheral vision
Offer glare protection
Lenses are flexible and durable
Have rubber end tips that are non-slip
They are comfortable
The lens is polarized
They can be used as a gift
They are stylish
Affordable price
Cons
The shape of the frame of prescription glasses may not fit
The lenses on the sides are not polarized
Some feel the tint is a bit thin
9. Men: HULISLEM S1 Sport Polarized Sunglasses
These are polarized old man sunglasses that have a lightweight polycarbonate frame. This makes them an ideal option for outdoor adventures. It is a good option for people who want coverage but are not accustomed to wearing glasses.
They have a UV 400 coating, limiting light exposed to the eyes and ensuring that harmful light never gets to the eyes. The sunglasses are great for offering UVC, UVB, and UVA protection. All sorts of harmful lights are kept at bay. The frames are designed specially to handle rugged and rough activities. The lenses are of HD grade and have super HD function.
They have S1 coloring system, so they don't distort natural colors and contrast. They enhance vision without warping so that natural color can be appreciated. Compared to other sunglasses, they are way superior in quality, style, and functionality. These sunglasses can easily become the best option in many scenarios.
Pros
They have a state of the art design
They are polarized
They offer error-free clarity
They are durable and can withstand impact
Offer color contrast
Have a carrying case
They come with a polarization test card
It's lightweight
Cons
Not the best for driving
The frame tends to be off-center
10. Men: Calabria 1003 Large Fit-Over UV Protection in Smoke
These sunglasses are designed to fit over eyeglasses or even reading glasses. These sunglasses are designed in a way that complements reading glasses and offers a wraparound kind of protection. There is a wide variety of options in terms of sizes to fit the needs of men and women.
It is important to read through the labels of the specific sunglasses you intend to buy to ensure that you understand the offered protection. There is clear mention of UVB and UVA light protection. The elderly sunglasses come with a UV coating that is adequate to keep out the sun's harmful ultraviolet rays. With this at hand, ultraviolet protection is possible.
Pros
They have a wonderful design
They come with UV coating, which is an amazing thing
They can be used to reduce the glare from computer screens
They are fashionable
Have peripheral guards which are quite functional
Cons
Some find them to be a bit tight when used over other glasses
The plastic case is a bit flimsy
They are a bit heavy
Nose rest is a bit awkward
Best suited for people with larger or fuller faces
Conclusion:
Sunglasses are an important part of everyday life, and they can be worn in any kind of weather, especially when they offer heat UV protection. The elderly need eyeglasses to keep their eyes safe. The best sunglasses for light-sensitive eyes have UV protection. There are some with polarized lenses, and these cut down glare from reflective surfaces.
Eyesight tends to worsen with age, and it's common to hear cases of limited or blurred vision that worsen with time. When exposed to sunlight for prolonged or regular periods, eye issues can be created or made worse. Finding sunglasses with UV protection is, therefore, a very important thing, especially for the elderly.