As we get older, it does not mean that we should stop using technology. In fact, studies have shown that there are many older adults that are using computers today. Buying computers for seniors can be a tricky task because as we know, vision and dexterity are some of the issues that we have to deal with, as we get older. Even older adults enjoy social networks just like everyone else and no one should deny them the chance to connect and get informed about different issues.
We should also appreciate how lonely the life of a senior can get especially when they are living away from their loved ones. The children are all grown up at this stage of life and most of them, if not all, already have families of their own.
The joy of every senior person is to see their child grow into a responsible and independent adult. The needs of a senior person are not many and so we should work at making them as comfortable and as happy as we possibly can.
We all age eventually, so why not treat seniors today the way we want to be treated tomorrow? Getting them best computers for seniors that are easy to use can change their days very much.
Desktop vs. Laptops vs. Tablets
Among the senior population, desktops are the preferred choice and are widely used than other options. However, with time, tablets are getting quite popular. More and more people over 65 years have a tablet. It is Important to compare them before you decide which one is the best fit for you.
1. Desktops
In general, desktop computers happen to have a base or tower unit. They come with a separate mouse, a separate keyboard, and a separate monitor. Their screens are large and you can choose from a variety of screen sizes.
The keyboards are also designed in an ergonomic way. Some have keys that bear large prints, which can be useful for elderly people with vision issues. These kinds of computers also have great processing powers and high storage capacity.
You work with a desktop while it is plugged in meaning that it can be left running and you do not need to worry about the battery life. Computers are easily upgraded or repaired when compared to laptops and tablets.
Desktop computers can be of great help to seniors since they can be used for tasks like word processing. Printing documents, creating graphics, and you can have two or more windows at the same time.
However, you notice that desktops cannot be carried around. They are meant to stay on a desk, just as the name suggests. You also notice that they demand more space when compared to laptops and tablets.
Assess your needs before getting a desktop computer. You should also evaluate whether you have adequate space for the computer.
2. Laptops
Laptops are the other option that elderly persons can select. There are so many types of laptops and all with different OS and capabilities. Laptops come in all sizes and colors and you should have a great time making a selection. They also come with different price ranges.
Laptops are versions of desktop computers, but they differ because these are portable. This means you can carry your computer wherever you go. The screen, the mouse, and the keyboard are also attached as one.
The unit is usually foldable and this is what makes it so easy to carry around with you. The fact that everything is connected, and the fact that you can fold a laptop, makes it possible to save on space.
Laptops have a touchpad that can be manipulated and this works as a mouse. You only need your fingertips to work with the touch pad. However, there are still those who opt to buy a wireless mouse.
Just like desktops, laptops are an amazing choice if you want to multitask and even when you want to create printing pages. In general, laptops seem to be less powerful than desktops.
However, considering power, they are better than tablets. The screen of a laptop is larger than that of a tablet and has more storage space too.
3. Tablets
Tablets also come in different sizes, usually; they can be the size of a book or a magazine. They are the most conveniently carried owing to their size.
If you want something that is light and portable, then a tablet should be your most preferred option. They are touchscreens and are thinner and smaller compared to desktops and laptops.
Tablets do not have a mouse or a physical keyboard and this makes them very easy to hold with only one hand. They also happen to start and run faster than traditional computers.
You also need a few steps to get tasks done when compared to the other two options. Their battery life is much better than that of laptops as well.
Tablets are great choices if you love browsing the web, playing games, and even reading. You can use them to listen to music or watch videos too. However, if you want to multitask, they are not the best.
They are not the ideal choice if you need to handle a lot of typing work. However, you can get a wireless keyboard to pair, but they are smaller than the options available laptops and desktops.
Advantages of computer use for seniors:
There are many advantages associated with computer use among the senior population. Technology tends to have a very positive effect on people of all ages. Your senior loved one is kept busy and informed. This is by far the most important reason why every senior person should own one. Other advantages include:
They keep their minds active
They improve cognitive skills and memory
They help them stay connected with loved ones and friends who are away
They offer convenience in terms of shopping and running errands
They stay informed on current happenings
They keep them entertained
Computers help seniors to learn new things
Disadvantages of computer use for seniors:
In addition, just like everything else, there are disadvantages related to computer use for seniors. In as much as they get many important benefits, there are still many risks that they could be exposed to. When you are aware of them, you can try to avoid them as much as you possibly can. They include:
Hacking attacks from unauthorized people for illicit reasons
Virus attacks that could compromise the entire system
Online cybercrime which includes identity theft
They may not get physical exercise causing health problems
It can create dependency, especially in completing some tasks
The elderly can get exposed to fake news
Too much exposure to the screen light can cause vision issues
What should you decide before buying a computer?
There are many things that you have to look at before you decide to buy a computer. Computers for seniors reviews can be helpful in the decision making process. Things to consider include:
⇒ Your needs
The first thing is to understand all the basic devices that are available. These should then be measured against your own needs. You need to choose the device that will best suit your needs.
Consider how you plan to use the device. Most seniors just need a device that can help them stay in touch with loved ones. In this case, you need a device with a user -friendly interface. There are others who want to work with a powerful machine to edit photos and create spreadsheets.
Make your choice based on whether you want to browse the web, read and reply to emails, watch videos, listen to music, play games, read eBooks, storing and editing digital photos, printing documents, making calls, social media, or even banking and shopping online. Also, consider the kind of space you are working with to ensure that it will be adequate to accommodate the computer.
⇒ What do you feel most comfortable with?
You can try thinking of any kind of technology that you may have been exposed to in the past and evaluate the kind of experience that you had. Have you ever tried a specific operating system and what was the experience like? Do you like the traditional windows computer or something else? Sometimes it is best to consider all aspects before making a final decision.
You need to consider the size of the screen and the size of the keyboard. Do they accommodate your special needs if any? Is it possible for you to control the screen light?
Do you want a simple computer for seniors or a complex one? This may vary from one senior person to the next. Some seniors are acquainted with technology while some only want something that they can handle without much difficulty. Check these things before you make a purchase.
⇒ Physical capacity
Even if a senior person is really good with technology, they may still find it somewhat difficult to deal with especially with their changing physical needs. You may find that a larger screen and a larger keyboard are the best suited for those with vision issues.
There are some seniors who have no issues with touch screens, but if they have joint issues and hand tremors, a touch screen may be off the table. The most preferred choice is such a case is a device that has a mouse.
If a senior person cannot or has difficulties sitting behind a desk, then portable devices may be the ideal choice. However, the handheld devices are not as ideal for anyone with reduced dexterity of their hands.
There are ways in which things can be made easier for the elderly person. Take all physical limitations and abilities into consideration before you pick a device.
You should never rush to get a computer for a senior person blindly. Always take your time, read everything clearly, and make the wisest decision under the circumstances.
How I selected the best computer for seniors:
Computer descriptions can be confusing and long. It may be hard to understand them, especially if you are not tech savvy. There are things that you should be aware of when selecting the best computer for seniors. What I looked at included:
1. Weight and size
A larger screen is better for seniors because they do not need to scroll too much. Desktops have the largest of those. However, they will take a lot of space. Remember that a bigger size means that the device is heavier. This may not be ideal if you want something portable. Find something that is in between and something that will match your needs.
2. The operating system
This is the software that ensures that a computer actually works. There are many types of devices that run on different types of OS. Choose something you are comfortable using. The windows interface is the most popular system so far.
3. RAM
This is the random access memory used for short-term data storage. Having a larger RAM works to your advantage.
4. Storage
The internal memory needs to be considered too. The memory available should be determined by the tasks that you are planning to carry out with the computer. If the computer is only for emails and browsing the web, 16 GB should be adequate. For photos, songs, and games downloads, you may require more.
The best 10 computer for seniors
There are so many standard tablets, laptops, and desktops that are great for older adults. This mainly depends on the budget as well as their different needs.
By assessing the personal needs, personal capabilities, and in capabilities, it should be very easy to make up your mind about the best computer to pick for you or your loved one. So, what is the best computer for seniors? They include:
1: ASUS Vivo Book F510UA 15.6" Full HD Nanoedge Laptop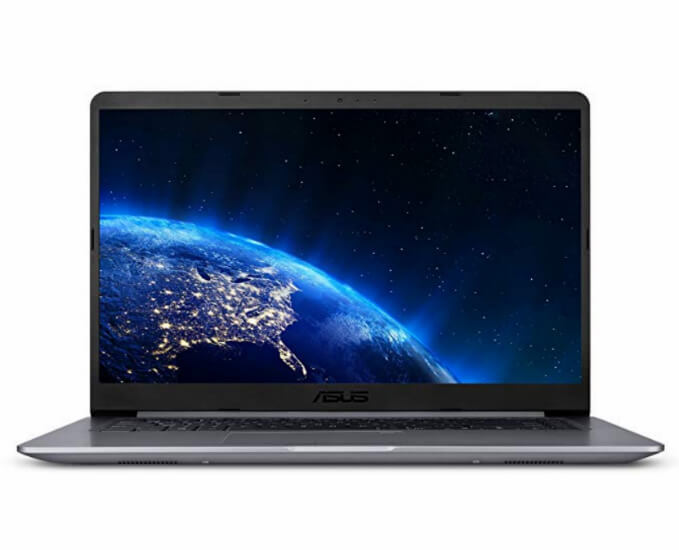 This is one of the best computers for seniors that you can select. It is fully equipped with 3.1 USB Gen 1 Port that has a reversible USB connector.
It has a design, which may be used with any side up. This makes it very easy to connect USB devices, meaning that your loved one will not have to struggle at all to get things fixed.
The 3.1 USB delivers fast speeds of transferring data, which is around 5 times more than the 2.0 connections. It also has other USB ports including the 3.0, 2.0, HDMI, as well as a port for your SD card. The ASUS VivoBook F510UA is compatible with so many types of projectors, displays, and peripherals.
The laptop also has a great visual optimization tech. This makes it possible for the elderly, and anyone for that matter, to enjoy optimized visuals regardless of the kind of content you are dealing with.
It has four different modes of display and they include manual, eye-care, vivid, and normal. You can access these modes by simply clicking. The Tru2Life video technology is what makes it so much fun to watch videos.
It uses intelligent algorithms so as to optimize the contrast and the sharpness of each pixel per frame with over 150% so as to end up with incredibly realistic and vivid imagery regardless of the source.
2: Apple 13 Inch MacBook Air Laptop
This is one of the high performing options that you can choose from. It has 1.8 GHZ dual core Intel and i5 processor with a 2.9 GHz turbo boost. This MacBook will get the job done very fast, regardless of how hard it seems to be.
The provided storage on the SSD is 256 GB, which is faster than a computer with 5400-RPM hard drive. The air flash storage also allows you to enjoy 12 hours efficiency unplugged power. The laptop also includes a memory of 8 GB.
The option has amazing graphics. It displays 6000 Intel HD graphics on the retina display of 13.3 inches. The resolution is 1440×900 pixels.
This is a gadget that lets you make use of various features and apps from Apple. They include messages, numbers, pages, keynote, iTunes, Safari, garage band, iMovie, photos, spotlight, finder, and Siri, among others with apple devices for the best user experience.
You can also connect this laptop by the thunderbolt 2 port. It also comes with two USB 3 ports. This means that you can transform the gadget from a laptop and into a workstation with only some few alterations and connections. The maximum memory stands at 8 GB.
3: Acer Aspire C24-865-ACi5NT AIO Desktop
This is one of the desktops that seniors can choose. This desktop computer is an amazing choice when you want to take on your computing tasks easily. You can also use it to surf the internet and to watch videos using the 8th generation Intel core i5 processing unit.
This gadget is bound to give your decor some flair and it will reflect what your family is all about. It is designed in a way that is elegant and stylish. It is an all in one kind of desktop computer, which is ultra-thin and powerful.
It also ensures that you enjoy the fastest wireless connectivity with the necessary networks. This ensures that you get the highest level of performance and enjoy everything with great fun. You can enjoy clear and crisp entertainment experience in the display, which is full HD. The viewing angle is also quite wide.
The other thing is that it comes with special screen protection so as to keep eyestrain minimal. This is one of the things that make it such a good fit for seniors. The sound is also remarkable.
It also boasts an ultra-thin and borderless design, which allows you to enjoy clean images and vibrant entertainment experience. With high streaming speeds, browsing has never been better.
4: Dell Inspiron i5459-7020SLV 23.8 Inch FHD All-in-One
This is a great choice if you want a desktop computer. It allows you to perform at your level best. This all in one computer has great power with great multimedia features that are designed in a way that sparks full potential.
This is a true definition of a computer that has the power and versatility all rolled in one. You can multi-task all you want with this 6th generation Intel core i7 processor. It has 12 GB DDR3L memory support and fast performance that outstands most desktop computers that you may have come across.
If you want, you can enjoy easy access to the outlets. You can enjoy different accessories using the six USB ports that are available. It also has a 4 in one card reader.
These access points allow you to show off your videos and photos from mobile devices or even extend games across different displays using the HDMI ports that allow multiple displays.
The other outstanding thing is the consistent clarity. The display stands at 23.8 inches and it comes with IPS technology. This means that you can use it together with the whole family. It always gives brilliant visuals as well as the highest video streaming quality regardless of the angle you choose.
5: Samsung Chrome book Plus Convertible Touch Laptop (XE513C24-K01US)
This is another amazing gadget that elderly persons can find absolutely fascinating. This is because it is a convertible piece that allows you to use it as a laptop and then as a tablet as you please. It has a profile that is flexible at 360 degrees.
This enables the user to place it in an upright position where it can serve as a computer. You can reply to emails, do your paperwork and so. You can then, at will, recline that position so as to have a tablet kind of view. This position can be used for viewing and surfing the web.
You can personalize communications because you can write on the screen directly. You can also take your notes and make any kind of sketch that you want.
It is also possible for the user to capture a specific part of the laptop screen. The apps that you use on your mobile devices can also be enjoyed on the computer. There are so many apps that you can explore and use on this gadget.
Even if you are not online, the Samsung chrome book plus convertible touch laptop is a great choice because it continues to assist you regardless of the connectivity. You can use your apps and docs in offline mode. This laptop can be carried around quite easily too.
6: Microsoft Surface Pro (5th Gen)
The Microsoft surface pro is a great gadget for the elderly that allows you to play, work, study, and create regardless of where you are. It has an ultra-light surface pro, which allows you to enjoy greater productivity.
The battery life can also last the whole day. There is also the ultra-portable design that comes with rounded edges. This is one of the most portable options available today.
The Microsoft surface pro also has exceptional performance and power. It can deliver more speed and more performance because of the Intel core processor that is quite powerful. The battery life is 50 percent more than that if the surface pro four.
With the gadget, you have the chance to enjoy everything that Microsoft has to offer at your fingertips. It works very well with office, surface dial, and surface pen.
It also allows you to run windows. You can explore your creative side using the creation tools. With windows hello, you get to enjoy secure, fast, and a sign-in that is password free.
The best thing about this gadget is the fact that you can personalize it using the creative tools that are available. There are lots of rich colors to choose from.
You can also enjoy the surface arc mouse, the surface pen, and the pro signature cover. You also get to enjoy a real-time kind of writing and tilt to allow artistic shading.
You can transform this gadget to laptop mode, to studio mode, and to tablet mode at your pleasure.
7: ASUS VivoBook Pro Thin & Light Laptop
The ASUS VivoBook Pro is one of the most powerful laptops that you can select for your elderly loved one. The computer is able to deliver most of the computing needs effortlessly and it is quite amazing when it comes to multi-tasking.
It has a high-performance SSD. The laptop offers high speeds when it comes to reading and writing compared to other kinds of older mechanical hard drives.
It also has a dual-band 802.11ac Wi-Fi that allows you to enjoy over 6 times more internet speed and stability in comparison to the other older generations. This is an ideal senior computer.
This laptop is also stylish as it is durable. The 0.8-inch profile and a weight of around 4.6 pounds, this is one of the most portable devices that you can choose. This gadget can come with you wherever you go without being problematic in terms of weight and space occupied.
The keyboard is backlit meaning that you can easily use it even when you are in surroundings with very low light. Typing on the device is also quite comfortable and ergonomic owing to the 1.4mm of key travel.
The other thing you notice is the vivid and lifelike visuals. This gadget is able to combine optimized software and hardware so as to offer clear and crisp visuals. There are different technologies in place so as to offer you deeper, richer, and incredibly accurate colors.
8: HP Envy 17 Laptop
This is yet another gadget that you can buy for yourself or your elderly loved one. It has a backlit keyboard as well as a numeric keypad. The backlight makes it possible for you to use the laptop even if you are in a surrounding that is poorly lit. This makes it one of the most convenient gadgets that you can use.
The dual speakers emphasize sound and so can actually make your listening experience so much better. It also has a camera. The camera is a wide vision HD IR with an integrated dual digital microphone. It has 3.1 USB port type-C Gen. It also comes with one HDMI port, and three USB 3.1 Gen 1 Ports. The laptop has windows 10 home.
The HP envy laptop allows you to handle all your computing needs with great ease. It is a befitting gadget for seniors who want to stay in step with the world and stay entertained.
You can create your own experience with the gadget by connecting it to different peripheral devices. It is a gadget ideal for the whole family. Its memory RAM is 16 GB and weighs 6.7 lbs.
9: Dell Inspiron i5567-3655GRY 15.6″ FHD Laptop
The dell Inspiron laptop is one of the best gadgets that you can choose for your loved one. The 7th generation Intel core processor makes it possible for you to enjoy a great performance. You can surf web pages, play games, and use apps and so on. The laptop has some of the most stunning visuals that a laptop can have.
The battery life is also quite impressive. You can go for hours while unplugged. This is something that anyone who owns a gadget desires. It means that when there is no power or you are on the go, you can still work on the laptop without feeling the pressure of recharging.
The gadget allows you to enjoy very high quality sound. Regardless of whether you are chatting, streaming, or mixing, this device has impressive sound quality. It has the waves MaxxAudio that delivers audio performance that is simply outstanding with higher highs and lower lows.
You can burn CDs, watch DVDs, and even load software and different applications very quickly with this gadget in hand. This is facilitated by the tray-load optical drive. The keyboard has backlight facilitating use of the laptop in low light situations. The added light is a big deal for seniors with vision incapacities.
10: Acer Aspire E 15 Laptop
This is a computer that has a lot to offer everyday users, seniors included. It has many appealing features with a very attractive design that exceed many people's expectations.
The laptop performs incredibly and is fast. It has 802.11 ac wireless technology with MU-MIMO. The great battery life makes it one of the most thoughtful gadgets that you can buy.
The laptop comes with 8th Gen Intel core i5 processor. The notebook makes it possible for you to enjoy the power, better battery life, and better entertainment even when you are on the go.
The laptop is created in such a beautiful way, the details are crafted very carefully, and thoughtfully so as to achieve that smooth and clean look eliminating unnecessary lines.
It is also quite easy to upgrade the computer. This is facilitated by a compartment door, which conveniently lets you upgrade your hard drive as well as the memory easily.
The smooth Wi-Fi connection makes it possible for you to browse, download, and stream everything that you want. This gadget is faster than all the previous generations.
The other thing that is hard to miss is the sound. Songs, movies, and games all come alive because of the speaker design that makes audio distortion a thing of the past. It is able to deliver the best bass and also boosts the volume in a way that fills the entire room.
Conclusion:
The above are some of the best computers that you should consider buying for your elderly loved one. There are others like the wow computer for seniors designed specifically for this age group. As stated before, it is important to evaluate the needs of your loved one before you pick the best computer for them. Know what they like and the things that they want to accomplish using the computer that you choose for them. It is also important to think of any limitations they may have, such as vision issues or lost dexterity. Physical incapacities can make it harder for seniors to use some gadgets.
We have also seen how important it is for the senior person to have such gadgets at hand. When they stay informed, alert, and in touch with loved ones, it becomes beneficial to their health.