Women are special beings and one thing that motivates them is feeling and liking beautiful. One of the most powerful tools for women is lipstick. If you were to ask most women, they will verify that they have indeed used lip-gloss or lipstick. Applying lipsticks gives women that pop of color and it is a great way to boost confidence. Finding the best lipstick for older women is, therefore, very important, especially considering the kind of effect it can have on them.
There is an age one reaches and they have to start dealing with fine lines, dryness and thinning. This makes the mouth area more conspicuous and it may not be so flattering anymore. Old age makeup such as lipsticks should be chosen carefully at this stage.
They should be the best quality so that they last longer and can offer great color. The lipstick for older women needs to hydrate the lips and fill up those lines, giving the woman an attractive pucker.
Choosing the best shade for your skin tone is always a great challenge regardless of your age. In addition, the mood of women changes so fast.
What impresses you right now could be different from what you want the next minute. It is important to find a hue that can match your complexion undertones so that you do not look sallow, ruddy, and washed out.
What color lipstick makes you look older?
The choice of color you make is very important and it can have a great impact on how old you look when you use it. When younger bold colors are an amazing choice but not so much for older women.
When you choose bold red lips French Mani, or retro bangs when older, they do not define you and they only end up dating you. It gets even worse if you are failing in other areas of your aging styles. You need to be conscious about what you wear on your face and the kind of styles that embrace, as you get older.
Choosing a red color for lipstick is problematic for many reasons. One important thing to note is that as women age, the lips become thinner and the borders get diffused even more.
This means that when you choose to wear hues that are bright and deeply saturated, they end up bleeding the mouth edges and feather them out. This causes highlighting the deep lines that exist around the mouth area which ends up looking so harsh.
What color lipstick makes you look younger?
We have already established that the choice of color determines how old you look wearing lipstick. As such, you have to be very careful and avoid bright lipstick shades because they do more harm than good.
Lipstick is needed to add a boost to your makeup and it offers sophistication and radiance. It is a product that is widely used by women but some shades make you look older while some make you look younger.
If you want to look younger, then you should avoid the bold colors and settle for the lighter ones. Lighter shades are always the ideal option for older women who do not want to look older.
The choice of lighter shades also depends on factors like skin fairness. To emphasize the lips, you should also choose a concealer suitable for your skin tone at the border of the lips.
What is the best lipstick for older women?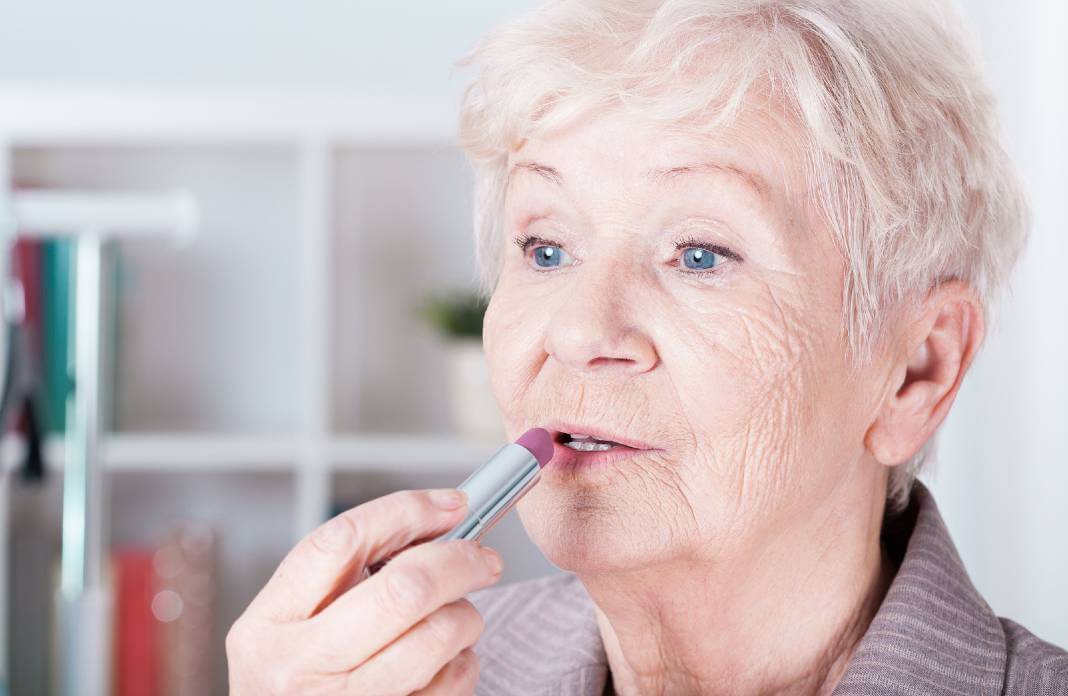 Older women need to be very careful when picking the best lipstick color or else they end up looking even older. Taking time to understand your skin tone and your skin needs goes a long way when you are selecting the ideal color. The right color makes you look younger, prettier, and healthier.
Skin can be cool toned or warm toned regardless of eye color or hair color. Warm tones have a yellow undertone. You will, therefore, look great with scarlet, orange coral pink, navy blue, warm green, brown, and cream. Yellow lipstick can be ideal for some skin tones.
For the cool times, the undertones are blue and therefore people, in this case, look best with cherry red, purple navy, fuchsia, pink, icy blue and grey lipstick.
The colors above are great for makeup and clothes as well. Take time to understand your skin tone before settling for the best lipstick. The choice could also be based on your dressing as well as the quality of the lipstick.
The best 7 lipsticks for older women
1: Milani Color Statement Lipstick↓
2: L'Oreal Paris Color Riche Lipcolour↓
3: Almay Lip Vibes cream lipstick↓
4: Maybelline New York Color Sensational lipstick↓
5: Burt's Bees 100% Natural Moisturizing Lipstick↓
6: Revlon Super Lustrous Lipstick with Vitamin E and Avocado Oil↓
7: Better'n Ur Lips Vegan Lipstick (POPPIN PLUM)↓
How did I choose the perfect lipstick color for older women?
Lips lose fullness with age. To stay in shape, it helps to hydrate and you can only do this by considering some of the best lip products such as lipsticks. Choosing the perfect lipstick color does a lot for older women. Things to consider include:
You need to know the shades that are best for older women and it usually helps to go for neutrals. If you are to pick a nude for older women, it has to be soft and muted corals or roses. This offers the lips a natural flush. Beige is not a good color.
The best kind of lipstick should be able to last long enough for a considerable time. In as much as it may wipe off during the day, it helps when the lipstick can stay intact for at least 5 hours. It also helps when the lipstick does not transfer to everything it touches like the teeth.
The best lipstick should not bleed and creep into lines around the mouth, which is an issue as we age.
The color needs to be good and should be well pigmented and it should show in a few swipes.
It should be able to slide on lips easily and it should not be too hard to apply.
1: Milani Color Statement Lipstick
This is a brilliant choice for older women. It has vibrant colors and helps you make a statement feeling confident. The fact that there is a range of colors to choose from makes it one of the best choices that you can make.
It comes in 490 shades that range from radiant reds, pretty best pink lipstick options and purples and they last a long time. This is probably one of the reasons why you should pick this. There are recommended hues for older women to choose from.
The other thing to note is the fact that the lipstick is cruelty-free. The lipsticks have vitamin C and A. This is a statement lipstick that looks so good on your lips but has never been tested on the animals as is the case with many other brands.
The lipstick is easy to apply and it ends up working its magic even when you have minimal makeup. You can achieve a glam look within a very short time. The brand is well known for its diversity and it is inspired by real people leading real lives.
This is a chance for older women to express themselves and enhance their beauty to great limits. You have a choice for your particular ethnicity, attitude, and shade. There are no exceptions in this case.
2: L'Oreal Paris Color Riche Lipcolour
This is another amazing choice and it has a richness that you cannot compare to anything else. It offers great hydration to the lips, which is a great thing for older women. It also has a lot of great nourishing ingredients such as Argan oil, vitamin E, and omega 3 that make your lips feel and look softer.
It is always a great thing to use lipstick that is capable of hydrating the skin while offering the best color. There are so many shades to choose from and they offer a lasting and creamy color. With this lipstick, you can achieve anything that you want.
If you want a good nude or any other color, you can pick from the variety based on your skin tone. You can create that look that you desire without much effort. With this lipstick, it is never that hard to achieve the perfect look for every occasion, which is very impressive if all factors were considered.
To have that perfect look, you should start the application at the upper lip center and then work towards the lip edges. You have to make sure that you follow the mouth contours and then glide over the bottom lip.
3: Almay Lip Vibes cream lipstick
This is a silky smooth choice that has topper, cream, and matte finishes. The lipstick also offers a rich color for statement-making and gorgeous lips. It is non-sticky and does not dry up meaning that it is very comfortable on the lips.
Every lipstick option comes with a unique mantra. This means that finding a favorite is not that hard. It is also formulated with Shea butter, and vitamins E and C.
The fact that there are 24 shades to choose from means that any woman can find something that works for them. There are 12 creams, 2 toppers, and 10 mattes to pick from. The lipstick is also fragrance-free and hypoallergenic making it an ideal choice for all skin types regardless of how sensitive they are.
With this lipstick, a single stroke is enough. The shape is bullet-like and it is very unique making it even easier to apply. You do not have to keep re-doing your application. You can mix the shade to match them and make that bold statement.
This is a lipstick that can be worn in layers or alone. To get a gorgeous and shimmery sheen, you can pick a topper and wear it over the shade that you pick.
4: Maybelline New York Color Sensational lipstick
This is a velvety lipstick that is easy to apply and delivers the most intense and bold color that lasts a long time. The formulation is well thought out with honey nectar. This offers a sensuous kind of finish.
The lipstick is color sensational offering a hyper-pigmented lip color as well as hydration to the lips. The lipstick is available in gloss satin and matte. There is also a wide range of shades that you can choose from. Whether you like bold black or nude, or anything there between, there is something for you here.
The lip color stays for around 24 hours. It is even made better because of the moisturizing lip balm that is included adding a gloss to colors. To top it all off, you can add clear lip-gloss. This is what you need to come up with an impressive look.
This lipstick stands out easily. This is a light lipstick with a smooth texture, which is what every older woman needs. For dry lips, this is the perfect choice regardless of age.
You will achieve the best color. The ease in application means that you do not have to spend too much time applying or touching up when you need to.
5: Burt's Bees 100% Natural Moisturizing Lipstick
This option is long-lasting and has intense color. The moisture can last for up to 8 hours leaving the lips silky smooth. It gets a creamy texture and a satin finish, which is impressive for older women.
One of the things that older women need is a product that can moisturize their skin. This old person makeup option makes it possible to smooth and condition your lips with ingredients such as vitamin E, raspberry seed oil, moringa oil, and beeswax. The lipstick makes it possible to enhance the natural color of your lips and offers the best coverage for your lips.
The lipstick is completely natural and it formulated carefully without using SLS, petrolatum, phthalates, or paraben. It also makes use of packaging material that can be recycled.
There are 18 shades to pick from and this is a line that has received a beauty award for extraordinary and outstanding quality. The lipstick is available in different shades and delivers a bold and luscious color that can be worn every single day.
This lipstick does not make use of fragrances in their formulation. This means that irritation is quite uncommon. There are many shades that you can choose from and match up with your skin tone. There are neutral tones that are perfect for older women.
6: Revlon Super Lustrous Lipstick with Vitamin E and Avocado Oil
If you want something super creamy, super lush, and super vibrant, then this is the perfect choice for you. This is a perfect combination of moisturizing formula and color.
The lipstick makes use of pigments that are micro-fine to come up with vibrant shades, but give a lightweight feeling, this formula is made even better because of avocado oil and vitamin E that are infused into it. This makes it buttery and has a soft impact.
The other notable thing is the fact that the lipstick does not cake. This is a great feature for a lipstick to have. There are so many ways that you can play with the trendy, classic, and cool shades that range from nudes, purples, browns, corals, reds, and pinks.
There are four finishes available including matte, sheer, pearl, and cream. The ingredients used to make the lipstick are also very safe. In case one is experiencing flaky or dry patches on the lips, which is common with older women, it helps to first wipe them off and then apply.
Best lipstick for dry lips should then be applied. Make sure you pick a color that compliments the color of your skin, which can only be achieved by understanding your skin tone.
7: Better'n Ur Lips Vegan Lipstick (POPPIN PLUM)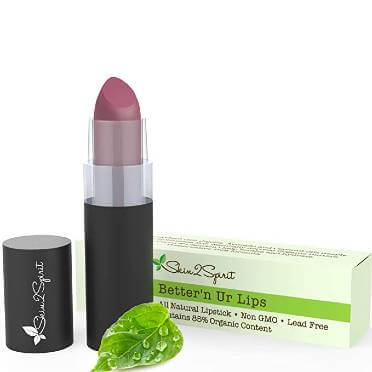 If you desire a product that is one hundred percent natural, organic, cruelty-free, paraben-free, lead-free, and gluten-free, then this is the best choice to make.
The lipstick is highly rated and is a great pick for older women who want to stay away from makeup options that could potentially cause allergic reactions.
This lipstick is formulated using organic butter, essential plant oils and botanical extracts, these moisturize the lips and deliver antioxidants for healthy skins. The ingredients used are certified. These include capuacu butter, cocoa butter, grape seed oil, coconut oil, castor seed oil, and mango butter.
The lipstick is infused with calcium, and vanilla extract. This makes it one of the most sensible and practical choices that you can make. It is a product made in the USA and it is guaranteed in terms of quality.
You will love this option because it does not have toxic chemicals such as carcinogens and mineral oil. Since lipstick is meant for the lips, there are times that you may swallow some of it and the toxic materials can be harmful over time. These are things that people should be careful about.
Conclusion
It is clear that makeup is one of the most important things for a woman. Best moisturizing lipstick can do you a lot of good. But if you choose wrongly, it can also be destructive, especially with colors and wrong ingredients. To be safe, you need to understand your skin tone, especially when you are an older woman. In such a case, you need to concentrate on neutral colors. These help to give your face a lift and not age you unnecessarily.
Know the ingredients used so that you can avoid unnecessary skin reactions that could have otherwise been avoided.